BLOOM Mooncakes by The Westin KL
The Westin Kuala Lumpur presents this year's Westin Mooncakes under the theme of BLOOM, offering exquisite and delectable mooncakes during this blooming season of love and laughter.
Mid Autumn Festival is a time to celebrate love, health, longevity and great fortune. Apart from embracing the festival with delicately crafted mooncakes, The Westin Kuala Lumpur is presenting this year's mooncakes in a refreshing and innovative gift box that allows customers to extend their happiness beyond this festive season.
BLOOM Mooncake gift box by Westin is a dual usage storage unit that comes with an integrated potting container. Each purchase of BLOOM Mooncake set is complemented with a DIY terrarium kit and user-friendly planting instructions. This allows customers to turn the gift box into a lovely potted plant with storage compartments, making the box an attractive and practical home decorative item.
We'll elaborate on the DIY terrarium kit in a while but first, let's take a look at the 8 baked skin mooncake flavours to choose from.
Take your pick from the traditional and toothsome flavors such as Lotus Paste with Single Yolk, Pure Red Bean Paste 'Tau Sah', Five Sen5es Assorted Nuts Mixture and Pandan Lotus Paste or healthy and delicious Low Sugar Plain White Lotus Paste, Low Sugar Plain White Lotus with Single Yolk and Green Tea. The Westin's special Pearl of Prosperity are included in the list to liven up the selection of Westin mooncakes.
My favourite mooncake from The Westin KL is the Green Tea mooncake. 
Unlike the many green tea mooncakes out there that combines with red bean filling, the Green Tea mooncake here is packed with refreshing green tea crust AND filling. The crust is tender and thin, supple enough to protect the smooth, dense, and rich filling. A bite of this green tea mooncake reveals a delicate fragrant of green tea with refreshing silky smooth filling. 
I am usually not a fan of mixed nuts mooncake hence I find it surprising that this Five Sen5es Assorted Nuts Mixture mooncake took second place in my preferance among all 8 mooncakes here. I find that it has the perfect combination of sweet, savoury and nutty. 
If this is the Olympics, this Red Bean Paste mooncake is surely the underdog that surprises everyone with a podium finish. I don't usually fancy red bean paste or lotus paste mooncakes simply because they have been around too long but when I took a bite of this, it really surprises me that the paste is really rich yet not overly sweet. I think I am not wrong if I say it even tastes chocolatey kind of good. 
The Pearl of Prosperity is also in my recommended list as the combination of flavours dances and lingers in my mouth. The savory yolk is deliciously enveloped by mung bean paste which is then wrapped in traditional fragrant pandan paste. 
Lotus Paste and Low Sugar White Lotus mooncakes are the only two varieties with single yolk. It makes excellent gift for the elderly folks who still prefer traditional flavors mooncakes. 
The Lotus Paste and Pandan Lotus mooncake is also good for those who loves traditional flavors. 
Now, let's talk about the BLOOM Mooncake gift box that I mentioned earlier in this post. Knowing that mooncake gift boxes are often left idle after the mooncakes are eaten, The Westin KL's mooncake gift box serves as a dual usage storage unit that comes with an integrated potting container. Each purchase of BLOOM Mooncake set is complemented with a DIY terrarium kit and user-friendly planting instructions.

BLOOM Mooncake Box of 4 Mooncakes – RM110.00 nett per set
BLOOM Mooncake Box of 2 Mooncakes – RM75.00 nett per set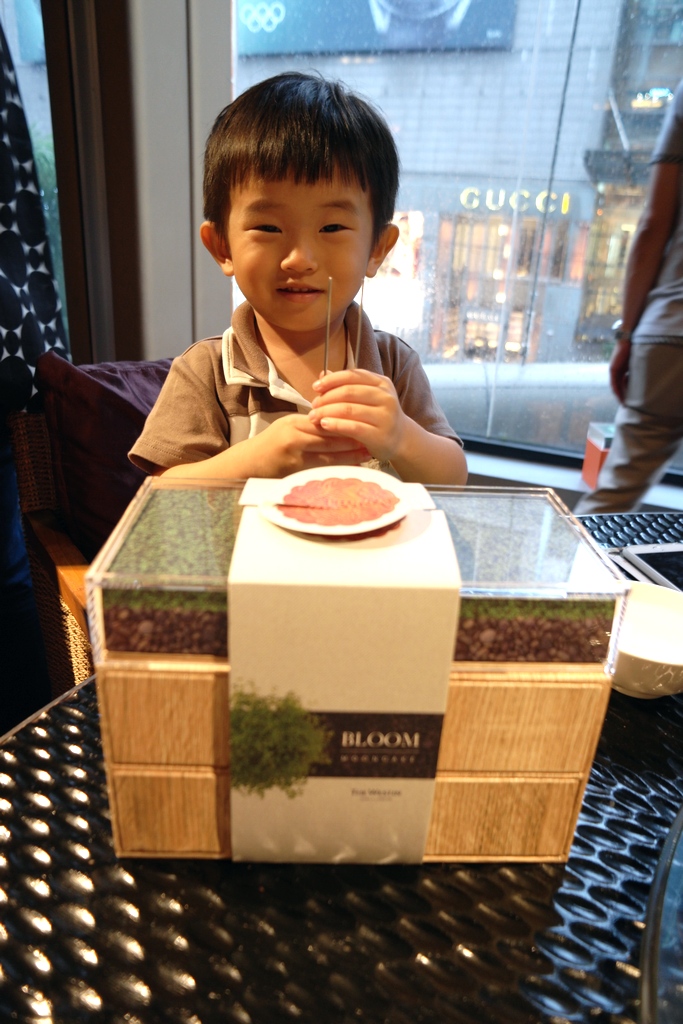 We were given the BLOOM Mooncake Box of 4 to explore and bring home. Above that two-tiered mooncake box is the DIY terrarium kit and user-friendly planting instructions.
Isn't it wonderful, to be presented with mooncakes and also be able to make our own terrarium? 
The DIY kit comes equipped with all necessary materials to start our own terrarium. The materials given are also in exact quantity that it is almost impossible to go wrong even if you are doing this for the first time.
All the above materials are included in the DIY kit for the BLOOM Mooncake Box of 4.
An easy to understand instruction is also included. We unbox everything and started to make our very first terrarium. 
Both Ethan and Ayden displayed a great teamwork in making their very own terrarium.
Once done, the terrarium can be placed on the mooncake gift box. It locks in place and is very stable. Our terrarium requires 7 days for the Japanese Pearl Grass to grow. 
To make the boys understand and visualise what our terrarium will look like in 7 days time when the grass grows, they were given a terrarium each to decorate with grass readily grown inside.
Both Ethan and Ayden had fun decorating their very own terrarium bowl.
This is Ayden's very cheerful terrarium. He decorated it all by himself.
And this is Ethan's equally beautiful terrarium. 
It was our first time being introduced to terrarium planting and the benefits and understanding of how an indoor plant can benefit us. I must say that it is indeed a good idea to turn the mooncake gift box into a terrarium. It will be fun especially to the old folks as they get to keep themselves occupied making their own terrarium after consuming all the mooncakes. It is equally appealing to children as the boys had plenty of fun designing their own terrarium today.
Available from 1 August to 15 September 2016, Westin Mooncakes can be purchased and picked up from Five Sen5es (Level 1) between 10.00am to 10.00pm from Tuesday to Sunday. Westin Mooncakes can also be found at the popular Pavilion Shopping Mall's Mid Autumn Festival (Level 2, Centre Court) from 30 August – 15 September 2016.
To book your mooncake gift boxes or for further enquiries, call 03-2773 8338 or email [email protected]