Novotel Bangkok Sukhumvit 20
During our recent week-long trip to Bangkok, we spent the second half of our holiday staying at Novotel Bangkok Sukhumvit 20; one of the top family hotel in Bangkok. I love new hotels and Novotel Soi 20 (as they are fondly referred to by the cab drivers) is just celebrating their 1st year anniversary this year.
NOVOTEL Bangkok Sukhumvit 20
19/9 Soi Sukhumvit 20, Kwang Klongtoey, Khet Klongtoey, 10110 Bangkok
Thailand
Tel: +66 (0)2 009 4999
Fax: +66 (0)2 009 4900
Email: [email protected]
FAMILY SUITE
We stayed in this very beautiful and spacious Family Suite.
The amazing view of the city skyline greeted us every morning we were here.

The expansive layout of the 45 sqm Family Suite, includes a separate sleeping and living room.
LCD TV in both the room and living room
Transparent sliding door separates the room and the luxurious bathroom.
The luxurious bathroom offers both a shower and separate bathtub, with a stylish glass partition that adds to the sense of spaciousness and relaxation.
No prize for guessing which is our favourite feature here – the large bathtub. As you can see, this tub is able to fit more than the 4 of us put together. Soaking together in warm bubbly bath reminds me of our time in the famous Japanese onsen back when we were in Japan.
Every detail of this sizable bathroom spells of elegance.
The huge rain shower head makes a refreshing shower that we can't get enough of. We had a tough time getting the kids out of the bathtub as well as the shower 
I welcome the large lighted mirror and the wall mounted side mirror with much pleasure. It makes applying make-up such a breeze.
Bathroom amenities
The spacious living room is fully furnished and includes a sofa bed; allowing the living area to be easily turned into a second bedroom for the kids.
Work station
Our suite comes with upgraded amenities including an espresso machine and gourmet tea selection.
Complimentary coffee and tea making facilities as well as mini bar items (chargeable to the room).
More mini bar items.
In addition to standard facilities, some of the upgraded amenities that comes with the Family Suite includes a late check-out, all day refreshments and complimentary laundry service.  It also includes access to the Executive Sky Lounge on the 25th floor, which includes exclusive check in & check out, all day refreshments and 2 hours evening canapé and cocktail and more.
INFINITY SWIMMING POOL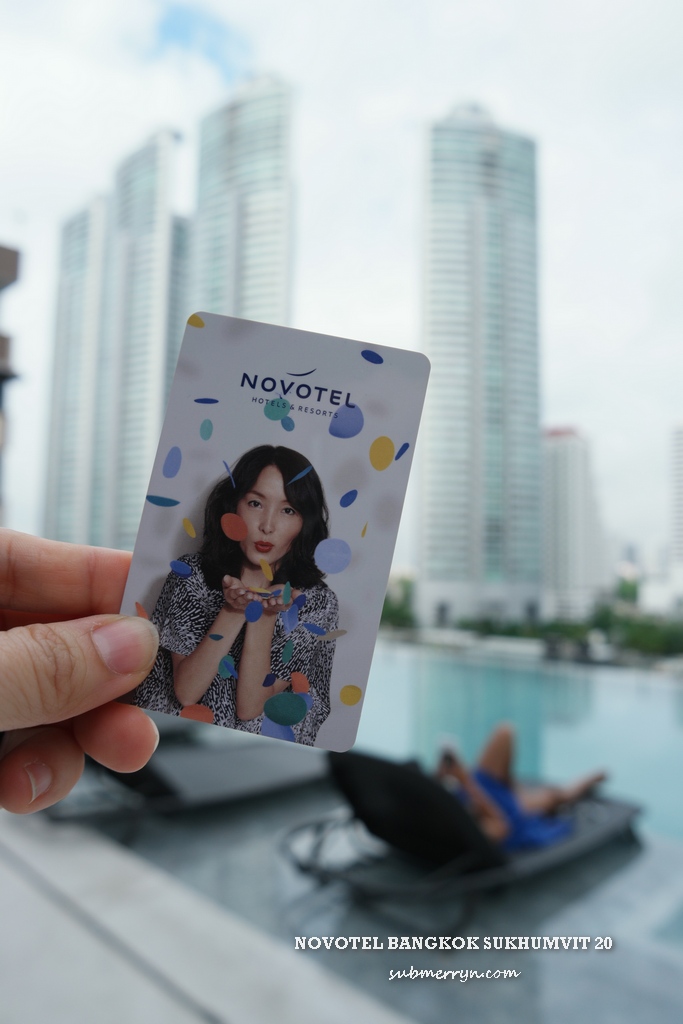 The outdoor infinity swimming pool is located on the 9th floor of the hotel.
It includes a separate children's swimming area.
Infinity pool with the outstanding city view.
It is nice to relax on these sun lounges in the pool.
Separate kids pool.
The pool is open daily from 6am to 10pm. It is even more amazing to swim here at dusk as the city skyline starts to light up. This photo was taken after 10pm hence the pool was dark.
KIDS CLUB
The Kids Room is also located on the 9th floor of the hotel nearby the pool.
EXECUTIVE SKY LOUNGE – CLUB FLOOR
The Executive Lounge is located on the 25th floor, available for all guests with executive privilege. The lounge serves breakfast daily and refreshments throughout the day.
Other benefits included in the executive privilege include:
Personalize check in and out at Executive Sky Lounge on 25th Floor

All day refreshment: non-alcoholic beverages and snacks

Evening Cocktail

Complimentary laundry service at 2 pieces a day
Complimentary 2 hours use of meeting room at the Executive Sky Lounge per stay (subject to availability)

Unlimited used of local calls in Bangkok (number started with 02)

Late check out until 14:00 hrs. (subject to availability)
FOOD EXCHANGE
We had our breakfast daily at Food Exchange.
Located on the 7th floor, the menu includes Western dishes as well as food from all over the Asian continent.
Food Exchange is based on the concept of open cooking stations.
SKY ON 20 – ROOFTOP BAR
We managed to have dinner at Sky on 20, the rooftop bar on one of the evenings we were here.
Located on the hotel's 26th floor above Sukhumvit soi 20, Sky on 20 offers spellbinding skyline views of Bangkok.
We were also told that we can catch a mesmerizing sunset scene here (which we unfortunately missed as we had trouble getting the boys out of the bathtub in our room).
Nevertheless we still had a great time dining and relaxing while soaking up the vibrancy of the city.
Crab-Mayonnaise Bruschetta
Gai Yang – Grilled Thai chicken served with sticky rice
Kor Moo Yang – Marinated Thai Style Pork Neck Steak
Parma Ham pizza
TUK TUK
The hotel also provides complimentary tuk tuk shuttle ride to the nearby BTS station. The boys was very excited to finally get to ride on a TukTuk.

NEARBY PLACES OF INTEREST 
TERMINAL 21 BANGKOK (Walking distance from Novotel Bangkok Sukhumvit 20)
Terminal 21 is a lifestyle mall in Bangkok that feature several world-famous cities under one roof. You will find yourself shopping in Tokyo, London, Istanbul or even San Francisco.
WAT ARUN (13.5 km from Novotel Bangkok Sukhumvit 20)
Entrance fee : 50 baht / adult

For more details on our Wat Arun trip, click here -> Wat Arun Temple in Bangkok

WONDERFUL PEARL DINNER CRUISE (8.5km from Novotel Bangkok Sukhumvit 20)
45 min drive via shuttle pick-up to boarding point at River City Bangkok
Price varies according to season

For more info on our dinner cruise experience, please click here -> Wonderful Pearl Dinner Cruise
ASIATIQUE THE RIVERFRONT BANGKOK (12.4km from Novotel Bangkok Sukhumvit 20)
40 mins drive via taxi
Entrance fee to Asiatique Sky : [300 baht / adult] [200 baht / children]

CENTRALWORLD (3 BTS Skytrain station away from Novotel Bangkok Sukhumvit 20 Asok Station)
CentralWorld Bangkok is the tenth largest shopping complex in the world

*VIDEO*
Words can only explain so much of our wonderful experience here but a video can tell much more.
Do watch this video of our stay here at Novotel Bangkok Sukhumvit 20:

Till we meet again in Bangkok..
//

//

//

//

//

//

//

//

//

//