Vana Nava Water Jungle | Hua Hin | Thailand
During our recent trip to Thailand's most beloved resort town of Hua Hin, one of the highlight was to experience Vana Nava Water Jungle. The name "Vana Nava" comes from ancient Sanskrit. VANA means jungle/forest and NAVA means sea boat which represents the seaside city of Hua Hin.
It is Asia's First Water Jungle as well as the first ecologically aware community water park in the region. Vana Nava Water Jungle literally transformed an empty plot of land into a tropical jungle with over 200,000 plants and trees delivered from across Thailand in its 20 rai (3.2 hectares) property.
Our tickets include transfer from Novotel Hua Hin Cha-Am Beach Resort & Spa, the resort we stayed during our week-long holiday in Thailand.
Can you see how excited Ayden was while waiting for the Daddy to get our entry passes?
The entry pass is this wristband. We can load it with credit that is as good as cash to be used later so we can walk around cashless in the park.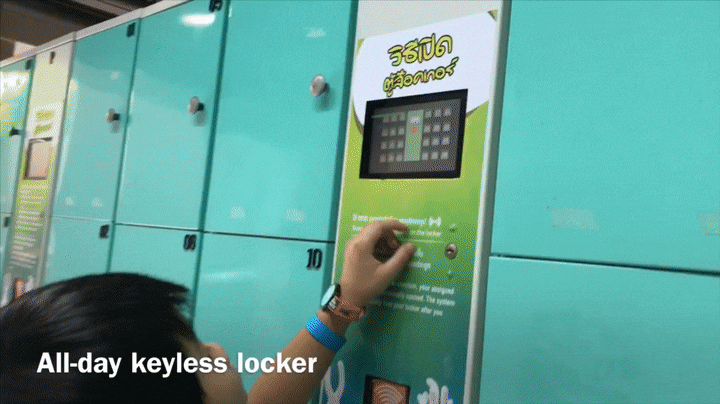 We use the credit in our wristband for towels and to book a locker. Just tap the wristband on the locker screen to unlock the locker. The locker can be used all day with multiple unlocking times.
Okay enough of posing for photos, the boys can't wait to get wet already!
First thing first, let's check the Map Directory to get a rough idea about this water park.
Vana Nava Water Jungle presents a collection of the "Firsts in Thailand":
The ABYSS™, shaped like a giant megaphone, is the world's largest waterslide and the only one in Thailand.
Boomerango™ is Thailand's longest slide
Aqualoop, Thailand's first and most thrilling anti-gravity tube-slide
AquaCourse™ another first in Thailand, is a challenging course of ropes and obstacles with water guns
Vana Nava Falls is the tallest man-made mountain waterfall at 31 meters' height
Now, let me bring you on a virtual tour of this awesome water jungle and I will show you those FIRSTS that I've mentioned above.
Our first stop is obviously Vana Wonderland because it is so colourful, the boys got attracted to it like bees to honey.
This 500 sq m land of happiness is overflowing with color.
In the middle of this colourful wonderland sits the fantastic Octopus Slide.
It is surrounded by spray and splash pads for some cool and wet fun for the kids.
The boys' favourite feature at Vana Wonderland is this spraying see-saw. It sprays water across as you go down on the see-saw providing lots of fun and laughter from the kids.
Next up is the RainFortress™.
The RainFortress™ has seven slides that splash down into a child-friendly pool where a giant bucket tips over a large amount of water every 4-5 minutes.
Hysterically fun for the boys, they kept coming back for more!
Besides Nava Wonderland, the RainFortress™ is Little Ayden's favourite hang-out spot.
I accompanied him here when the big brother and the Daddy go for exciting rides that lil' Ayden are not able to go on to yet.
If you are planning to make a trip to this water jungle, I would totally recommend for you to grab the package with the buffet lunch. With unlimited entry, we can eat all we want, any time we want from 11.30am – 4.30pm.
Ayden and I sometimes hang around here for ice lolly while waiting for big bro and the Daddy.
We all went to grab some ice lollies in the afternoon when the sun was right above our heads. Such a refreshing treat.
After our lunch, we continued exploring and this time, we had our first surfing experience!
CHANG SURF ZONE – The only Flow Rider in Hua Hin and nearby.
Professional surfers are on site every day. It was the first time for us and I'm glad to report that we all did quite well!
The surf simulators provides fast moving waters which is also ideal fun for professionals.
We spent a lot of time here at the Jungle Slides Tower going down the multiple slides available.
Criss-crossing of slides. Would you dare to ride on each and every one of them?
Inner-Tube takes us through slides with dramatic twists, turns and drops at speed. It is available in one or two person tubes.
Master Blaster is a gravity-defying slide. We soared uphill at speeds of up to 45 km per hour with hair raising drops and a huge adrenaline rush!
SuperBowl™ – We were launched into a giant bowl, with natural forces sticking us along the wall before dropping us into the pool below. Once is never enough!
The Abyss™ shaped like a giant megaphone, is the world's largest waterslide and the only one in Thailand.
Up to 6 people can ride together in a big round yellow raft to a height of 28 meters, experience four or five near-vertical spins and then plummet into a huge funnel at speeds of over 45 km per hour!
Definitely a MUST TRY!
At Boomerango™, we get to experience weightlessness as we shoot up and down the wall at up to 45 km per hour before splashing down into a pool over 20 meters below! At 179 meters in length, this is the longest slide in Thailand!
Freefall drops you straight down at up to 50 km per hour in 3 seconds from 18 meters high!
It takes courage to voluntarily drop this high! 
Lazy River brings us on a leisurely ride over 345 meters in length of tropical jungle landscape, through caves, under bridges and around islands.
We can choose to hop into single or double tubes. This is one of the longest Lazy Rivers in Thailand.
AquaCourse™ is the only of its kind in Thailand. An exhilarating course of ropes and challenging obstacles with water guns.
If you wish to go on this course, do remember to bring along your sport shoes as it is one of the requirement before you are allowed to go up the ropes.
I went back to The Grove for a bowl of delicious hot Tom Yam soup before calling it a day at the park.
Such an exciting day we had but all good things must come to an end and I'd like to end this post with the video of our fun-filled day at Vana Nava Water Jungle, Hua Hin, Thailand. 
Vana Nava Water Jungle
129/99 Nong Kae
Hua Hin 77110
+66 32 909 606
www.vananavahuahin.com