Wonderful Pearl Dinner Cruise @ Bangkok, Thailand
We just got back from a week-long holiday in Bangkok. This is one of the most 'unprepared' trip we have ever done. We had been pretty occupied and busy the weeks prior to our trip that we did not manage to plan a proper itinerary and decided to just go with the flow.
Close to the end of our trip, the Daddy decided to splurge on a dinner cruise.
We are entitled to free local calls from our hotel room so he called several agents but they had all sold-outs on tickets. Our only option now is to get tickets directly from the cruise which is costlier but we decided to call anyway and hope that they still have tickets available. They do and were so kind to match the agent's rate so we proceeded with payment and provided them with our hotel details as our tickets include return transfer.
Children below 4 is complementary so Ayden goes for free.
Our pick-up arrived at 5.30pm as planned and we reached River City Bangkok an hour later after picking up several more guests from other hotels. Our driver walked us to the boarding point and waited for us at the exact same point at 9.30pm at the end of our cruise.
Boarding is at 7.15pm so we had ample of time to explore River City.
River City, Bangkok
Wonderful Pearl is a 3-tier cruise and is one of the largest cruise here.
We were seated on the air-conditioned 2nd floor enclosed area so we can dine comfortably without worrying Ayden falling off into the river 
The boys were pretty excited as it is their first time on a dinner cruise.
Dinner does not include soft drinks and alcoholic beverages. Those can be purchased at an additional charge.
As we boarded early, I managed to take pictures of the buffet spread before hungry passengers dig in. Here are some of the food in the buffet spread:
The buffet serves Japanese, Chinese, Thai, European and international cuisine.
Cold salads, fruits and desserts area.
Assorted sushi and maki
Grilled Beef Fillet with Pepper sauce
I love this but since Darling and the boys don't take beef, it is a huge lost to them.
The Baked Salted Prawns is the most popular dish that evening looking at how quickly they kept disappearing from the buffet spread.
Stewed Pork 
Yes, they do serve pork 
Pork siu-mai
Chicken Curry
Stir-fried Chicken with Cashew Nut
They also serve Boat Noodles from the live station. I added a lot of chili paste into this bowl so it packs a lot of umph! I love it!
Mixed vegetables with mushroom.
We enjoyed our dinner before going up to the panoramic open deck to feast our eyes on Bangkok's beautiful landmarks as we cruise by them.
The Chao Phraya river is the major river in Thailand. It flows through Bangkok and we get to feast our eyes on the beautiful landmarks along the cruise. The Grand Palace and Wat Arun temple is one of them. 
The Grand Palace is such a beautiful sight. It is amazing during the day but is even more mesmerizing come night time.
Wat Arun is also a sight to behold when the sun comes down.
We were lucky to get this beautiful shot with Wat Arun temple at the back.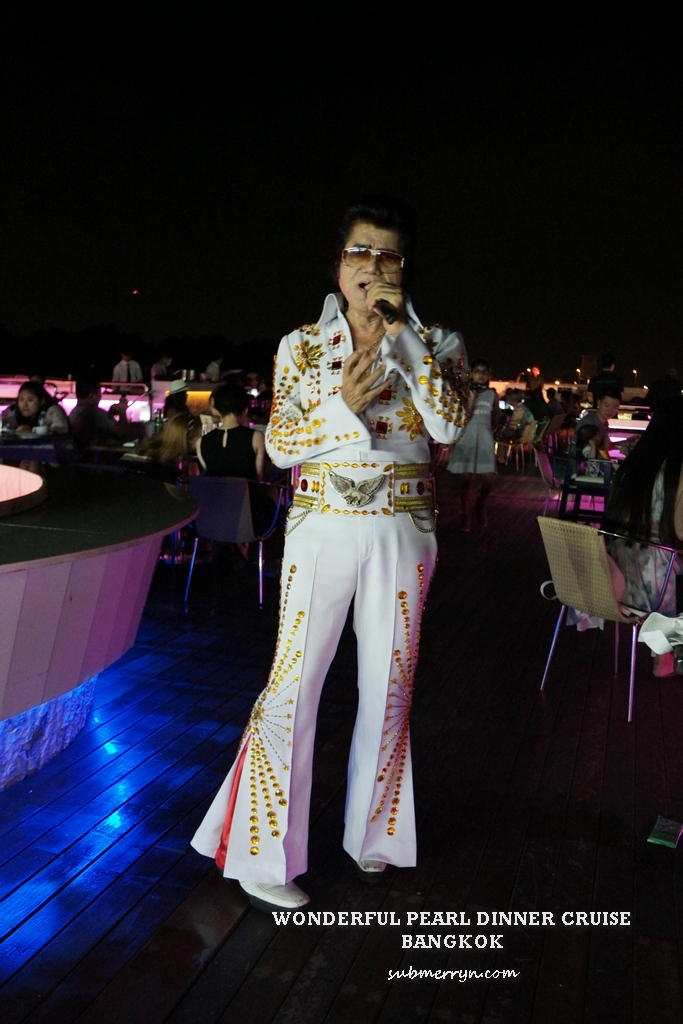 One of the entertainment on board Wonderful Pearl Cruise is by Elvis. He does a pretty good Elvis impersonation and sings very well too.
We were also entertained by a Thai classical dance.
Down on the main deck, we were entertained by these talented trio. They sing really well. Oh, look at the backdrop! How wonderful it is to see US up on screen! 
When it comes to answering nature's call, I am glad that the washroom is spacious and clean.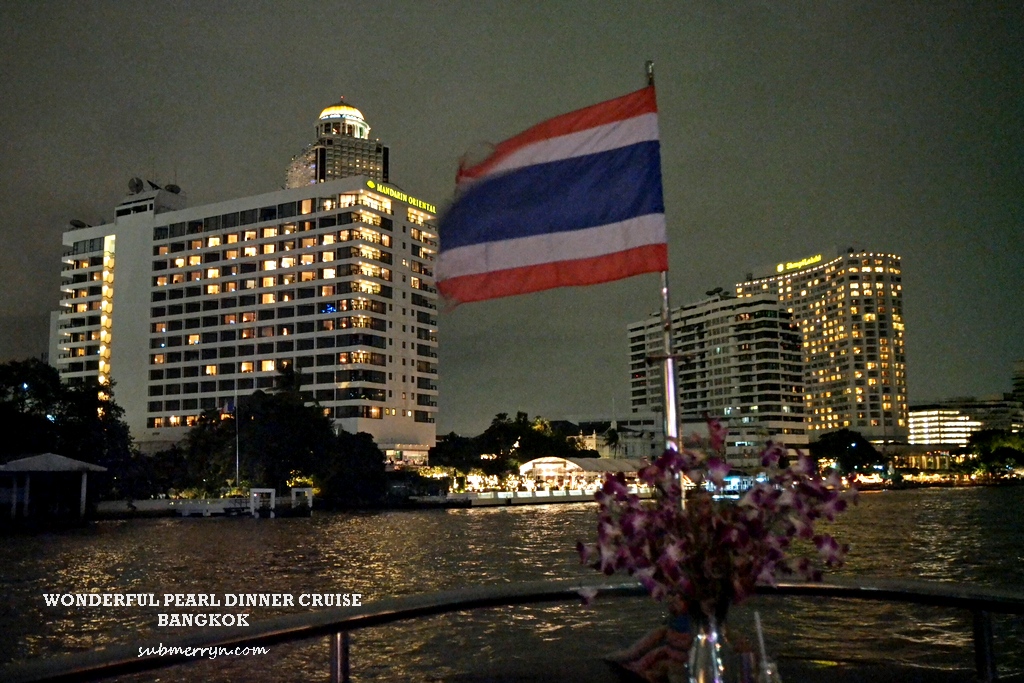 Overall, we had a wonderful experience.
Words can't really describe our experience that evening so here's a video so you can see and listen for yourself:
*VIDEO*
Wonderful Pearl Dinner River Cruise