D'King Vegetarian Snow Skin Musang King Durian Mooncake
Mid-Autumn Festival is this Sunday. Just as we've got our lanterns ready, a surprise delivery arrived at our doorstep last Saturday.

To our delight, we received this package from D'King, a premium durian mooncake brand.

Took a peek inside and saw two boxes of Vegetarian Snow Skin Musang King durian mooncakes.
Individually wrapped, there are FOUR packs in each styrofoam box to retain its coldness.
Beautifully handmade, with no preservatives and artificial flavouring added hence we have to keep it frozen until the moment we are ready to eat it. 
Delicate snow skin that is light-textured yet uniquely bouncy. The snow skin is thin enough to emphasize the filling but strong enough to hold it all in.
The D'king mooncake filling is prepared using real durian pulp. Last year, their D24 mooncakes were very well received. This year they outdo themselves by using a more premium durian, the famous Musang King sourced from Pahang.
The moment we sliced the mooncake open, the fragrant aroma of durian filled our kitchen and then the house. The premium durian flesh gives it a creamy and glutinous filling with a robust scent and flavour that melts in our mouth.
Mooncakes are traditionally shared to unify completeness and unity of family. Since the mooncake is packed in styrofoam box with ice pack to retain its coldness I decided to bring them back to Malacca to share with my parents. 
It survived the 2 hour journey and was still partially frozen when we arrived. My mother sliced it immediately as they too are very excited to savour this premium durian mooncake.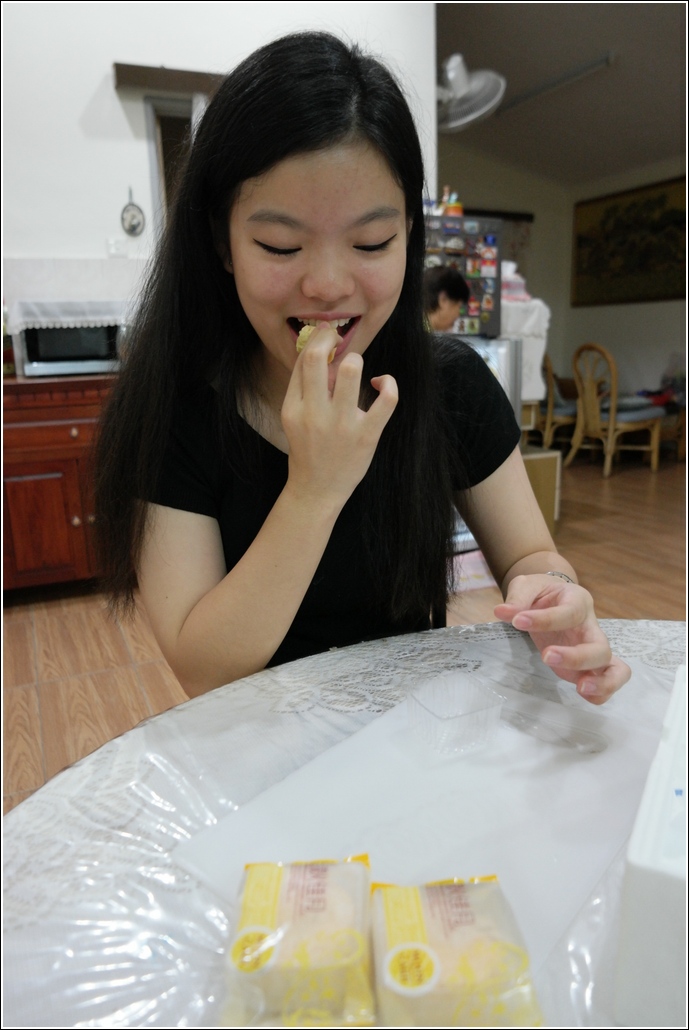 My niece loves the luscious texture and creamy mouthful in every bite of this Musang King durian mooncake. 
D'king vegetarian snow skin musang king durian mooncake is sold in sets of eight 60g mooncakes, at RM128 per set, although there is currently a promotional price of RM98 per set. Delivery is free if two or more sets are purchased. To order, please whatsapp 012-664 8797 with the following format: <Name><Address><No of Sets><Delivery Date> .
Last order 25 September 2015