Exquisite Mooncakes @ Tao Chinese Cuisine, InterContinental Kuala Lumpur
The Mid-Autumn Festival is one of the four most important Chinese festivals. Mooncakes are regarded as an indispensable delicacy as we celebrate the beauty of the full moon blooming and spend the night moon watching with our family and loved ones.
Enchanting stories be told as we gather to celebrate the beauty of Mid-Autumn Festival with mooncakes from the award-winning Tao Chinese Cuisine.
This year, Tao's 10 exquisite mooncake picks include 6 classic baked-skin flavours, 3 snow skin creations and a striking Shanghai style savoury mooncake.
Thoughtfully created and delicately handmade by master Dim Sum Chef Lo Tian Sion, each mooncake presents a harmonious blend of flavours from a luxurious infusion of fresh produce and traditional ingredients.
BAKED SKIN FLAVOURS
The shiniest star this season is none other than the special Shanghai Style Baked Black Pepper Smoked Duck Meat with Yam.
Inspired by the famous street snack Scallion Pancake during a trip to Taiwan, Chef Lo has created an interpretive recipe in this unique mooncake using black pepper smoked duck and sweet yam paste.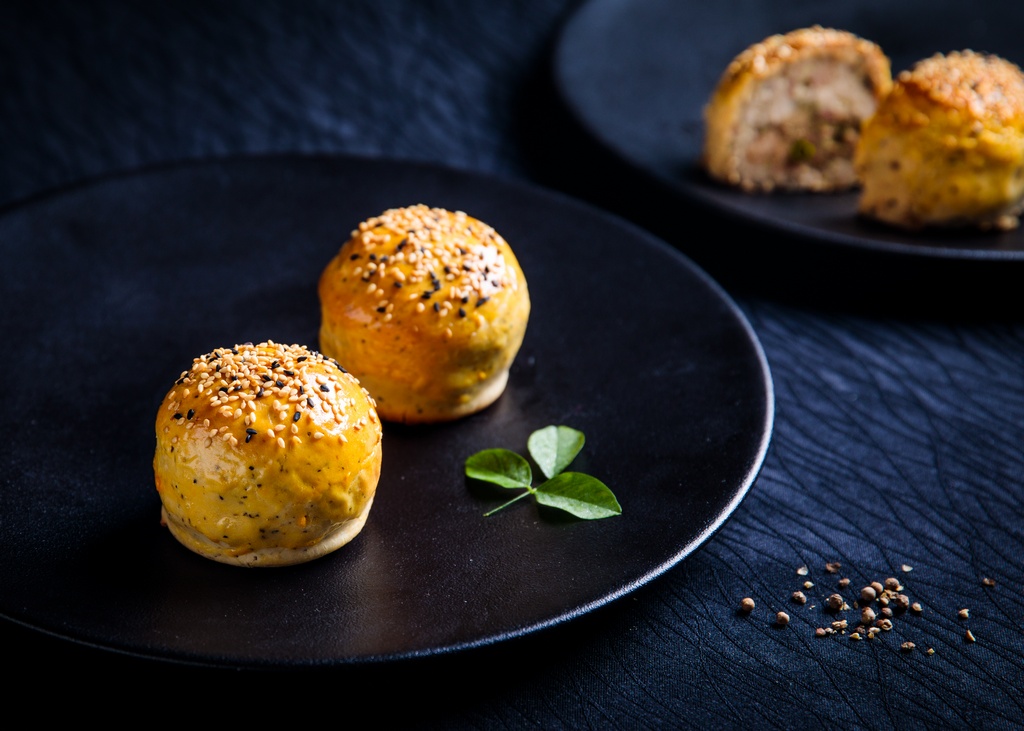 This delicacy is only available for dine-in in Tao Chinese Cuisine as it has to be eaten fresh out of the oven for optimal taste and texture.
Besides the Shanghai Style Baked Black Pepper Smoked Duck Meat with Yam, 6 classic baked-skin mooncakes are made to reflect the philosophical aspect of this unique celebration – harmony.
Chef Lo and team work to ensure each mooncake has the perfect skin-to-paste ratio.
The list of halal-certified baked mooncakes includes the best-selling White Lotus Paste with Single Yolk, Pure White Lotus with Nuts, Red Bean Paste with Nuts, Black Sesame Bamboo Charcoal with Single Yolk, Pandan with Single Yolk and all-time favourite Traditional Mixed Nuts.
One of my favourite – Black Sesame Bamboo Charcoal with Single Yolk
This unique mooncake pastry gets its colour from bamboo charcoal powder. The sweet and nutty sesame paste is a delicacy and goes perfectly well with the egg yolk. The saltiness of the egg yolk in the center of the filling helps cut down the sweetness while enhancing the overall flavour of the mooncake. 
It is strange how as a young girl, I did not fancy mixed nuts mooncakes but as I grow older I have slowly acquired the taste for this sweet, salty and nutty variety and even puts it in my shopping list whenever we go mooncake hunting.
It pairs perfectly well with a cup of good tea. 
We had the privilege to sip Tao's signature Roasted Tea with Rose Petal tea while sampling all 10 of Tao's exquisite mooncake creations. 
SNOW SKIN SELECTIONS
Mid-Autumn festival received a healthy diversion when snow skin mooncakes were introduced in Hong Kong in the 1980s. Snow skin mooncake, sometimes also called as crystal mooncake, is a non-baked version of the delicacy using glutinous rice crusts with fruit fillings, typically served chilled. 
Tao Chinese Cuisine's snow skin collection is a refreshing series of colourful delights with a punch of modern infusion. 
3 distinctive flavours crafted this year that fully reflect Chef Lo's passion and dedication in making a difference are Snow Skin with Durian Paste and Oats, Marble Snow Skin with Butterfly Pea Flower and Bird's Nest, and Snow Skin with Japanese Green Tea and Cherry Jelly.
Chef Lo demonstrating the making of Marble Snow Skin with Butterfly Pea Flower and Bird's Nest.
Marble Snow Skin with Butterfly Pea Flower and Bird's Nest
A nourishing option, the gorgeously health-benefiting butterfly pea flower is a potent antioxidant. Infused together with reviving bird's nest, this is every health freak's dream come true. 
Another favourite of ours is the Snow Skin with Japanese Green Tea and Cherry Jelly.
The combination of matcha and cherry jelly is a match made in mooncake heaven. Imported from Australia, the cherries are cooked for hours and processed into jelly form. The cherry jelly has a unique sour-sweet flavor that pairs extremely well with the exotic Japanese green tea. 
The all-time favourite durian mooncakes at Tao Cuisine returns this year with a new combination of D24 durian flesh and oats for a healthier option. 
The boys beaming with happiness upon learning that we are bringing home Tao's mooncakes in this beautiful gift box adorned with elegant illustrations of peach blossoms.
The gift box features hues of black, red and gold trimmings representing the true spirit of Tao Chinese Cuisine – purity, honour, elegance and richness. 
The gift box is provided at no cost with a minimum of 4 mooncakes purchased or at an additional RM10 per box for purchase of 2 mooncakes. 
Individual mooncake prices range from RM25 to RM43. 
Call Tao Chinese Cuisine at 03-2782 6128 or email the team at [email protected] for mooncake orders or inquiries. 
Click here for their e-brochure and order form.
//

//

//

//

//

//

//

//

//