Choco Raisin Loaf Recipe
Today I shall attempt baking Choco Raisin Loaf using the Sweet Bread recipe but modified to get a chocolate bread as my breadmaker doesn't come with a Chocolate Bread recipe :(
Ingredients for 700g of Choco Raisin Bread:
120ml water
150ml fresh milk (or chocolate milk)
2 tbsp oil
1 tsp salt
3 tbsp sugar
3 tbsp Cocoa Powder
2 cups bread flour
1 cup self-raising flour
1 tsp breadmaker yeast
1 tbsp butter
3/4 cup raisins + chocolate chips (combined)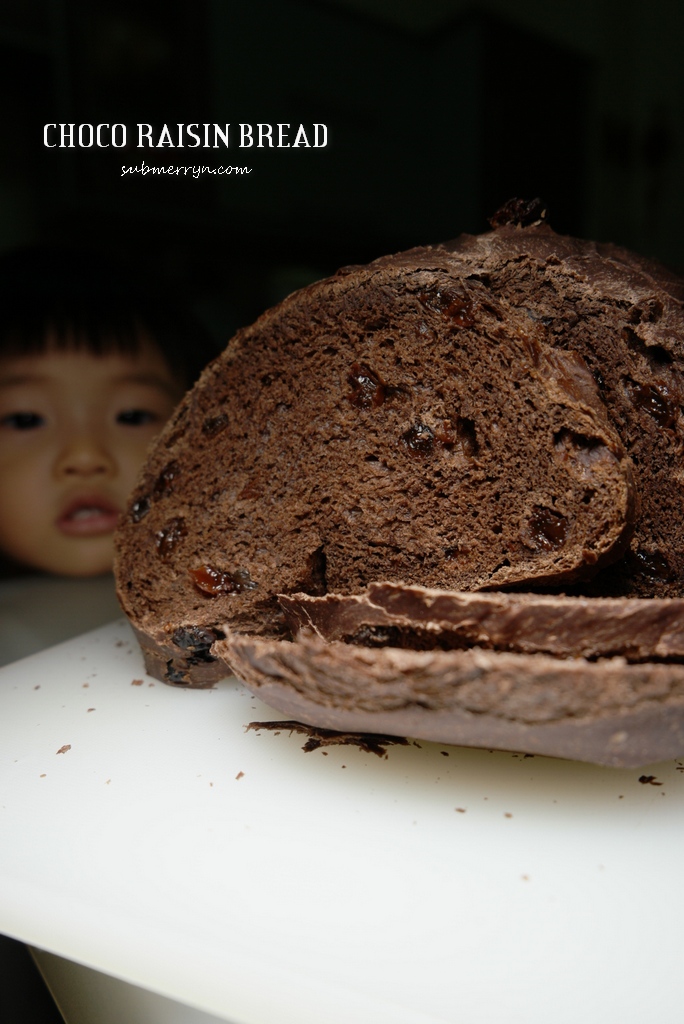 Refer to the above picture for the setting of my breadmaker in case you need to know. 

Add 120ml water.
Followed by 150ml fresh milk. 
Add 2 tbsp oil.
Next, add 1 tsp salt.
Add 3 tbsp sugar. 
Followed by 3 tbsp cocoa powder. 
Next, add 3 cups of organic strong white bread flour. 
Add 1 tsp breadmaker yeast last. 
Set the breadmaker to Sweet Bread with Medium Crust and press Start. 
At the start of the second knead, add 1 tbsp butter. I did not add butter with the rest of the ingredients earlier as I learned somewhere that adding butter later helps make the bread more moist.
Shortly after, at the beep signalling to add fresh fruits or nuts, add the raisins and chocolate chips. 
My beautiful Choco Raisin Loaf. 
It is very moist and soft.
See, I can bend it without it crumbling. 
Ayden loves this Choco Raisin loaf a lot as he simply loves raisins. This bread stays moist and soft even on Day 3 kept in an air tight container.
Related Posts