Genting Mid-Autumn Festival
Remember our post about Ethan shaping his very first mooncake in Resort Cafe, Genting? Read about it here if you missed it.
Not only did we get to make our very own mooncakes, baked it and bring it home, we also get to indulge in 16 varieties of mooncakes! 
Let's start with Ethan's favourite, the Snow Skin with Kiwi Fruit paste.

Snow Skin with Kiwi Fruit Paste -RM10.50+ (new)
A new addition to Genting's mooncake flavours, this Snow Skin Kiwi Fruit Paste is very pleasant to look at and even more pleasant to swallow :P Soft and not overly sweet, health conscious parents will be happy to serve this to their kids. I know I am! 
Snow Skin Mango Paste -RM10.50+
Snow Skin Mango Paste is another snow skin variety. A bite into this reveals a heavenly combination of fresh and dried mango blended with lotus paste.
Have a cup of flower tea or scented tea to complement this mooncake. The pairing is awesome!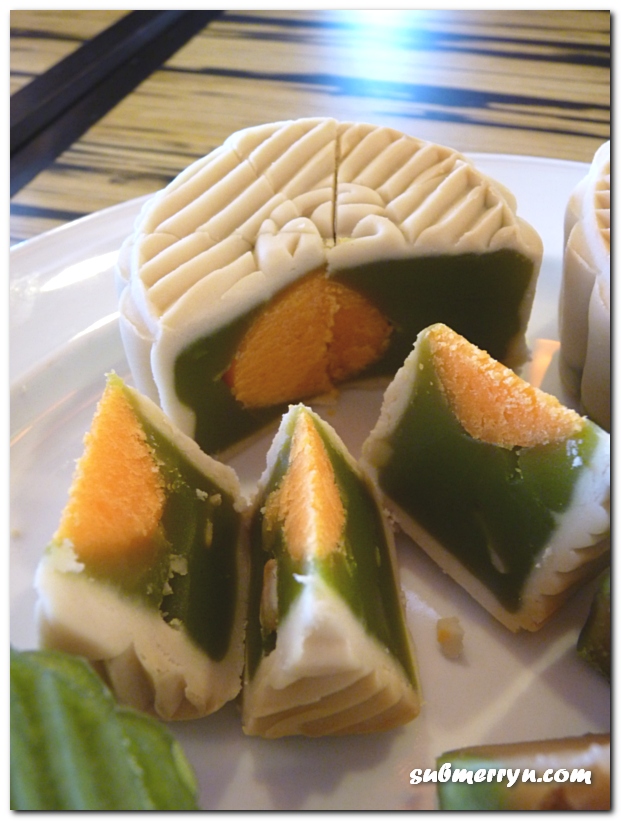 Golden Jade with Single Egg Yolk -RM11.00+
If you are planning to get some mooncakes as gifts for the elderly, you will never go wrong with the all-time favourite flavours such as Genting's signature flavour; lotus paste with double egg yolk or even this pandan flavoured lotus paste filled with delicious salted egg yolk.
This Golden Jade mooncake is best taken with Pu Er tea. Remember this if you want to impress your in-laws or future in-laws! :P 
Healthy White Lotus Paste with Spirulina Skin -RM11.50+
Filled with pure lotus seed paste and wrapped in a healthy spirulina skin, this is one of our favourite. I actually had 2 slices of this! Can you imagine that? 2 of this plus one of the rest.. burp!
Assorted Nuts 'Ng Yan' – RM11.00+
Richly filled with walnut, almond, sesame, dried winter melon, olive and kua chi this assorted nuts mooncake gives a crunchy and satisfying bite. Love biting into bits and pieces of nuts!
Durian Lotus Paste -RM10.50+
I love durian. I'm a hardcore durian fan but I find this durian lotus paste mooncake to be a tad too mild for my liking. 
Lotus Paste with Double Yolk -RM11.50+
Genting's signature flavour, this is a must try. Made from premium lotus seeds and filled with delicious salted egg yolk, this traditional all time favourite will go well with anybody! Again, if you are getting this as a gift, don't forget to get a pack of Pu Er tea to go with it. Perfect combination I tell you!
Lotus Paste with Single Yolk -RM11.00+
If double yolk scares you, you can opt for the single yolk variety. But if you ask me, since this is a once a year indulgence, I'll definitely go for the double yolk!
Low Sugar White Lotus Paste -RM11.00+
Can you believe Ethan actually love this? I thought this will go well with the elders since they are more health conscious and would like their mooncake to be not too sweet. But surprise, surprise, Ethan and I love this a lot. This is actually the flavour that Ethan baked earlier too so yeah, we love this :)
Red Bean Paste -RM7.80+
Classic. I think the very first mooncake I ate when I was Ethan's age was the red bean paste. Back then mooncakes only comes in 2 flavours, the lotus paste and the red bean paste. 
This red bean paste mooncake is best taken with green tea. Believe me. I've been eating this with green tea for ages!
Sweet Corn Paste with Chestnut -RM11.50+ (new)
Another new addition, filled with rich and fragrant sweet corn paste. The sweet and nutty chestnut makes this an interesting bite. 
White Butter Skin with Pandan Sweet Corn Paste Yolk -RM11.00+
Luscious pandan flavoured combined with sweet corn paste and crunchy kua chi. Love the aroma. 
Tea recommended for this is Green Tea. Simply delightful. 
White Lotus Paste with Black Sesame Yolk -RM11.50+ (new)
Soft white lotus paste with a concentrated black sesame paste center and yolk makes this a truly delectable treat! 
White Lotus Paste with Ginseng & Red Dates -RM11.50+ (new)
The red dates gives a very prominent flavour here. If you love red dates, you'll love this. 
Green Tea Lotus Paste -RM10.50+
Fragrant green tea lotus paste and crunchy kua chi. Every bite comes with a burst of green tea aroma. 
Money God Cookie – RM4.40 (2 pieces per pack)
Last but not least, a must have for all. It doesn't matter if you are getting it for yourself or as a gift, you just have got to have this Money God Cookie! It's MONEY GOD what else must I say?!
Genting also introduces their new dragon mold for mooncakes. Nice isn't it? Goes well with the year of the Dragon this year. 
Can you see the coffee beans on Ethan's plate? That is to neutralize our sense of smell. Mind you, we smelt and tasted 16 mooncakes but we are not complaining. We can go on and on having more mooncakes and tea… :D
Available at Genting Palace, Lao Di Fang Entrance, Good Friends Restaurant, Resort Hotel Lobby, Hainan Express @ TPH, Hainan Kitchen, Coach Cafe and One Hub Wisma Genting.
Early birds will enjoy 20% discount from 15 July to 15 August 2012.
30% discount will be given for purchases of 50 boxes (of 4 nos) and above from 15 July to 30 September 2012.
For more information, feel free to visit their webpage here.
//
//

//

//
//

//

//
//
//
//
//
//
//
//