Moon Folk Sauna Steamboat, Sri Petaling
I've heard of Sri Petaling but honestly speaking, I don't remember ever coming to this area until last Sunday night. I joined several foodie friends to try out the latest steamboat hype – sauna steamboat.
I was surprised that the area is really crowded hence getting a parking spot is quite a hassle. After circling the area a couple of times, we decided to park in the building opposite where there are ample of parking lots.


Moon Folk Sauna Steamboat
77, Jalan Radin Bagus,
Sri Petaling,
57000 Kuala Lumpur,
Malaysia
+60 3-9054 7711
Yes, this is the reason we are here in Sri Petaling last Sunday night. To try out their sauna steamboat. Their signboard is in Chinese with the little English word 'Moon Folk' in the dark area at the top left. Non Chinese speaking nor reading people like me overlooked it the first time around.

As soon as I entered, I saw these aquariums of fresh seafood.
This particular crab caught my eyes. It talked to me.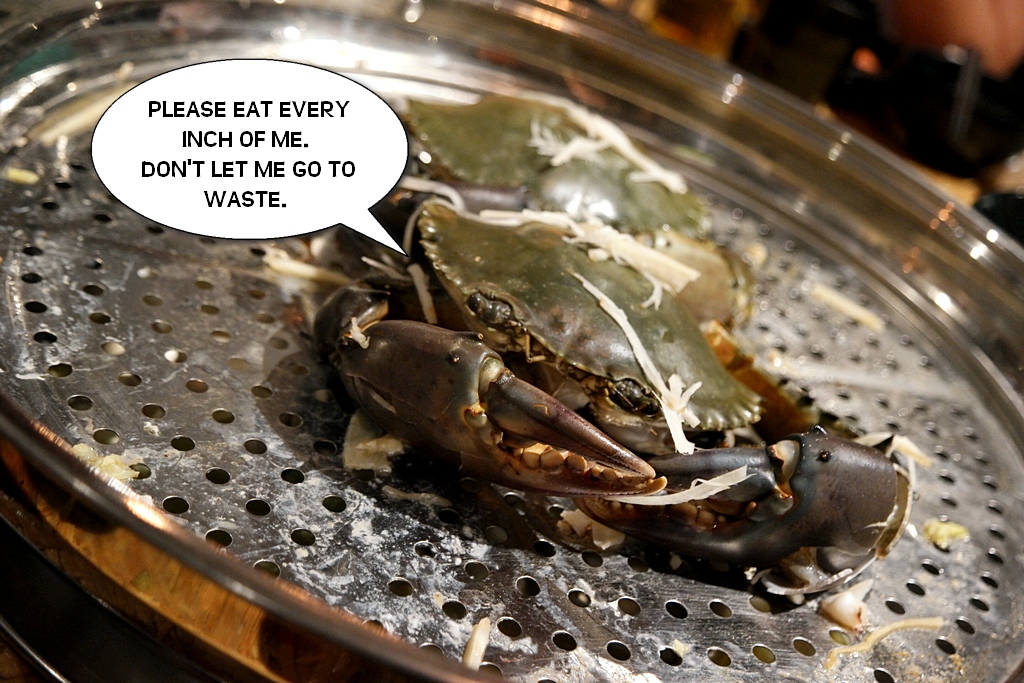 Yes, this is sauna steamboat. The crab is placed on a pot with boiling porridge underneath. The pot is then covered and the crab will enjoy a session of sauna until it is red and rosy. It is then ready to be eaten. This is the concept of sauna steamboat.
Not the usual soup based steamboat we are accustomed to but because the food is steamed and not boiled in soup, the taste is better retained.
There is also a spacious Chill Area at the entrance of the restaurant.
This is the interior of the restaurant. The round table is for larger parties such as us. There were 10 of us that evening.
We took the Value Boat Set Meal ST4 meant for 4-6 pax and topped up with lots of ala carte dishes to go with it. 
The Value Boat Set Meal starts from RM99.90 for 2-3 pax and goes up to RM499.90 for 6-8 pax. 
The Value Boat Set was served in a BOAT with lots of treasures in it. 
Value Boat Set ST4 (RM265.90)
Beneath the crabs are more hidden treasures as shown above. 
Herbal Chicken is also included in our set. 
Mixed mushroom is also part of the set. 
As usual with any steamboat, the sauces play an important role. They have many types of sauces for you to mix and match. 
This is how it all started, with a clean pot in the middle of the table. There is boiling porridge in it. 
The staffs here will help to put the ingredients on the pot and set the timer accordingly. 
This is how the food looks like once it is ready to be eaten. They are so fresh and beautiful! 
Earlier while waiting for our pot to be ready, we indulged in the many ala carte dishes first. 
Salted Egg Crab (RM90)
Sweet & Sour Meaty Crab (RM90)
Tiger Prawn with Oat (RM45)
Chili Tiger Prawn (RM40)
Spicy Lala (RM20)
Salted Egg Squid (RM30)
Crispy Fish Paste (RM12)
Seafood Yee Mee (RM18)
The sauna steamboat is ready quite quickly so we ate them together with the ala carte dishes.
Can you see the freshness of the seafood in the pot? 
The strong point of this restaurant has got to be the freshness of their seafood. We all agreed that we had the freshest of ingredients that evening. There is no way they can hide if the seafood is not fresh as we eat them steamed and as you know, you'll need the freshest of ingredients to do well for steamed food. As I've said earlier, because the food is steamed and not boiled in soup, they retain their flavours better. We ate the sweetest crab ever that evening and the prawns are just to die for (but they ended up dying for us instead. LoL). 
The best of the best is that whatever ingredients that we steamed, their essence will drip into the porridge underneath. This is saving the best for last. We had this super nutritious porridge to end our meal. 
It was a very satisfying and healthy dinner. My advise is to order a smaller Value Boat Set like what we did. Eventhough there were 10 of us, we took the 4-6 pax set and topped it up with items from the ala carte menu. That way we get to enjoy more varieties of food and not limited to only steamed food. 
Related Posts