Cucur Ikan Bilis Recipe (Anchovies Fritters)
Cucur Ikan Bilis or Cekodok Ikan Bilis is many Malaysians' favourite snack for tea.
Crunchy on the outside and soft on the inside, they won't last long on the kitchen table as we would usually gobble them all up in no time.
With the holy month of Ramadhan approaching really soon, I believe cucur ikan bilis will be sold widely in Bazaar Ramadhan everywhere. I remembered buying them each time I frequent a Ramadhan Bazaar. 
I was back in my Mom's place over the weekend and suddenly this cucur ikan bilis came to my mind. I remembered my Mom used to make this for us when we were younger so I requested for her to teach me so I can make this for Ethan too sometimes. I didn't know what to call this as I wasn't sure if it is called cucur ikan bilis or jemput jemput ikan bilis or even cekodok ikan bilis?! After much 'discussion' with my Mom, I decided to use cucur ikan bilis for this post :P
The ingredients my Mom used are:
Bawang besar (big onions), daun sup (coriander leaves), daun bawang (spring onions), cili (red chilies), ikan bilis (anchovies), telur (egg), tepung gandum (flour), garam secukup rasa (salt to taste).
My Mom sliced the big onions, daun sup (coriander), spring onions and chilies and set aside.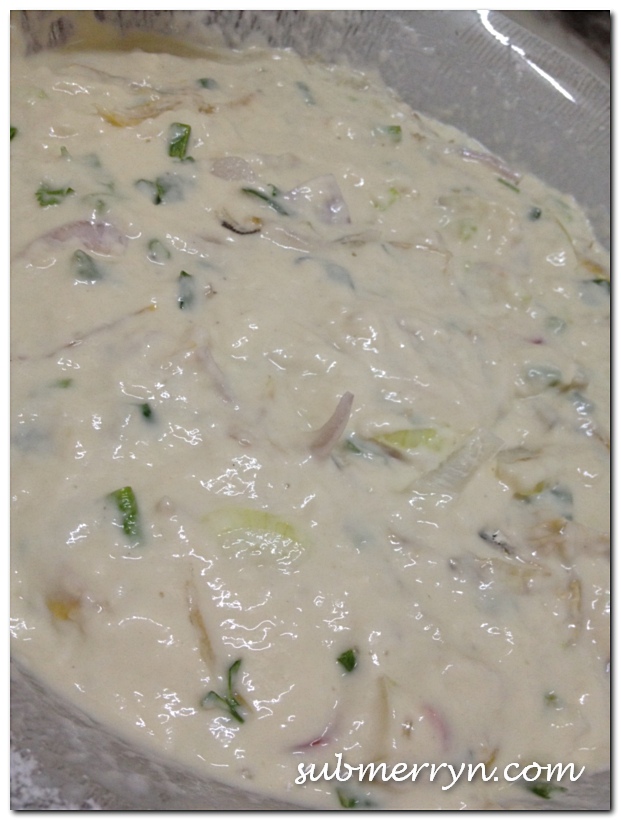 In a huge bowl, add the flour, water, whisked egg, salt and mix well.
Add the sliced ingredients. Add the anchovies and mix thoroughly.
Heat oil in a wok. Scoop out the batter and gently drop it into the hot oil. Fry until golden. Remove.
Yummy cucur ikan bilis or anchovies fritters are ready for tea! 
Crunchy on the outside, soft on the inside. My childhood favourite snack revisited. Ethan loves this too and had about 6 pieces in one go!
He's already requesting for me to make this for him sometime and I'm crossing my fingers that mine will turn out as good as my mom's or at least 3/4 as good as hers :P
Do try this too:
Cekodok Pisang. Full recipe here.
Related Posts
//
//
//
//
//
//
//
//
//
//
//
//
//