Eating Out for Baby
1,538 views
7 Comments
Since Ayden started solid about a month ago, I never cook and bring his food out when we are out of the house. I just fed him some baby biscuits while we are eating and he is good. But last weekend I did. He is having such good appetite these days that when we eat, he'll lick his lips hoping to be fed too. So for the very first time last Saturday, I brought his porridge out to the mall.
I fed him first while waiting for my food to come. Look at his legs with feet dangling out like that! #likeaboss
He enjoyed his porridge so much that he finished it so quickly! So quickly that it was all gone even before my food arrive and I ended up having to nurse him a little before I took a bite of my food!
Related Posts
Join ME for updates & giveaways!
About Me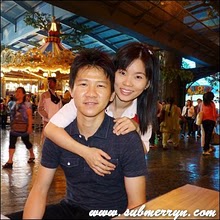 Home is where MY heart is.
I am a mother to two boys; Ethan and Ayden and a wife to Darling William. I'm a stay at home mum who blogs to break the monotony of life and to avoid feeling jaded. Would love to get to know all the Super Mommies and Daddies and Babies or Singles out there with the hope that we can learn more from each other. Most of all, I am a happy person, and I hope YOU are too.
Click here to learn more about me ^_^
Ethan and Ayden's Reading Progress