Cute NOHOO bags for kids
We were at KLCC today and I took that opportunity to take some pictures of the boys with the mighty twin towers as backdrop.

Our iconic skyscrapers.
Beautiful isn't it? I just can't get enough of it no matter how many times I see it.
As I was taking pictures of Ayden, I saw a group of tourists smiling and gesturing towards him.
They were saying something while pointing to Ayden's cute back pack.
Ayden has a new Dino back pack from NOHOO; a manufacturer of neoprene products specializing in environmental friendly children bag.
Neoprene is a synthetic rubber produced by polymerization of chloroprene. It is waterproof as well as resistant to the formation of fungi and bacteria which to me is an important factor as Ayden loves to rest his head on it or hug his bag while travelling in the car.
Ever experienced having to discontinue using an otherwise good conditioned bag just because the zipper comes apart or the buckles broke?
We don't have to worry about those problems anymore as these unique neoprene kids bags come with lifetime warranty for zippers, buckles and straps.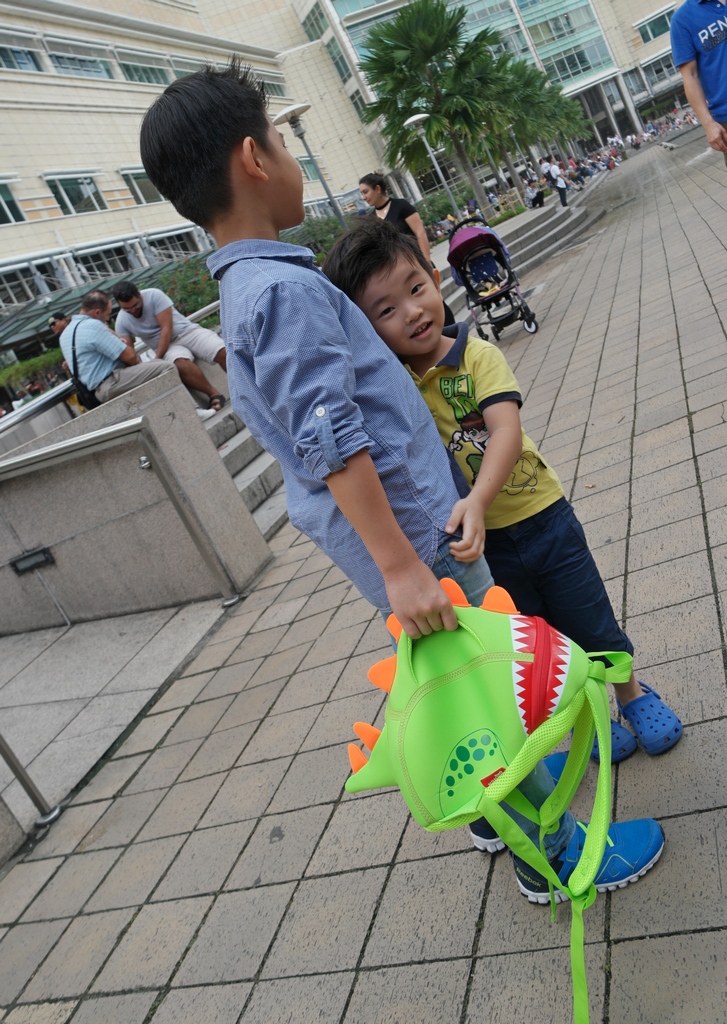 It's a back pack but the big brother prefers to carry it this way. When carried this way, it kind of looks like a shark coz of the teeth. Baby shark doo, doo, doo, doo…  
Dino looks good on Kor-Kor too! 
Nohoo bags can be purchased online at http://nohoo2u.com/ and get it delivered right to your doorstep as it comes with free delivery within Peninsula Malaysia. You can also get a discount on your purchase using my promo code < merrynlovesnohoo >