LIVE Peranakan Cooking Demo at The Straits Hotel and Suites Melaka
The Straits Hotel and Suites Melaka is having Peranakan Buffet Dinner every Friday and Saturday from 20 January to 11 March 2017. 
When I got invited by the hotel to do a LIVE cooking demo featuring Peranakan dishes, I knew I should get my mom, the true blue Peranakan Nyonya to do this with me as she is the master chef of our family 
The hotel's promotional poster.

These are the lovely family members and close friends who came to support us during our LIVE cooking demo.
I helped my mother; making sure all ingredients are chopped, sliced and prepared accordingly.
The MC also asked us questions during our cooking demo so that the guests can get to know us and the dishes that we are about to prepare better.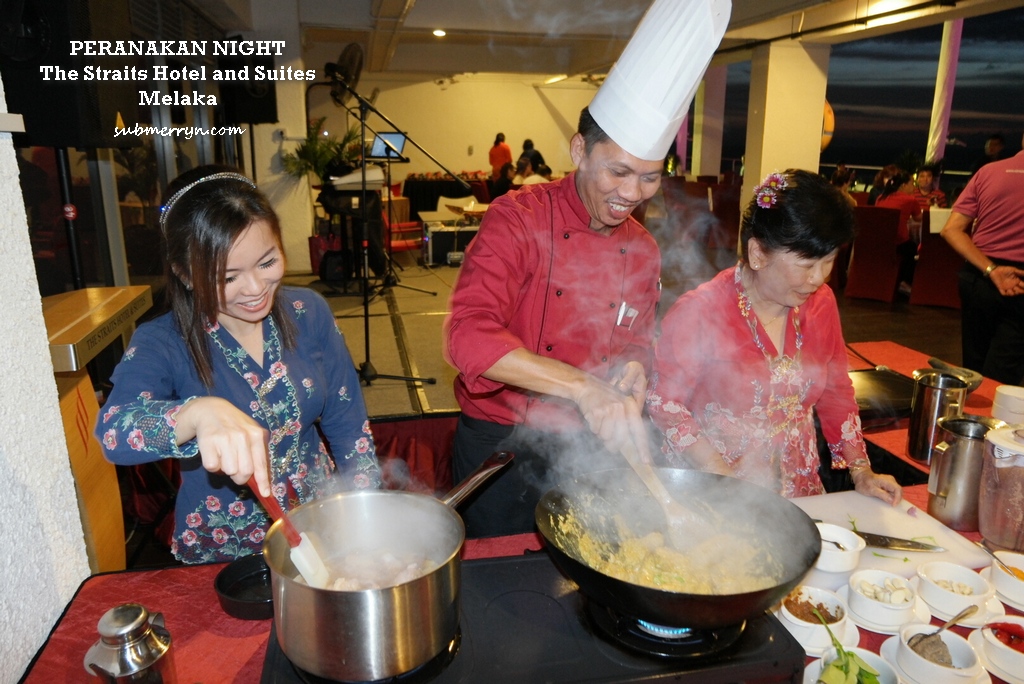 It was such a fun session with Sous Chef Al-Araj Abas lending a helping hand. It was nice 'exchanging notes' with him as we shared our kitchen tips with each other.
From left: Executive Sous Chef Tong Fah Shiun, my mom Nyonya Lilian, F&B Manager Mr Dass, Nyonya Merryn and Sous Chef Al-Araj Bin Abas.
About an hour later, we are done with our two dishes – Ayam Satay Buah Keras and Sup Ayam Masak 'O'.
Ayam Satay Buah Keras
Buah keras is widely used in Peranakan cooking and in this particular dish, it serves to enhance the richness of the dish (without the use of coconut milk) as well as to thicken it. With ingredients such as serai, daun limau purut, cili merah, kunyit and red onions, you can be sure this is one fragrant and delicious dish. Goes well with a bowl of freshly steamed white rice.
Check out the recipe here.
Ayam Masak 'O' is a popular simple Peranakan soup dish. One of the quickest and easiest soup around, it is easily the favourite among children as well as adults with its soupy gravy, soft potatoes and flavorful chicken with lots of ginger. Though we use ginger to cook this, it is not gingery hot but rather just nice to complement the whole thing.
Best eaten while it is still hot, it remain as one of my favourite comfort food especially on cold, lazy nights.
My mom was on a roll as she also won the Best Kebaya Nyonya Award that evening thanks to her complete assemble of beautiful Nyonya Kebaya, kain sarung, kasut manik as well as neatly dolled-up hair with fresh flowers.
Congratulations mummy!
My mom with her number 1 fan – my Dad! 
Besides our LIVE cooking demo, the highlight of the evening includes the delicious PERANAKAN buffet spread.
I particularly love their mee siam and pejeri terung.
Among some of the Peranakan dishes I sampled that evening were udang masak lemak nenas, ayam rendang, sotong cili garam, ikan pari asam pedas as well as laksa Nyonya.
A variety of Nyonya kuih were also served in the buffet spread.
It has been quite some time since I last ate tauhu sumbat!
Ikan bakar and satay station
Koperasi members from Persatuan Peranakan Baba Nyonya Malaysia (PPBNM) were also present to showcase stuffs related to the Peranakan community such as kasut manik, keronsang, Nyonya Kebaya and pinggan mangkuk Peranakan. All these were also available for sale that evening.
Melaka Hari Ini published a write-up on this event in their 21 February publication. 
If you wish to experience this Peranakan buffet dinner, you can still do so as it is still on going every Friday and Saturday from 20 January to 11 March 2017. Priced at RM68nett per adult, it is half the price for children above 9 years old as well as senior citizens 60 years and above.
For further details and reservation, please call 06-2898 555 x 202
Related Posts
//

//

//

//

//

//

//

//

//

//

//

//