My Breastfeeding Journey: DIY Nursing Top
10,788 views
5 Comments
I direct latch Ayden. Means I do not pump out my milk for bottle feeding. That also means I will need to nurse him whenever we go out. I used to run to the nearest nursing rooms whenever we are out shopping but that is too troublesome as sometimes the nursing rooms are all occupied. 
One fine day I braved myself to nurse in public using my shawl to cover him but I find it very 'suffocating'. I then decided to hunt for nursing tops so I can nurse better without 'exposing' myself too much but to my dismay nursing tops are usually very expensive and not very pretty looking. 
And then I found a DIY guide in TBAN and decided to give it a try. It calls for the use of a plain tank top but I can't find mine when I need it the most so I used this instead. 

I'm sacrificing this top for this DIY experiment to see if it works. 
Remove straps from the back of the tank top. 
Loop strap and sew.
Ayden watched me sewing my top like as if he knows this is for the boobs that feed him! LoL!
Cut the excess strap and tah-dah! Just like that, my nursing tank top is ready! 
Wear it over my nursing bra. 
Hook it in as shown above and it is ready to use. 
With this tank top under my shirt, I can nurse anywhere without exposing any other parts of my body when I lift my shirt up. This was actually taken in KFC that day!
Now that I know this really work, I am digging my closet for more plain tank tops to be converted into nursing tops. I can wear them under beautiful blouses too! Heck I can even wear it on its own and pair it with a nice jacket!
Am really enjoying my breastfeeding journey :)
Got to go. Ayden needs his milk now! 
Related Posts
Join ME for updates & giveaways!
About Me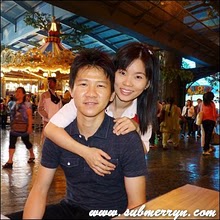 Home is where MY heart is.
I am a mother to two boys; Ethan and Ayden and a wife to Darling William. I'm a stay at home mum who blogs to break the monotony of life and to avoid feeling jaded. Would love to get to know all the Super Mommies and Daddies and Babies or Singles out there with the hope that we can learn more from each other. Most of all, I am a happy person, and I hope YOU are too.
Click here to learn more about me ^_^