Buying a school bag
997 views
15 Comments
It's 11.12.13 and all over my Facebook newsfeed I see people saying how special it is. Honestly speaking, what's so special about it? It is a state holiday though but I spent half of the day at home recuperating from vomiting that started the night before. In the midst of vomiting I can still joke with Darling saying I might be pregnant again. Ethan who was listening exclaimed, "NO!!!! Ayden alone is ENOUGH!!!" >_<
Anyway, we went school bag hunting today. Being the first time Ethan is entering primary one, we do not really know what to look for when choosing a school bag. The prices of school bags these days are ridiculously crazy!

It is not helping that kids these days go for their favourite character instead of quality. Ethan chose this bag particularly because it has a blinking light and MANY compartments. 
At RM139.90 let's see how long can this bag last. We already told Ethan if he damages this bag, the next one will be on him. He'll need to break open his piggy bank as we are not going to buy him another until next year. 
//
//
//
//
//
//
//
//
//
//
//
//
//
//
//
Join ME for updates & giveaways!
About Me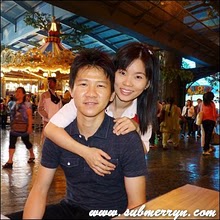 Home is where MY heart is.
I am a mother to two boys; Ethan and Ayden and a wife to Darling William. I'm a stay at home mum who blogs to break the monotony of life and to avoid feeling jaded. Would love to get to know all the Super Mommies and Daddies and Babies or Singles out there with the hope that we can learn more from each other. Most of all, I am a happy person, and I hope YOU are too.
Disclosure Policy
Click here for my disclosure policy.