Recycle your eco-friendly shopping bags and old CDs
9,820 views
15 Comments
If you are a blogger who loves attending events, you are sure to have lots and lots of eco-friendly shopping bags at home. I have like a million of them! :P
Apart from attending events, we bloggers get to attend movie screenings too aye? That only means that I do not purchase VCDs/DVDs as often as I used to anymore. In fact, I have so many CDs/VCDs/DVDs at home that is full of scratches that I don't think I can play them anymore.
So I was thinking, what do I do with those shopping bags and old CDs? I don't just throw stuffs away, you know. If you know me well, I collect and keep EVERYTHING, including toilet paper rolls!

They are bursting out of my kitchen drawers I have to do something about it!
After squeezing my brain juice, I finally thought of something!
I converted my shopping bags into cute magnetic ladybug note holders! Awesome right? I've always LOVED ladybugs for it is believed that ladybugs bring us luck. You'd noticed that I have done MANY ladybug crafts previously and will never stop thinking of new ladybug crafts to come!
These magnetic ladybug also doubles as a note holder as I pasted cloth pegs at the back. Check out my craft blog here for the full instructions.
Made of totally recyclable items (except googly eyes and magnet), I am doing my part to save the planet :)
Related Posts
//
//
//
//
//
//
//
//
//
//
//
//
//
//
Join ME for updates & giveaways!
About Me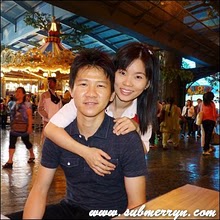 Home is where MY heart is.
I am a mother to two boys; Ethan and Ayden and a wife to Darling William. I'm a stay at home mum who blogs to break the monotony of life and to avoid feeling jaded. Would love to get to know all the Super Mommies and Daddies and Babies or Singles out there with the hope that we can learn more from each other. Most of all, I am a happy person, and I hope YOU are too.
Click here to learn more about me ^_^
Ethan and Ayden's Reading Progress