Confinement Food: Black Vinegar Pork Trotter
1,057 views
9 Comments
About 3 weeks ago, someone in our family gave birth ahead of time; catching us all of guard. 
As she has no other family members here in PJ except us, I cooked some confinement food for her.

It was my first time cooking confinement food and I somehow simply whacked as long as got ginger except the black bean soup lah. That one has no ginger in it. I also boiled red dates and longan drink for her.
A few days ago, I bought black vinegar because we needed to use that for the Kung Pao Chicken dish that Ayden cooked. You can check out that post here -> Sichuan Dish: Kung Pao Chicken
Since I have an entire bottle of black vinegar with me, I thought of trying to cook my favourite confinement dish of all time – Black Vinegar Pork Trotter.
This dish alone made me enjoy confinement twice. I don't mind going into confinement again just because of this. My mom said I am easy to please when it comes to confinement food as I loved everything she cooked especially this cuka babi as we call it. 
I have been craving to eat this again so it is only apt that I learn to cook it myself. 

Black Vinegar Pork Trotter
First thing first. I don't go to morning market so how to buy pork?
Buy from supermarket lah. Got aircond somemore. 
I got these Sakura Pork Trotter for RM20.95 from Village Grocer. Okay or not the price? I also don't know. When one is desperate, she just grabbed whatever is in front of her and get the husband to pay for it 
Ingredients:
Pork Trotter
Palm Sugar
Old & Young Ginger
Black Vinegar
Water
Method: 
Quickly blanch pork trotters in boiling water. 
Remove and pat dry with kitchen towel. 
In a dry wok, fry ginger without oil. I used both old and young ginger. Old ginger is more pungent while young ginger is more aromatic. As I am not really cooking this dish for confinement purposes but rather for personal consumption, I did not use so much ginger. I used more young ginger and only a little old ginger. 
If you are cooking this for confinement, be more generous with the ginger. Bentong ginger will be best.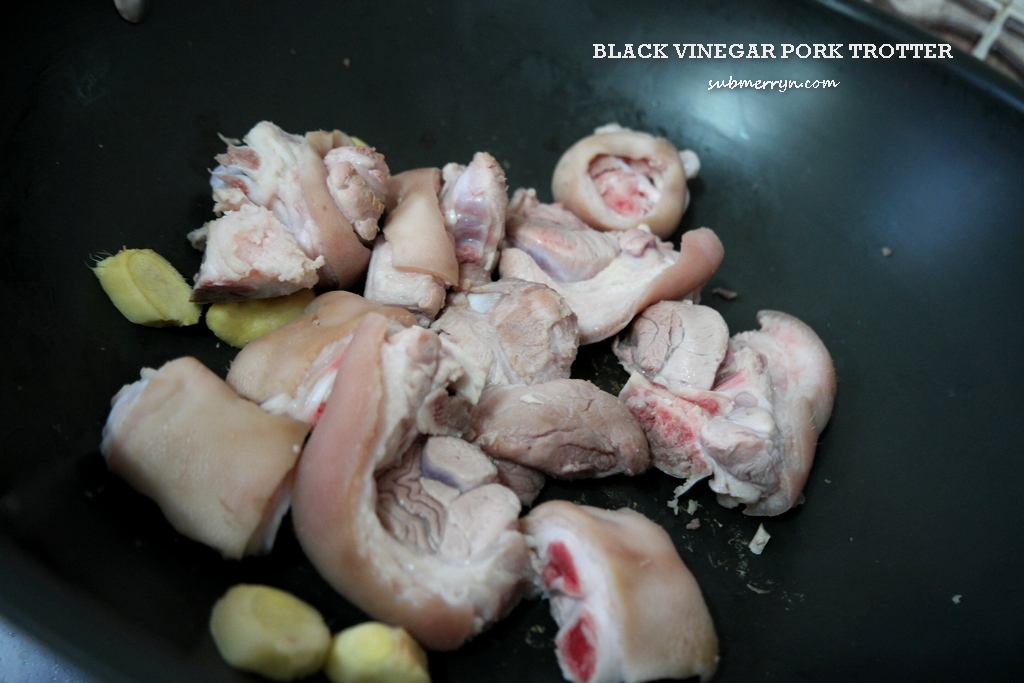 Fry until the ginger is dry and fragrant but be careful not to burn it. Add in the pork trotters and continue to dry fry. 
Transfer the pork and ginger into a ceramic pot. Sprinkle palm sugar all over it, turn the fire on and stir until melted. 
Add two bowls of black vinegar. 
I added a bowl of water so that the pork trotters can soak nicely. Let it boil until pork is tender.
The liquid with reduce significantly after all the slow boiling.
I think that bowl of water I added also dried up already leaving flavorful black vinegar that is deliciously sweet and sour. 
I let it sit overnight. The next day it is PERFECT! 
I am so happy I can cook my own Black Vinegar Pork Trotter dish now.
I still love my mom's (Mom's always the best) but this will do when I am away ♥
Related Posts