New THEME Rooms @ Furama Bukit Bintang KL
If you are planning for a fun family staycation in the Klang Valley, you'll LOVE the NEW Family THEME Rooms at Furama Bukit Bintang, Kuala Lumpur 


FURAMA BUKIT BINTANG KL
136, Jalan Changkat Thambi Dollah,
55100 Kuala Lumpur,
Malaysia 
03-2788 8888
Family rooms and theme room rates starts from RM450+ onwards. Each booking comes with a complimentary unlimited playtime at Waka Waka KL. Book a family room directly with Furama Bukit Bintang and enjoy a 10% discount with the promo code -> submerrynxfurama
Book your room here:
https://www.furama.com/bukitbintang/Rooms
Each booking will enjoy one complimentary pass with unlimited playtime to Waka Waka KL, the latest themed indoor playground in KL.
Furama Bukit Bintang caters to family travellers with these recently launched theme rooms – the Castle room, Jungle room and Underwater room. Each room has a double decker bed that fits the theme.
FURAMALAND
Checking-in was swift and made easier with this miniature play area, fondly named as Furamaland to keep the kids occupied while we get our room key cards. 
We stayed in the CASTLE theme room recently and absolutely LOVING it!
Our royal kingdom is furnished with beautiful castle theme decoration and amenities. The theme is played out in the entire room, from bedding and curtains, right down to the amenities.
THE CASTLE THEME ROOM
This 61 square metres room features two separate bedrooms equipped with child-friendly amenities and furniture, which includes a bunk bed (single and queen), a master room with a king bed and a living room equipped with a Pandora box console (retro arcade games) for the entire family to enjoy.
Check out the slide that comes with the bunk bed. Little Prince Ayden had a great workout gliding down and climbing up the stairs on repeat.
Children can keep themselves active and occupied in the room with the plush toys that is placed in the room to fit the theme.
These dragons standing guard at the castle keep us safe in our royal kingdom.
Pandora Box aka Game Box with retro arcade games promised hours of fun for the entire family.
We had a great time introducing to the boys some ol' school games that we used to play when we were younger.
And to our surprise, the boys actually enjoyed it. They learned very quickly too and in no time, they are able to defeat us.
Space is of abundance here as you can see in our pictures; giving us a sense of calm and comfort to just chill, relax and have a jolly good time.
Children will not feel restricted in these theme rooms as there are plenty of space for them to move around.
A little cosy corner to have tea with castles and dragon.
THE BATHROOM
The bathroom is amazing. So much effort being placed to make it as children-friendly as possible while still sticking to the Castle theme.
Amenities for children include toothbrush, body wash, shampoo, lotion and towels.
Towels specially for the little ones.
Even the shower height is catered specially for children with non-slip mat for safety. An overhead shower for adults is available too.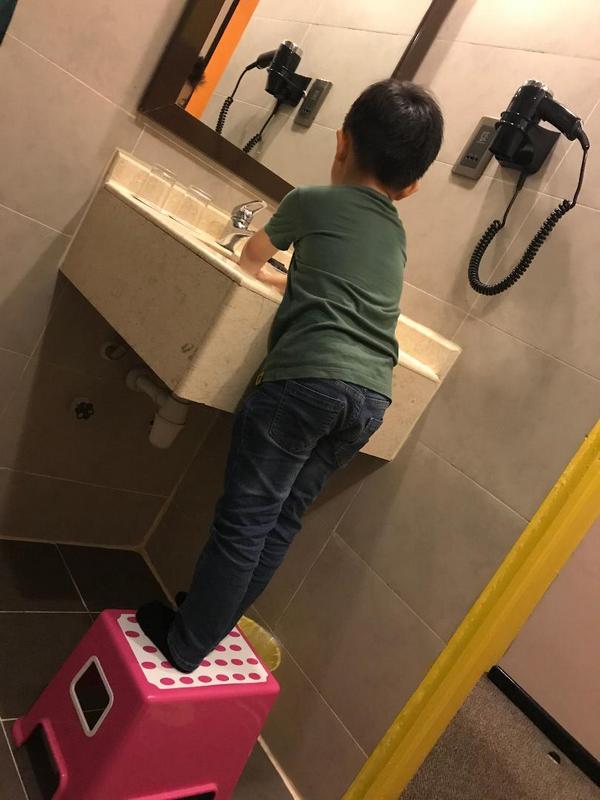 A non-slip step stool is provided for the little royalty.
Children is KING here at Furama Bukit Bintang's new THEME rooms. Everything is made specially with them in mind.
Bath time is so much fun here in the castle theme bathroom.
THE KING'S ROOM
As for us adults, we are treated like royalty too with our very own comfortable king size bed fit for the King and Queen in an equally spacious room.
Yes, that's me, the QUEEN.
Complementary bottled drinking water.
Coffee, tea, Milo and kiddie mugs with spoons. A jug is provided for us to refill drinking water from the water dispenser provided along the hotel corridor if we run out of drinking water as it is important to keep our active little ones properly hydrated.
Mini refrigerator.
Room safe, iron and bedroom slippers.
Clothes hangers and ironing board.
THE POOL
For outdoor enjoyment, we spent our time at the pool equipped with kiddie floats.
DINING
The all-day dining Spices features kiddie menus called "For the Little Ones". Cutleries for children are also provided.
Kids cutleries station.
We had our breakfast and dinner here. 
The saying, "Eat Breakfast Like a King, Lunch Like a Prince, and Dinner Like a Pauper," doesn't apply here at SPICES as our dinner was as or even more extravagant than our breakfast. 
We had BBQ Buffet by the pool for dinner. 
The chef did all the grilling. All we did was to select the items of our choice and enjoy our dinner.
Besides seafood, the grilled lamb was so good, I had multiple servings of it. 
WAKA WAKA KL – INDOOR PLAYGROUND
Furama Bukit Bintang KL has also newly launched a 10,000 sq ft indoor playland called Waka Waka KL, located within the hotel itself. Read more about it here:
https://www.submerryn.com/2019/08/waka-waka-kl-indoor-playground-at-furama-bukit-bintang.html

With the FuramaKids promo, each theme room booking comes with kids setup, unlimited playtime at Waka Waka KL indoor playland and a Waka Combo meal.
Watch the video below to see all the fun a kid can have at Waka Waka KL – the latest themed indoor playground in KL:
We thoroughly enjoyed our stay here at this new castle theme room. Totally loved the space and the effort put into it to make our stay a happy and memorable one.
Furama family rooms and theme room rates starts from RM450+ onwards. Each booking comes with a complimentary unlimited playtime at Waka Waka KL. Book a family room directly with Furama Bukit Bintang and enjoy a 10% discount with the promo code -> submerrynxfurama
Book your room here:
https://www.furama.com/bukitbintang/Rooms
The hotel is also constant running promotions to help families make the most out of their holidays. Do check out https://www.furama.com/bukitbintang/promotions/Room-Promotions for the most updated promotions.