WAKA WAKA KL: INDOOR PLAYGROUND AT FURAMA BUKIT BINTANG
Waka Waka KL is the latest themed indoor playground in Kuala Lumpur. This 'magical kingdom' is perfect for children aged between two to twelve years old. Located within the premises of Furama Hotel Bukit Bintang, Waka Waka KL boost over 10,000 square feet of play space for little ones to unleash his/her energy and imagination and be a #wakaroyal!
More than just a place to play, Waka Waka KL is built to enhance a child's cognitive, emotional and social skills through fun physical activity.
Children can come expecting to climb the walls of tall castles, scaling active volcanoes, and sliding onto the lush fields of a land far, far away on fun slides! Crawl through tunnels and bounce on safe and colourful play equipment.
There are swings, slides, climbers and other types of equipment that encourage children to develop their balance, speed, agility and coordination at Waka Waka KL.
Climb the walls of tall castle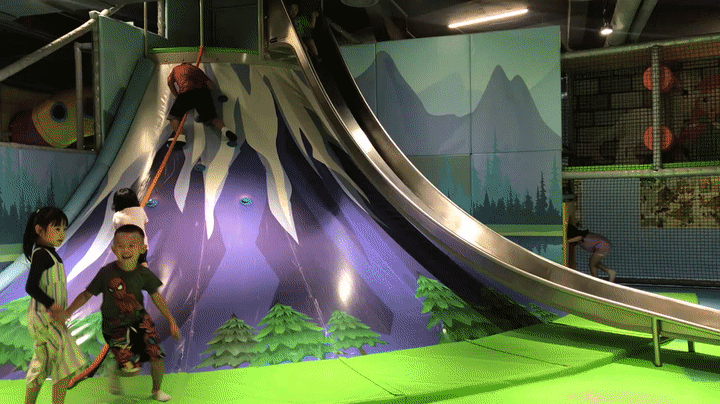 Scale active volcanoes
This unique volcano feature is such a hit here at Waka Waka KL. Our boys have been to several indoor playgrounds yet this is the first time they experienced such an interesting and equally challenging attraction. They tried scaling up with the help of the rope and once they've conquered that, they 'upgraded' by running up the volcano. The long slide down is such a rewarding experience that they want to do this on repeat.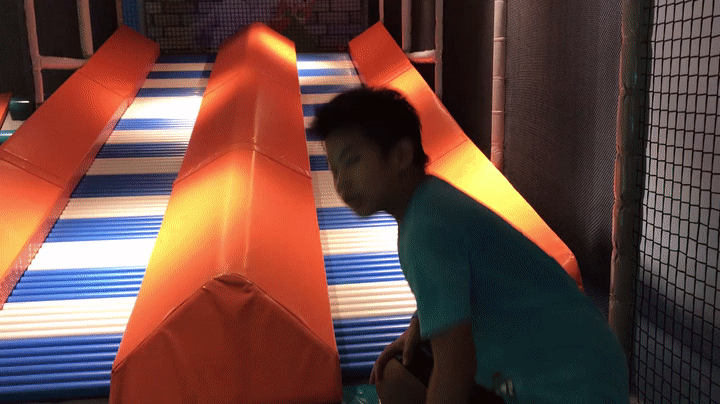 Enjoy the many fun slides
There are many slides here and the above is Ethan's favourite as he gets to surf down that slide.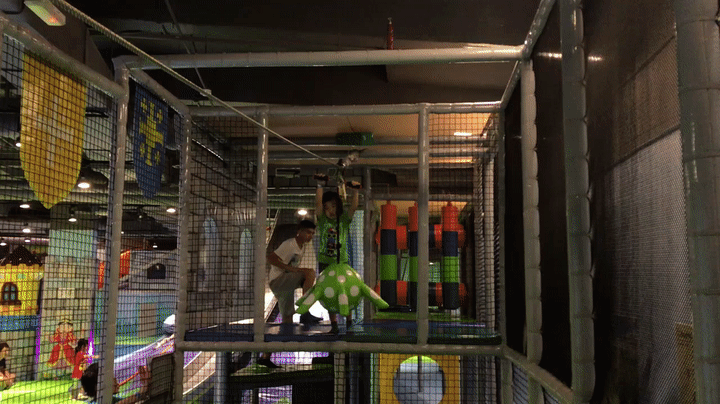 Go on the adventurous Flying Fox
Another favourite feature here is the Flying Fox. Once they experienced the thrill of the speed, these children will not want to leave. 
Test your limit with this obstacle course


Older children can test their limit with this challenging obstacle course. It's not easy to go through it but once you are done, you can do it again and this time, time yourself to record your personal best. 
At Waka Waka KL, children get into the habit of exercise and making it a fun activity that will encourage them to stay active throughout their lives. Not only that, a child's social skills can also be built through active play.
There is also an in-house bistro and lounge area for the parents to kick-back, relax, and dine at whilst the children run wild.
After working up an appetite, both children and adults will be spoilt for choice at the variety of options available; tuck into freshly made pizza, sandwiches, burgers, pasta or snack on little bites!
Waka Waka KL is also a fantastic venue for birthday parties and corporate family days! From basic birthday packages to royal themes, parents can view and book celebrations for their children via their new website.
Keep up-to-date by following Waka Waka KL's official website, Facebook and Instagram page.
Do look out for giveaways on Waka Waka KL's social media pages. From hotel staycations to play passes, the kingdom's generous giveaways are something you don't want to miss!
Watch this video for a FUN virtual tour of Waka Waka KL:

Waka Waka KL is open daily on weekdays, weekends and public holidays.
Contact: [email protected]
//

//

//

//

//

//

//

//

//

//

//

//