Buffet for Chinese New Year Reunion Dinner?
Chinese New Year is less than a week away.
It is time for feasting and catching up with our extended family members again. Time has changed with more and more families opting to eat out instead of slaving in the kitchen for days just to prepare for the reunion dinner. Even eating out has evolved in one way or another with diners now showing preference to have a buffet style reunion meal as opposed to the more traditional banquet style Chinese sit down dinner. 
But why buffet? Why not the traditional banquet style Chinese sit down dinner?
Let me share with you my story.
A traditional banquet style 9 course dinner usually takes approximately 3 hours to complete. My youngest boy is only 5 years old. I don't think it's natural for children that young to be made to sit through dinner for the entire 3 hours without causing some disturbance. The longest little Ayden can sit still is 1 hour or maybe 90 minute max after which he'll get restless. The conversation during dinner usually revolve around adults making it even more boring for the kids. All they want to do is to light some fireworks but they can't do that yet as we adults are still busy catching up while waiting for the next course of our dinner. And they are not allowed to move about as we are in some fancy restaurant.
Trying to keep the little one occupied a little longer, I allowed him to play his tab silently BUT as soon as the elders see him with the tab, one of them will for sure to remark, "I will never allow gadgets on dinner table with my kids back then". Hello! Your kids are in their twenties now. For sure they were not allowed gadgets on dinner table back then as I doubt we even have all these smart phones or tabs then. Look at them NOW. They are doing a LIVE video on their social media while having a family meal. Isn't that as bad as my little one with his tab?
I'm not championing gadgets on dinner table but my point is, it's difficult to make young children sit through a lengthy dinner quietly. That is why these days, I prefer buffets. What is there not to like about buffets? 
First of all, we can eat our favourite dishes as much as we can while skipping the ones that we don't fancy.
Don't you hate it when that greedy cousin of yours hog your favourite kam heong prawns? You are only on your first prawn yet he has already built a mountain out of the shells …
With buffets, you can have all the kam heong prawns you wish and grow your own mountain of shells.
Don't let me start on fish in banquet dinners. By the time it goes around, all is left for me is the tail. Seriously, don't give me the tail. I don't mind the head but only if it is steamed. Give me the EYES if the fish is steamed. Those jelly balls are my favourite!
Fried Red Snapper with Sweet and Sour Pineapple Sauce
In buffets, the fish never runs out! We can eat the entire fish on our own but please don't be so uncivilized can or not? Give chance to others also. Don't la take the entire tray to your table … tsk tsk.
Okay, I am not greedy. I leave the leafy greens for you all to eat. LoL. With banquet dinners, it will be a waste not to eat what is on our table but with buffets, I can let others help me eat what I don't fancy.
MAKE OUR OWN YEE SANG
Say what? YES! You read that correctly. We can make our own yee sang!
Make your own yee sang with lots of salmon, jelly fish and your favourite condiments!
Look at that! We made our very own yee sang with lots and lots of salmon and jelly fish. Huat arh!
We can even have an extra plate of our favourite jelly fish strips just because we can. Slurp!
Best of all is we don't need a table of ten to toss to prosperity. We can toss even if there are only two of us. Just DIY from the yee sang counter.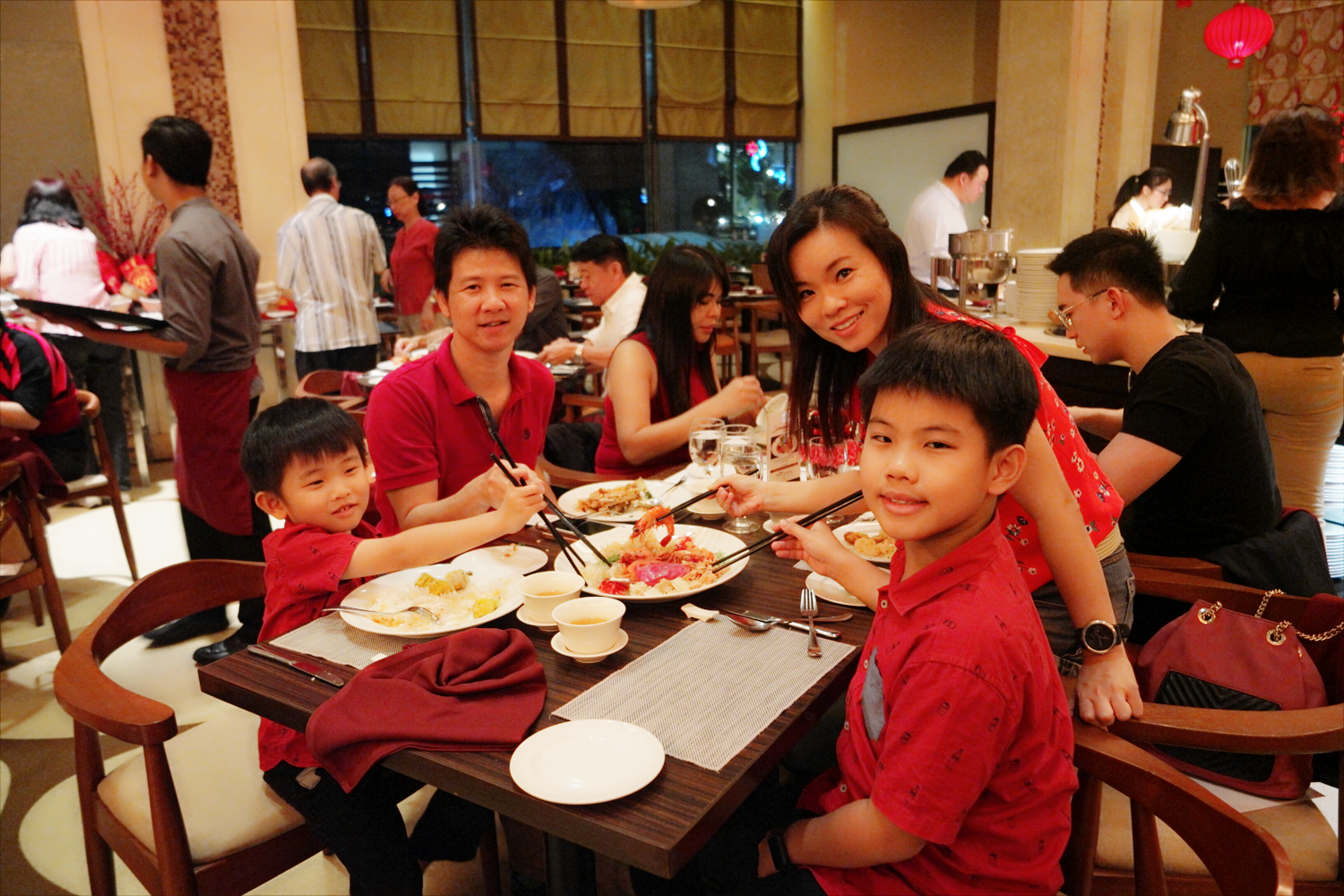 I even added prawns into my yee sang. Haha!
Delightful desserts!
I don't know about you but I am very much a dessert person and having all these to myself is a dream come true. 
Little Ayden prefers buffets too as he can walk around looking for food instead of being pinned down to his chair for hours. 
This Chinese New Year, diners will be spoilt for choice at Impiana KLCC Hotel as the Hotel's culinary team has worked hard to bring diners an array of delectable cuisine that appeals to different palates.
From much-loved traditional Chinese dishes served banquet-style, a six-course menu comprising fusion Chinese specialties for a contemporary dining experience to a buffet dinner and high tea spread featuring popular local and international dishes, there is something for everyone, making the Hotel an ideal place to dine and celebrate the auspicious Chinese New Year.
Chinese New Year Eve Buffet Dinner
4 February 2019
6.30pm – 10.30pm
Tonka Bean Café & Deli, Impiana KLCC Hotel
RM188.00+ Per Adult / RM38.00+ Per Child
Inclusive of Yee Sang available at the buffet line
Free flow of house pouring wine and beer
For a get-together and reunion dinner with beloved friends and family on Chinese New Year Eve, Tonka Bean Café & Deli, the Hotel's casual dining restaurant is the perfect place to dine and savour a variety of local and international dishes while enjoying a free flow of house pouring wine and beer.
A generous spread of well-loved Chinese favourites awaits diners and these include the aromatic and flavourful Roasted Beijing Duck, Fried Butter Crabs with Chili and Curry Leaves, Stir Fried Soy-marinated Lamb Shoulder with Ginger, Fried Red Snapper with Sweet and Sour Pineapple Sauce, Chinese-style Prawn Salad with Orange Mayonnaise, Jelly Fish with Szechuan Paste and Sesame Seeds and lots more.
The above dishes will be complemented by an array of local and international cuisine and a live barbeque station with Cajun Chicken Legs, Minute Steak, Blue Sea Crab, Mackerel, and Baby Sting Ray for variety and a sumptuous dining experience.
As a Chinese New Year Eve dinner would not be complete without the traditional toss of Yee Sang for prosperity and good fortune, Salmon, Jelly Fish and Snow Pear Yee Sang will be available as part of the buffet for the celebratory toss.
Chinese New Year High Tea
5 February 2019
12.30pm – 4.00pm
Tonka Bean Café & Deli, Impiana KLCC Hotel
RM79.00+ Per Adult / RM25.50+ Per Child
Inclusive of Yee Sang available at the buffet line
On the first day of Chinese New Year, diners have the opportunity to tuck into a Chinese New Year High Tea feast at Tonka Bean Café & Deli. The spread includes the must-have Salmon, Jelly Fish and Snow Pear Yee Sang to usher in the new year, festive desserts and snacks such as Deep Fried Chinese New Year Cake with Yam, Leng Chee Kang, Fortune Cookies and Roasted Beijing Duck at a live cooking station.
To complement these, a variety of Asian and Western fare including Roasted Lamb Shoulder with Rosemary Sauce, Pizza, Aglio Olio Pasta, Beef Salad with Local Spices & Mango, Pacific Clam and Asparagus with Teo Chew Sauce, Sambal Daging Cili Hidup, Braised Ling Zhi Mushrooms with Vegetables, Deep Fried Butter Prawns with Egg Floss, Lamb Curry with Potatoes and Fish Hariyaly will be available, along with dedicated stations for diners to whip up their own salads and hot sandwiches.
Children will certainly enjoy the Pancakes with condiments, Popcorn, Candy Floss and the unlimited scoops of Baskin Robbins ice cream available throughout the afternoon.
For dining enquiries, reservations and Yee Sang orders at Impiana KLCC Hotel, please call 03- 2147 1111 or e-mail [email protected] .