Chinese New Year Yee Sang Promo | Tung Yuen Chinese Restaurant | Grand Bluewave Shah Alam
The Chinese New Year, Year of the Pig will start on 5th February 2019.
It has become a tradition for Chinese families to have a feast on New Year eve which symbolizes family unity. During this moment, people once again are able to gather with their family members to tighten family bond and enjoy the moment of togetherness with loved ones. This significant moment has been extended beyond family members to friends and business acquaintances. 
At Grand BlueWave Shah Alam, Halal Auspicious Yee Sang, Poon Choy Set and Golden Prosperity Chinese New Year Set Menu are specially crafted by its chef specializing in Chinese Cuisine, Chef Patrick.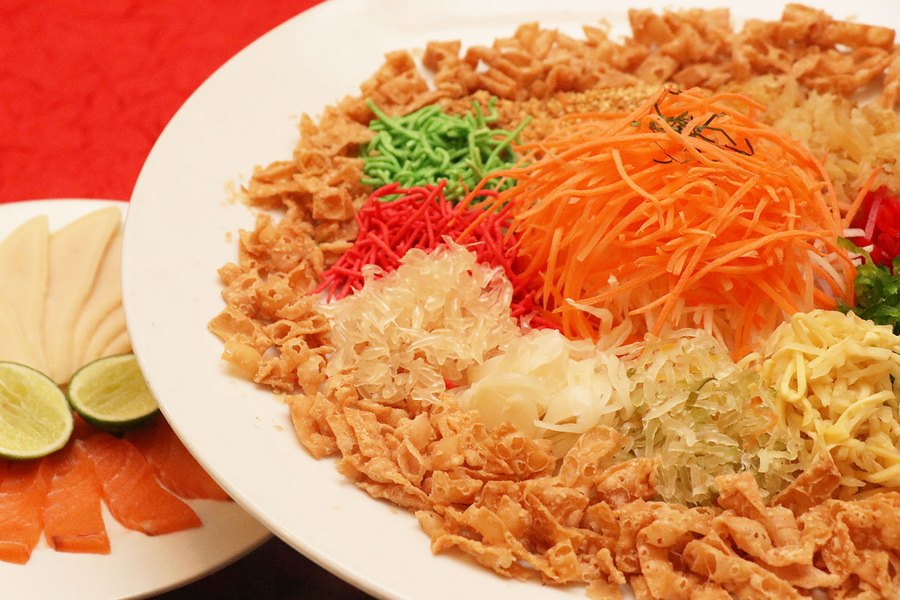 Auspicious Yee Sang is a must-have appetizer for a prosperous year ahead. Diners can choose from four lavish selections – Yee Sang with Sliced Abalone and Salmon Fish, Yee Sang with Salmon Fish, Yee Sang with Tuna Fish and Vegetable Yee Sang. 
Price for Yee Sang starts from RM40.00+
Double-boiled Chicken Soup with Madagascar nut
It's my first time consuming Madagascar nut. It's a tiny little nut that tastes similar to a coconut. It is crunchy even after double-boiling hence it gives the soup an interesting texture and something to chew on. 
Roasted Chicken with Thai Mango dances in my mouth with a balance of sweet, spicy and savory. The mango salad made this a very appetising dish. 
White Shell Prawn with Crispy Garlic and Salt Pepper is tender and buttery with an excellent crispy salt and pepper crust. 
Steamed Garoupa with Herbs
Fresh garoupa steamed with goji berries, red dates, lots of ginger and herbs and bathed in light sauce to bring out the best flavours of the meat. The clear brown gravy goes well with steamed rice. 
Broccoli with Fuchuk Flower and Mushroom
Braised broccoli with mushroom and fuchuk is another must-have during any Chinese New Year reunion meal as it symbolizes happiness, health and liveliness.
Fried Rice with Yam Cubes & Dry Shrimps in Lotus Leaf
I am usually too stuffed by the time it comes to the rice dish but I can't resist to have some of this fragrant fried rice with yam cubes and dry shrimps in lotus leaf as I caught a whiff of the delicious aroma when the waiter went around serving this to diners. 
Our Lou Sang lunch ended marvelously with this beauty elixir, the nutritious Longan with Sea Bird Nest and White Fungus. This collagen rich drink is the perfect dessert for children, adults and the elderly. 
Two varieties of Poon Choy Sets are also available this Chinese New Year. Set A is priced at RM988.00+ and Set B at RM1288.00+ suitable for 10 persons. Special Take Away Prosperity Pot "Poon Choy" is also available at RM680.00+ (inclusive of Stainless Steel Pot). 
These delightful menus will be available at Tung Yuen Restaurant, Level 1 from 15th January until 28th February 2019, from 11.30 am to 2.30 pm for lunch and 6.30 pm to 10.30 pm for dinner.
Toss higher for another year of great fortune and health richness.
May we all be blessed this Chinese New Year with health, wealth and longevity. 
For reservation, please call Tung Yuen Chinese Restaurant at 03-5511 8811 ext 2616 or Telemarketing department ext 2724. All prices are subjected to 6% service tax.
Tung Yuen Chinese Restaurant is Halal certified by JAKIM.