Copycat Famous Amos Choc Chips Cookies Recipe
The boys and I, we are cookie monsters. We love cookies especially those crunchy and buttery ones.
I have a friend who bakes really delicious chocolate chips cookies and though she was very generous to share the recipe with her close friends, I do not feel right to share it here as it is her family's 'secret' recipe.
I continue searching for good recipes out there that can be shared with our readers. I searched high and low until I came across this recipe in a baking group on Facebook called Bakings' Corner. Do check it out if you are into baking as there are endless recipes being shared in there.
Ayden and I tried baking according to that recipe for Chinese New Year and were very happy to get almost similar tasting chocolate chips cookies like my friend's as well as THE famous Famous Amos choc chip cookies.
This copycat Famous Amos Choc Chips Cookies is THE ultimate chocolate chips cookies recipe. 
Ingredients:
(A)
80g Castor Sugar
250g Brown Sugar
240g Salted Butter
60g Shortening
(B)
2 Eggs
1 tsp Vanilla Extract
(C)
440g Plain flour
1 tsp Baking Powder
1 tsp Baking soda
(D)
400g Chocolate chips
100g Almond (chopped)
Method:
– Beat (A) till light & fluffy.
– Add (B) & beat till well combined
– Add sifted (C) with low speed & add (D)
– Shape cookies dough on a lined baking tray with two spoons (abt 1 tsp of dough)
– Chill in the fridge to yield better shape.
– Bake at preheated oven at 170 Celsius for 15 mins.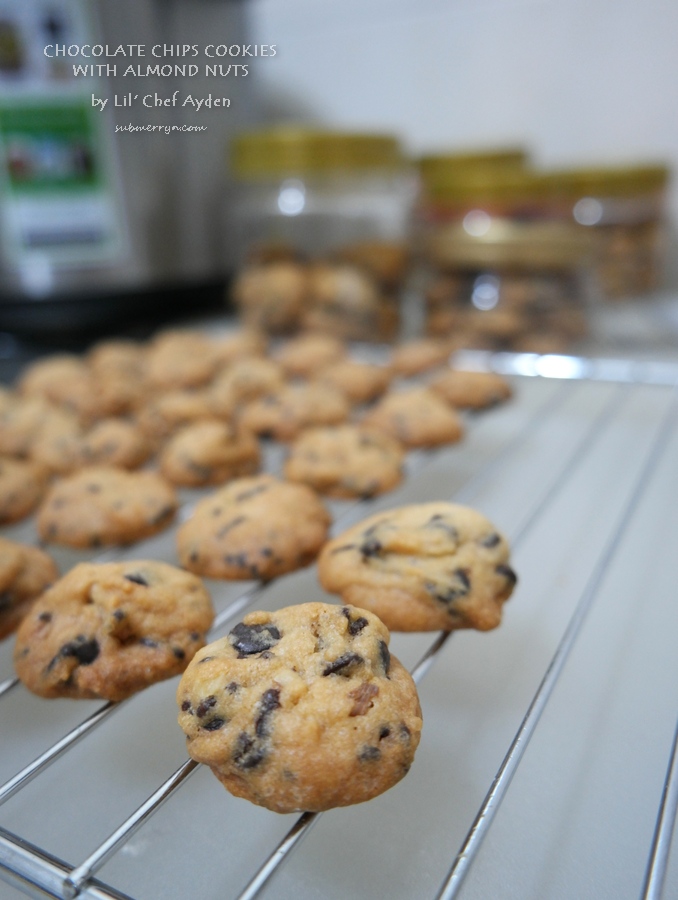 Crunchy and buttery chocolate chip cookies with almond nuts. Once you start, you can't stop.
Just look at that. Are you drooling yet?
Wipe the saliva from your mouth and let's start baking as this is really simple to bake. Our motto is, "If Ayden can bake it, so can you!"
Let's watch Lil' Chef Ayden bake this mouth-watering chocolate chips cookies ala Famous Amos. I'm sure you'll want to bake it yourself too after watching him!
Ayden @ 4Y7M
I've shared the recipe and also the video tutorial for this chocolate chips cookies but if you by any reason are unable to bake it due to not having an oven or simply lazy, we can bake it for you. We are selling this tub of chocolate chips cookies with almond nuts at RM10 per tub with 100gm cookies in it. Minimum order is 2 tubs. 
Email us at [email protected] with the subject matter "Chocolate Chips Cookies Order" or Whatsapp 017-6082838 for faster response. 
//

//

//

//

//

//

//

//

//

//

//