Go For Greatness
In my household, my boys and myself love drinking milk. The Daddy doesn't though as he is lactose intolerant.

When Ayden is hungry, Ayden milks the cow 
Thankfully there is an easier way to get milk; we can easily PURCHASE them in ready-to-drink packs.
Ayden must be really hungry as that is one huge pack of UHT chocolate milk he is drinking from 
Fernleaf has launch new ready-to-drink UHT milk that is suitable for the entire family and they come in1L as well as convenient 200ml packs.
Fernleaf UHT Milk comes in three delicious variants – full cream, low fat and chocolate to appeal to different tastes in the family.
Packed with important nutrients like protein, vitamins A and D, and calcium for a boost of nutrition and energy on the go. 
No prize for guessing which is Ayden's favourite.
Yes, it's the chocolate milk!
Ayden happily enjoyed the trampoline, one of the activities available during the launch.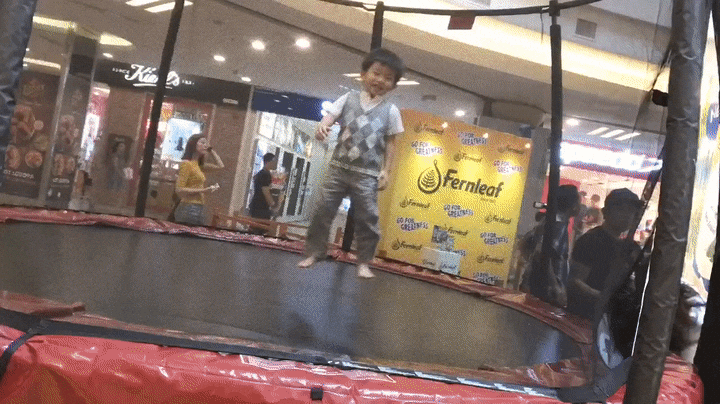 And this, ladies and gentlemen, is how you use the trampoline 
Besides the trampoline, wall-climbing and other exciting activities are available at LG Oval, 1 Utama Shopping Centre from the 10th to 14th January 2018.
Ethan was eager to participate and the Daddy took that opportunity to join him. Together, they had a great father and son bonding with the Daddy encouraging Ethan to go through all the obstacles. 
Ethan did all the above while the Daddy cheered for him from below. 
Once Ethan has completed all the obstacles, the Daddy proceeded to complete his challenges. 
And he did it effortlessly. 
Fernleaf UHT milk is retailing at hypermarkets, supermarkets and stores nationwide at RM5.70 in a set of four packs (200ml each pack) and RM6.60 for every 1-litre pack but during the roadshow, the four packs (200ml) was selling at RM3.99 only hence we quickly grabbed some since the boys always bring a pack of milk to school. 
Ayden got very excited seeing so many milk packs, got greedy and can't wait to finish them all