Genting Spectacular SkySymphony Christmas Show
SkySymphony at SkyAvenue, Resorts World Genting is the first multimedia winch attraction in Asia. It is also the largest permanent winch installation in Asia.
We were up at Resorts World Genting on the 1st December and got the opportunity to witness the launch of the Christmas edition of winch performance and appearance by Snoopy, Charlie Brown, Santa Claus and friends at the Time Square of SkyAvenue. 
The largest Snoopy we have ever seen. Standing tall at six-metre high, this inflatable Snoopy can be found at SkyAvenue Level 1. There are also 52 figurines of Snoopy all over SkyAvenue. We had an enjoyable time seeking them all earlier. 
The spectacular Genting SkySymphony Christmas Show themed Rockin' Around The Christmas Tree is yet another world-class entertainment feature in the resort.
The four-storey high LED screen came to live, fascinating us with its creativity and technical brilliance. 
The story unfolds with a snow globe that showcased a wintry Christmas village; cheerful Christmas songs filling the air as the tale plays out. It is one joyous scene after another and we get to enjoy a peek at Santa's factory where dozens of elves are busy making Christmas gifts. 
1,001 light bulbs moved into shapes that depicts the story and changed its colours at the same time.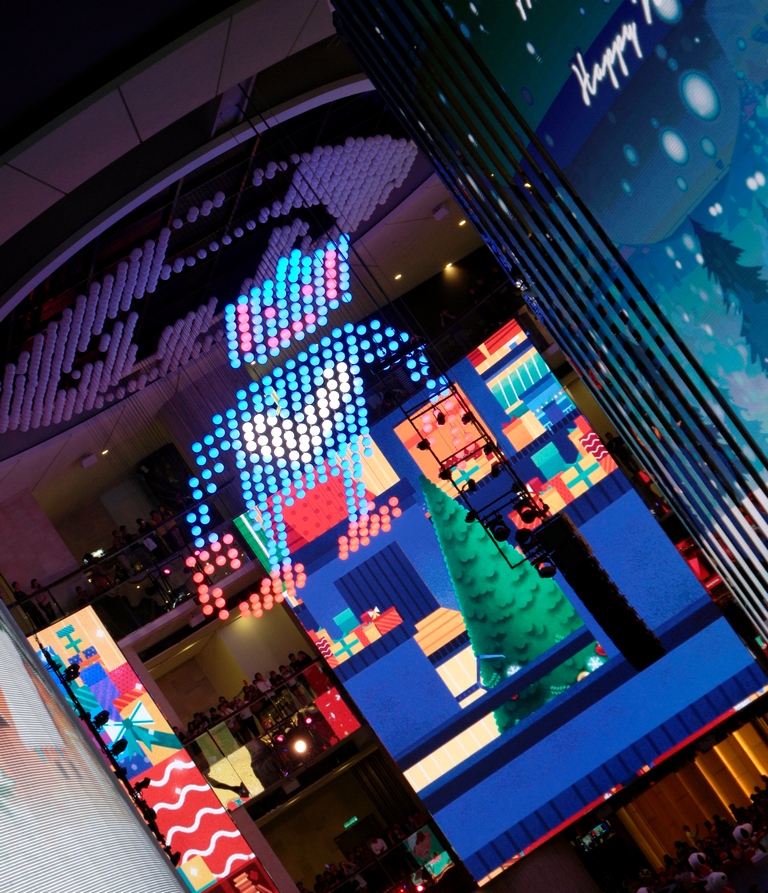 The robot; one of the gift made by the elves.
Somewhere in the world, a child wishes for a rocking horse for Christmas and the elves made just that for that particular child.
Santa's reindeer, teddy bears and Gingerbread Man are among the many festive icons that show up on screen as the story continues to highlight various stages of elves at work. 
The nearly 5 minutes story ends on a sweet note as the gifts are rolled off the assembly line – to be presented under a Christmas tree. This is where the 20-foot tall tree comes into the picture – rising from beneath the stage, surprising many onlookers. 
The merry making continues with Santa Claus, Snoopy, Charlie Brown, Reindeer and Elves on the stage while Christmas Carollers serenade the audience with Christmas songs and energetic dance performance that got the audience to sing and dance along. 
The SkySymphony show is indeed a crowd puller with its audio, visual and motion graphics showcase that features 1001 winch balls suspended from a four-storey high ceiling. 
From 1 December until 31 December, besides the Genting Spectacular SkySymphony Christmas Show at every two hours intervals, there will also be three other stories namely The Forest, Urban Symphony and The Goddess being showed every hourly after each Christmas show. Show starts from 10am to midnight daily.
Here's the full video of Genting Spectacular SkySymphony Christmas Show. Do make your way to SkyAvenue to catch them live as these shows are after all, free for all. 

Festive icons including Santa Claus, elves and santarinas, Snoopy and Charlie Brown also take the streets and go on parades. 

The colourful characters complete with Christmas tree floats will meet and greet visitors as they spread festive cheer at Level 1 of SkyAvenue daily, from 11am to 11.30am, 3pm to 3.30pm and 8pm to 8.30pm; at Level 3 of SkyAvenue daily from 1pm to 1.30pm and 6pm to 6.30pm. 
//
//