Cook with Ayden: Nyonya Sek Bak
If you noticed, Ayden usually cooks chicken dishes because that is the easiest meat I can buy. I don't go to morning market hence I do all my grocery shopping in shopping malls.
Only recently I introduced prawns to Ayden and he happily cooked Nyonya Assam Prawn with it which we all love very much.
Now that Ayden is getting more and more familiar in the kitchen, I start to introduce more varieties of meat and cooking method to him.
Several days ago, I guided Ayden to cook this popular Peranakan dish, Nyonya Braised Pork Belly or simply known as Sek Bak.
To tell you honestly, I have never cooked this dish before myself. I had to Whatsapp my mom to get her guidance and from there I guided Ayden 
Ingredients for this dish is rather simple too.
My mom's given recipe is like any true Peranakan's,  come without the exact measurement but here I share the measurement of what I used to cook this dish.
Ingredients:
300gm pork belly
5 Star Anise (Pek Kak)
3 Cinnamon (Kayu Manis)
3 inches Galangal (Lengkuas) sliced
1 serai (bruised)
5 small onions (pounded)
Mixed with water:
Dark soy sauce
Salt
Sugar
Method:
1) Marinate the pork belly with dark soy sauce, sugar, salt, star anise seed and cinnamon for at least 2 hours (or more).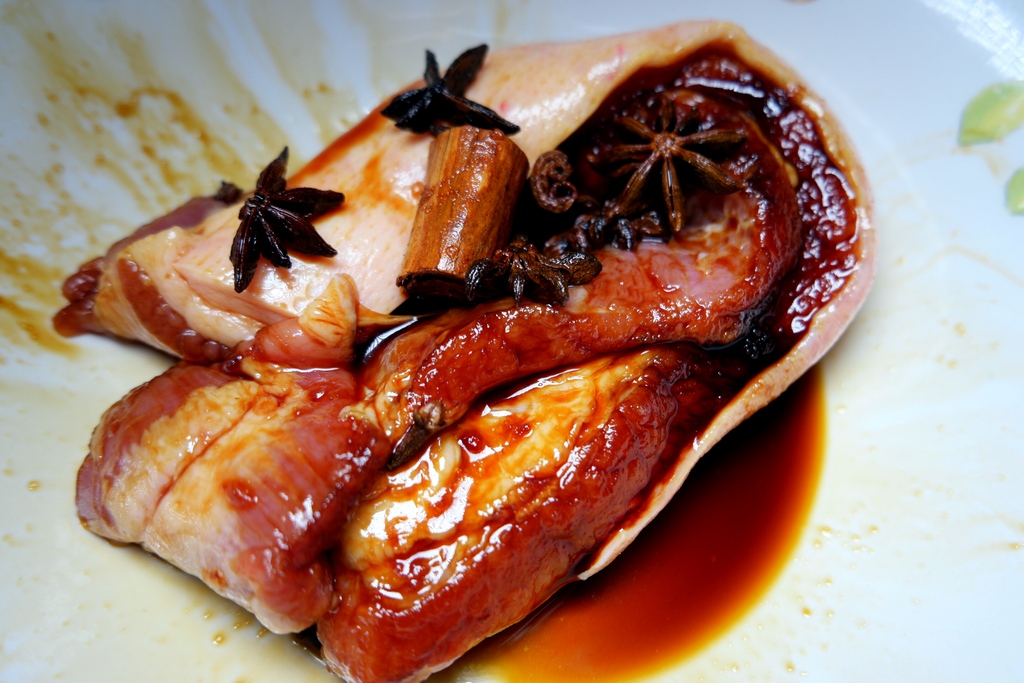 I usually marinate the pork belly at night and leave it overnight in the fridge. The next day after returning from class, either Ayden or myself will cook this in our multi cooker and it will be done in an hour. Super simple!
2) Heat the wok with 2 tablespoon of oil.
3) Fry the pounded onion, lengkuas and bruised serai.
4) Once fragrant, add in the marinated pork belly together with the spices.
5) Let fry for a while.
6) Add the water mixture of dark soy sauce, salt and sugar.
7) Cover the wok and braise the pork belly until soft and the gravy slightly thickens. In between, do not forget to turn the belly for a thorough cooking.
Once done, slice the pork belly and serve with cucumbers and chili sauce.
Yums! The boys super love this sweet and aromatic pork dish. The gravy is perfect to be eaten with freshly steamed white rice.
Once you know how to cook it yourself, you won't need to drive all the way to a Nyonya restaurant to get this. Anyway, home cook is always the best! 
By the way, the other day I posted a couple of pictures of the boys buying pork in SS2. I received many inquiries about that so I may as well share it here too.
This is where we always get our pork supplies – Sanbanto Premium Pork
Sanbanto is a butchery retail in SS2 and Puchong but I always frequent the one in SS2 as I very rarely go to Puchong.
I think many people know them for their bak kwa. Every year for Chinese New Year, you can see people making a beeline to Sanbanto outlet for their famous BBQ Pork Jerky (bak kwa).
They own an ISO certified pig farm (the first in Malaysia) in Johor and the pork sold at their outlet are from their own farm. They are well-known for their fresh, healthy and natural pork; free from hormones and chemicals and this is exactly the reason why I get my supplies from them (apart from the fact that everything is labelled in English so a banana like me has no trouble whatsoever in getting my purchase correctly 
).
As mentioned earlier, I don't go to the morning market because it can be quite an adventure to bring the boys there with the massive crowd, wet floors and all. I have no problem bringing them here though coz the outlet is clean with air-cond somemore.
They run a special promotion every month so I'll usually grab more of what is on offer that particular month. For this month it is the pork trotter and collar bone.
They also have this loyalty programme to keep aunties like me coming back for more especially in December, my birthday month 
I just found out they also sell free range kampung chicken. Next time I can buy my chickens here too and get them delivered to my house because each time I am here, I'll definitely spend over RM100
There. My supply for two weeks. I can't wait for them to get their home delivery service up and running so I can just call them and get my regular items delivered to my doorstep.
August promo – pork trotter.
I bought a lot to cook Black Vinegar Pork Trotter and also Black Bean soup for the boys.
Vinnegrette Pork Trotter
Black Bean Soup
I used pork trotter instead of ribs for the soup as it contains collagen making this our regular beauty drink at home.
The other day for the very first time, I bought some pork loin to make pork chops. I have never cook pork chop before hence this will be quite a challenge. I have no recipe in mind yet so these loins are still sitting quietly in my freezer 
And last but not least, the huge chunk of pork belly for our Sek Bak dish. I forgotten to get them to slice this for me so it is quite a shock to come home to see such a big piece of belly.  Ayden said this is bigger than his belly 
This piece of pork belly can make 5 times of the Sek Bak dish with the measurement given in the above recipe.
Oh boy, I just realised this post has become very lengthy. Every once in a while I can get carried away writing about things that excites me 
I better stop here and end this post with this video of Lil' Chef Ayden cooking Sek Bak 

//

//

//

//

//

//

//

//

//

//

//

//

//