Ayden is FOUR
Ayden is FOUR today and oh boy, he got so many cakes this year.
1st Cake:
We bought him a cake to celebrate with my parents when we were in Malacca.
2nd Cake:

I baked this moist chocolate cake and decorated it with chocolate ganache and M&Ms for him to cut at home.
3rd Cake: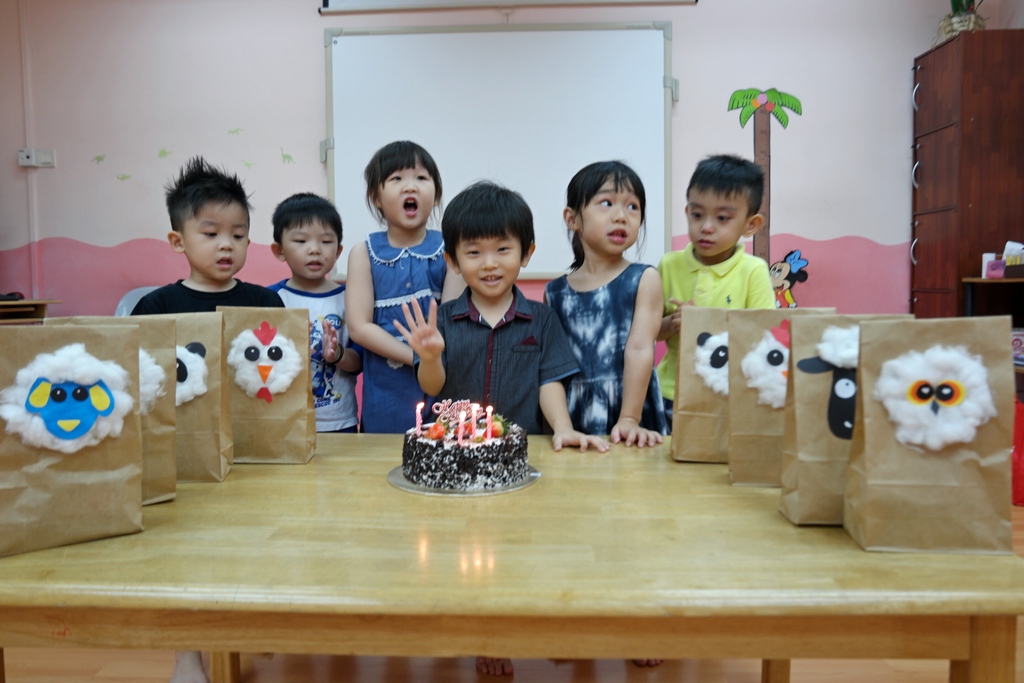 We made party bags and bought Black Forest cake for Ayden to celebrate with his friends in class.
4th Cake:

A combination of assorted cakes when we celebrated his birthday over high-tea.
5th Cake:
A cake to celebrate with the paternal grandparents. 
6th Cake:

It's not really a CAKE but it was his Fish & Chips when we dined out to celebrate his birthday so he insisted to have candles on it.
Ayden's happy Birthday highlights:

Celebrating with his friends and teachers from the Mandarin enrichment class he attends 5 days a week.
He was very happy and looked forward to this day excitedly. He kept counting days until it finally came where he can celebrate with his friends.
I was supposed to bake a cake for him to bring to class but something came up so we had to resort to buying his cake from a nearby bakery.
He was very proud to give his friends the party bags he painstakingly made with me a couple of days earlier.
He even gave them to his teachers.
Happy children eating the blackforest cake.
Only towards the end of the celebration did Ayden remember he forgotten Pikachu in the group picture earlier and insisted for me to take a picture of him with it with the 3/4 eaten cake 
Meanwhile, back at home I did bake him a cake as promised.
And decorated it with M&Ms just as per his request.
These two boys.. I don't know if they are excited to eat the cake or the M&Ms on it.
Cutting one of his many birthday cakes.. haha.
His moist chocolate cake in Melaka. Alamak, he wore the same pink Dory tee 
This moist chocolate cake is similar as the one I baked leh.. but this one we bought coz I did not bring my rice cooker back to Melaka so can't bake there.
Received angpow from Grandma ♥
If people can have Nasi Lemak cake, Ayden had this very special Fish & Chips cake  
And since we already had candles with us, he insisted to have candles on their ice-creams too 
Happy Birthday Ayden. You are FOUR today. Big boy dy.
May you grow big, healthy and happy always. Mummy, Daddy and KorKor love you to the moon and back ♥
//

//

//

//

//

//

//

//

//

//

//

//

//