A Visit To The Fire Station
We visited the fire station at Sri Hartamas on Sunday. The excursion was arranged by Ayden's Mandarin enrichment school. He had been looking forward to this for weeks since he first found out about it.

It's so cute to see they actually have uniforms for the little ones. This is even more awesome than Kidzania because everything here is REAL! Ayden brought his fire truck toy along to this excursion. He wanted his little fire truck to meet the big fire truck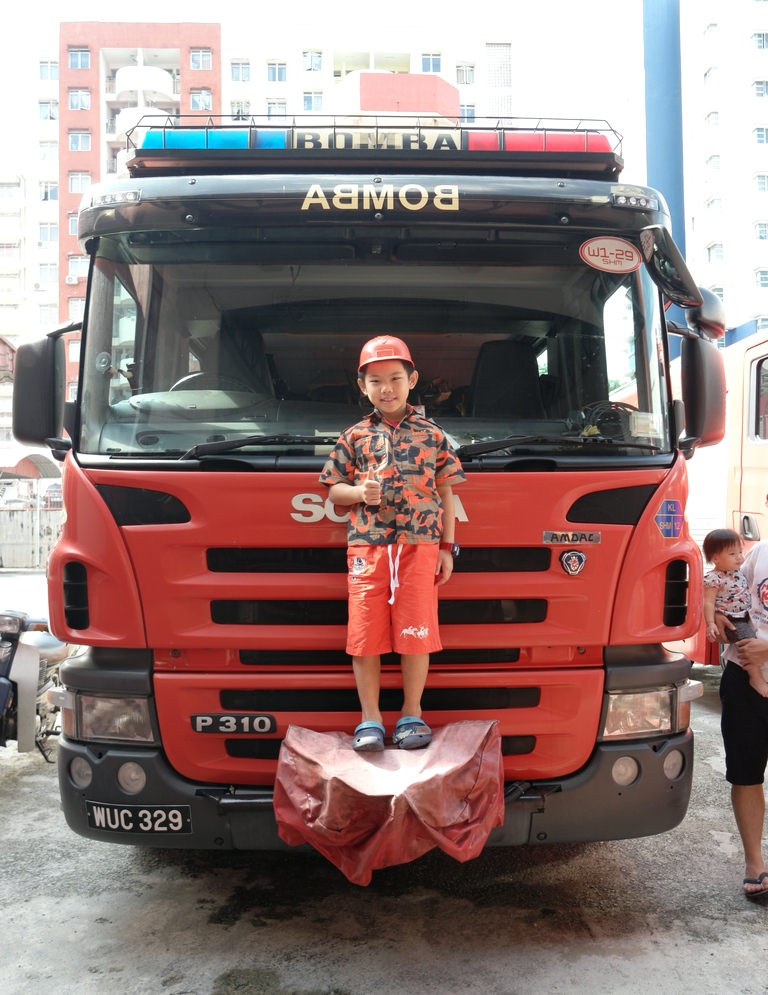 It was a family outing for us as big brother Ethan joined in the fun too. 
We woke up early on a Sunday morning for this. We don't usually wake up so early on Sundays 
Ayden and Haley, his best friend in class.
Ayden with big brother Ethan and best friend Haley 
With abam sado. Our firemen are quite hot too aren't they?  

The children listening to fire briefing.
They learn a thing or two on fire safety such as in case of fire, crawl low to avoid smoke. 
They even participated in a mock fire exercise where they had to crawl under a thick 'blanket' of smoke which they enjoyed a lot. The kids did this again and again and again! 
Parents had fun too as we get to try sliding down the pole. 
The kids are not allowed to though as they were too little but these firemen were very nice to accommodate our request to let Ethan try as he is the biggest there.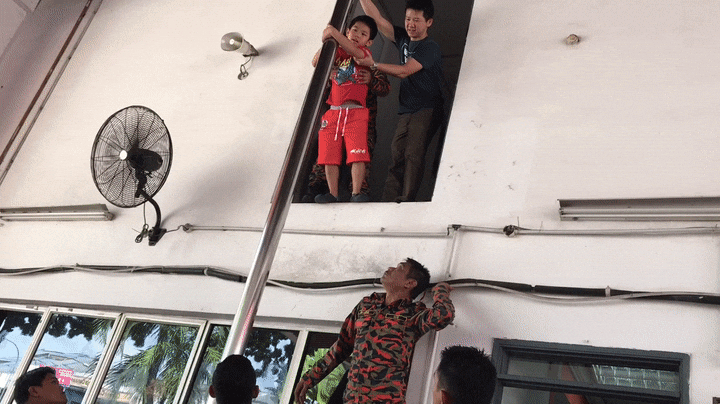 The rest of the kids were very supportive; cheering Ethan on while he slid down.
Next, the kids get to go on a ride in the fire truck. Ayden has been anticipating this for ages and today his dream came true 
The last activity is the BEST as the firemen sprayed water on them soaking them thoroughly. 
Kids are the happiest playing in the water but guess what?
The Daddies got even more fun SPRAYING them!
Last but not least, Ayden's lovely teachers. One of them taught Ethan when he was younger and is now teaching Ayden. How time flies!
A group picture before calling it a day. 
Thank you to all the nice firemen at Sri Hartamas fire station for taking time out to give the kids an unforgettable day that they'll treasure for a long, long time. 
As usual, I'll end this post with the video of Ayden and Ethan's adventure at the fire station. 
//

//

//

//

//

//

//

//

//
//
//