Kid Friendly Hotel @ Novotel Bangkok Ploenchit Sukhumvit, Thailand
We went to Bangkok during the recent festive holidays.
It was our first trip to Bangkok hence we decided to focus on only exploring places within the city that are easily accessible by their BTS skytrain or cab. We sourced for hotels nearby BTS skytrain stations and decided on Novotel Bangkok Ploenchit Sukhumvit as it is situated right across the station.
*VIDEO*
NOVOTEL Bangkok Ploenchit Sukhumvit
ADDRESS: 566 Ploenchit Road, Lumpini, Patumwan, Bangkok 10330 Bangkok, Thailand
PHONE: +66(0) 2305 6000 – FAX: +66(0) 2305 6001
LATITUDE: 13.7428346 – LONGITUDE: 100.5492751
BTS Skytrain Ploen Chit station is just in front of the hotel hence going around the city is very convenient and hassle-free.
The route for the skytrain.
The boys enjoyed riding on the skytrain and even requested to go for a ride to nowhere! We sometimes go on the skytrain just for the sake of riding on one 
Besides BTS Skytrain, if you are looking for some adventure, TukTuk is also easily available in front of the hotel.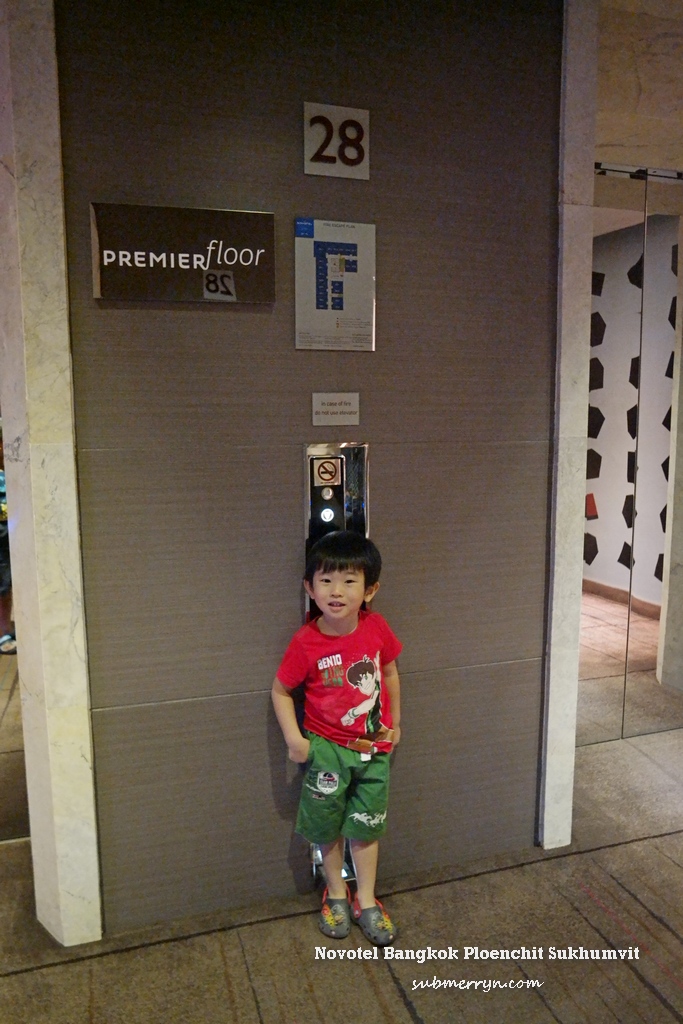 Anyway, back to the hotel, we were upgraded to this gorgeous modern-style Premier Room located on the Premier Floor with Premier benefits and full access to the Premier Lounge.
Premier Room with a comfortable extra bed.
The shower screen in our room is pretty smart. It gives you total privacy with just a click of a switch.
The boys got pretty excited over this magical shower screen. With just a click of the switch, the glass switches from transparent to opaque providing full privacy on demand.
Welcome fruits, sweets and a personal note pretty much make us feel very special ♥
The table was also nicely set-up with chilled champagne upon our arrival.
Our room comes with an espresso machine for our coffee fix.
Complimentary Tea & Coffee making facilities.
Wide range of items in the mini bar chargeable to the room.
I don't usually use the toiletries provided in hotels but I especially love the ones in Novotel hotels. These Fair Trade products especially the Fair Trade Shea Nut from Ghana is simply awesome!
We also appreciate that they have this separate bin for recyclable items.
Can you imagine how many plastic bottles being disposed in a hotel every day? Simple effort such as this goes a long way in preserving our Mother Nature.
We also love the lighted mirror in the bathroom. The shower comes with a refreshing rain shower head.
Our room has a large window with the vibrant city view.
The clearer view of the splendid city-scape during the day. Gorgeous isn't it?
The large window allows for plenty of natural daylight to beautifully illuminate our room.
PREMIER LOUNGE
As guests in the Premier floor, we got our check-in and check-out done in the Premier Lounge.
Darling doing the check-in while we enjoy our welcome drinks at the Lounge.
We arrived during their Happy hour drinks and cocktails so it was just nice to grab some bites and drinks.
This was the first thing I grabbed from the spread. Miang Kham is a traditional snack from Thailand and Laos. It is a one bite snack that is filled with roasted coconut shavings, peanuts and bird's eye chili among other ingredients. Though it means one bite snack, a bite is definitely not enough for me. I loved this spicy snack very much that I had more than a couple of bites 
Which do you prefer, white or red wine?
Besides traditional snacks, they also serve international selections during cocktail hours.
Enjoying red wine at the outdoor seating at the Lounge while soaking up the full vibrancy of the city.
The boys come up to the Premier Lounge every evening to drink warm milk before going to bed.
They have very good sleep throughout our stay here ♥
KIDS CORNER
The Kids Corner is conveniently located just next to the Lobby. The boys spent a lot of time here especially when the Daddy drops by the Concierge to get more information from the friendly staffs on the places of interest in Bangkok and how to get there.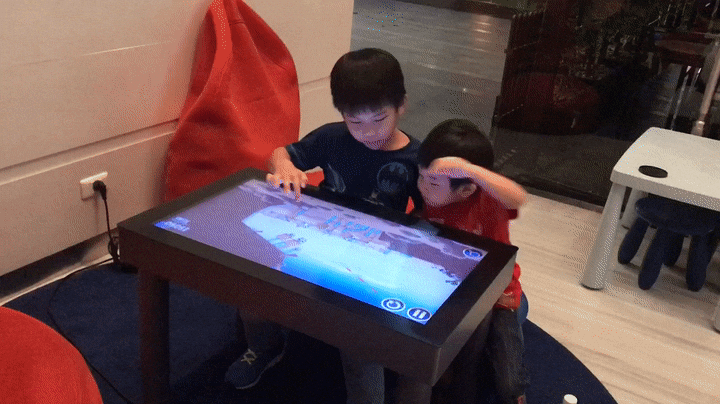 The boys' favourite feature at Kids Corner is this interactive Angry Bird table.
The Kids Corner is also right next to Dee Lounge so we can relax and have a drink here while keeping an eye on the boys playing.
Chilling at Dee Lounge after a long day shopping with a glass of refreshing Screwdriver cocktail.
We can also sit outdoor at Bangkok Beer Garden to enjoy our drinks with live performance but we won't be able to watch over the kids here so I opt to remain indoor 

SWIMMING POOL
The outdoor infinity swimming pool is located on Level 9 surrounded by the magnificent view of the Bangkok City skyline.
Little Ayden loves this water feature in the toddler pool.
THE SQUARE
We had our breakfast daily at The SQUARE, Novotel Bangkok Ploenchit Sukhumvit.
This restaurant serves breakfast, lunch, dinner and all day snacks in between.
This modern, bright 170-seat main dining is divided into different dining cuisine zones for guests' convenience.
A picture speaks a thousand words but a video tells you the entire story. Here is a video of our stay experience at Novotel Bangkok Ploenchit Sukhumvit to end our post (in case you missed it at the beginning of this post).
*VIDEO*
It had been a pleasant and enjoyable stay, we will definitely return ♥
We would also like to share the places we visited nearby Novotel Bangkok Ploenchit Sukhumvit.
PLACES OF INTEREST IN BANGKOK
WAT ARUN (12 km from Novotel Bangkok Ploenchit Sukhumvit)
30 – 45 min drive via taxi
Entrance fee : 50 baht / adult
For more details on our Wat Arun trip, click here -> Wat Arun Temple in Bangkok
WONDERFUL PEARL DINNER CRUISE (6km from Novotel Bangkok Ploenchit Sukhumvit)
30 min drive via shuttle pick-up to boarding point at River City Bangkok
Price varies according to season
For more info on our dinner cruise experience, please click here -> Wonderful Pearl Dinner Cruise
TERMINAL 21 BANGKOK (2 BTS Skytrain stations away from Novotel Bangkok Ploenchit Sukhumvit)
Terminal 21 is a lifestyle mall in Bangkok that feature several world-famous cities under one roof. You will find yourself shopping in Tokyo, London, Istanbul or even San Francisco.
BTS Skytrain fee from Ploenchit station to Asok station is 22 baht / person

ASIATIQUE THE RIVERFRONT BANGKOK (12km from Novotel Bangkok Ploenchit Sukhumvit)
40 mins drive via taxi
Entrance fee to Asiatique Sky : [300 baht / adult] [200 baht / children]

CENTRALWORLD (1 BTS Skytrain station away from Novotel Bangkok Ploenchit Sukhumvit)
CentralWorld Bangkok is the tenth largest shopping complex in the world
BTS SkyTrain fee from Ploenchit Station to Chit Lom Station is 15 baht / person
TukTuk fee from Ploenchit to CentralWorld is 150 baht / journey


I guess that's all the places that we managed to visit during our visit here in Bangkok.
Of course there are many more places of interest in Bangkok and we'll make sure to return here one day to explore more.