Resipi Khas Bulan Puasa: Ayam Percik Pressure Cooker
As you have viewed in many of our past videos, Lil' Chef Ayden had been using our rice cooker to cook a lot. Though the rice cooker does wonders, it takes a longer time to heat up especially when Ayden needs to saute and stir fry stuffs. Hence we decided to get a multi-cooker for him. 
We got the new PHILIPS All-in-One Pressure Cooker as we read rave reviews over it online. It functions as a pressure cooker, slow cooker as well as a multi-cooker so I thought it is a great buy as we don't have a slow cooker nor a multi-cooker at home (but now we do 
).
So let's start exploring and see what we can do with this. 
The first dish we cooked using our new toy is surprisingly not soup nor tong sui but this:
Gorgeous looking Ayam Percik.
Don't play-play, my boys can now cook Ayam Percik thanks to this recipe by Chef Marina Mustafa.
Ingredients:
3 chicken thighs / 3 ketul peha ayam
1/2 cup chili paste / pes cili
1 cup coconut milk / santan
1/2 cup palm sugar / gula Melaka
2 tbsp tamarind paste, diluted in 1 cup water / pes asam jawa digaul dengan 1 cawan air
2 tsp salt / garam
1/2 cup of sliced cilantro / daun ketumbar
Blended ingredients:
2 large onions / bawang besar
1 inch ginger / halia
5 cloves garlic / bawang putih
3 lemongrass / serai
2 inch galangal / lengkuas
1 inch turmeric / kunyit hidup
Method using Philips All-in-One Pressure Cooker:
1) Put all the ingredients except the chicken thigh and cilantro into the pot.
2) Mix all the ingredients until well combined.
3) Close the lid and turn the valve on the top of the lid to 'SEAL' position.
4) Select 'SLOW COOK HIGH TEMP' and adjust 'COOKING TIME' by pressing '-' to 2 hours. 
5) Press START.
6) Once the Percik sauce is ready, add the chicken thighs into the pot and cover them with the sauce.
7) Close the lid and turn the valve to 'SEAL' position.
8) Select 'MEAT/POULTRY' on 'Pressure Mode', press START and it will automatically cook the chicken for 15 mins. 
9) Once ready, release the pressure by turning the valve towards 'VENT' position. 
10) Once the steam has been released and the floating indicator has fallen back into its place, you may open the pressure cooker.
11) Dish out and garnish the Ayam Percik with sliced cilantro. Serve with white rice. 


Are you drooling yet? 
Anyway, since I am in a good mood, I'll also share the conventional method of cooking this Ayam Percik in case you don't have a pressure cooker at home.

Conventional method:
1) Pour in the blended ingredients into a pot. Cook on low heat for 10 minutes. Keep stirring.
2) Add the chili paste, lemongrass and galangal and continue cooking for a further 10 minutes. Remember to keep stirring.
3) Pour in the tamarind juice and season with palm sugar and salt. You still need to stir.
4) Add in coconut milk and STIR until combined.
5) Continue cooking the percik sauce on low flame for another 15 minutes until it thickens. Don't forget to keep stirring!
6) Place the chicken thighs on a baking tray lined with banana leaf.
7) Smother 2 tablespoons of the percik sauce over each of the chicken thighs.
8) Bake in a 180C oven for 40 minutes or until properly cooked.
9) During baking, do occassionaly add the Percik sauce over the chicken thighs. When the gravy dries up, repeat the basting process.
10) Sprinkle cilantro on Ayam Percik and serve with white rice.
Phew! That is a whole lot of stirring and standing by the oven to cook this the conventional way 
I guess I'll just use my All-in-One Pressure Cooker to cook this because we don't need to 'jaga api'.
What the boys did was to prepare the sauce and while it is slow cooking for 2 hours, we went to the playground for our evening exercise.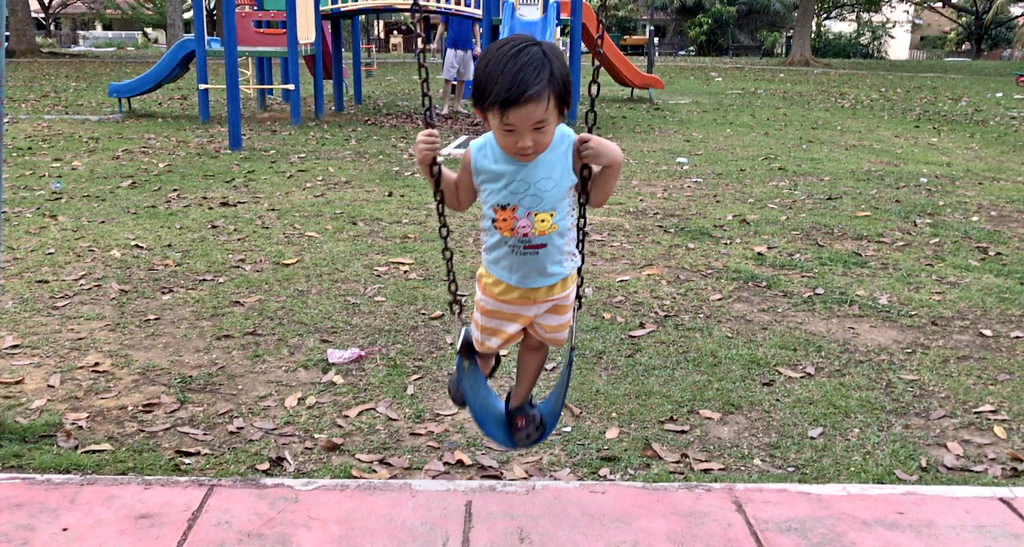 We came home 1 1/2 hours later and I checked, the sauce is already nicely done so we don't actually need 2 hours. The boys then added the chicken and went to shower. 15 minutes later, the Ayam Percik is done! SO EASY!
Dinner is served  

As usual, here's the video of the boys cooking: