Unleash the Superheroes @ Novotel Phuket Karon Beach Resort and Spa
Today's post is the continuation of our recent Phuket vacation. After spending a great time with the kids at Novotel Phuket Surin Beach Resort for 3 nights, we transferred to Novotel Phuket Karon Beach Resort & Spa for the remaining half of our holiday.
Located only 10 minutes drive from the excitement of Patong and right across Karon Beach, Novotel Phuket Karon Beach Resort and Spa is the ideal choice for a Phuket Family Resort. 
Upon arrival, from the reception, we hopped onto the hotel's complimentary buggy where we were driven past the hotel's main pool to our room.
The kids are always excited when they get to go on a buggy ride.
However, we were not aware of a surprise that was waiting for us. Upon arrival at our villa, the boys happily got down from the buggy and ran towards our room…
To our surprise, two superheroes were hiding behind the wall and jumped out to surprise the boys with welcome drinks!
I did not have my camera nor video ready hence there were no pictures or video of that moment but I did manage to capture the above picture where Ayden ran away with his welcome drink after grabbing it from Spiderman 
The boys were extremely delighted to have Spiderman and Captain America greeting them. It was such a wonderful moment to see them meeting their favourite Super Heroes in person.
Do watch this video to get a glimpse of the Superheroes as I bring you to a virtual tour of our spacious 60 m² Plunge Pool Suite.
VIDEO
PLUNGE POOL SUITE
Our villa opens up to this room with a sofa bed for the boys with cute cuddly bears welcoming them. These bears also accompanied Ayden to bed come night time. 
They even prepared two plates of cut fruits for the boys that resembles a spider. How creative is that?
As for the adults, we get this gorgeous fruit boat! <3
I'm in love with this resort already!
Our suite comes with a fully loaded mini bar. Please excuse the white package; that is the boys' medication. I always travel with basic medication in case they catch the cold, allergy or anything. Travelling with kids, you just have to be prepared.
The bathroom is super spacious. It comes with a large stand-alone bath tub and double-sink so we can brush our teeth together with the kids. There is also a rain-shower head much to the kids' delight.
This is our room with a king sized bed and LCD tv. I love the modern design with lots of natural lighting when the shades are open.
Look at that. Can it get any better than this?
Well it does get better than that as when we looked out, we were greeted with our very own private plunge pool!
I can so wake up to this every morning and jump straight into the pool.
Each Plunge Pool Suite comes with a spacious outdoor dining area.
We love our private pool that doubles as a jacuzzi.
A family that soaks together, stays together? Haha 

ACTIVITIES FOR OUR LITTLE SUPERHEROES
Here at Novotel Phuket Karon Beach Resort and Spa, there are many activities available for our little superheroes.
One of the complimentary activity that the boys love very much is getting on a fun boat ride with a superhero.
FUN BOAT RIDE
The boys got to go on a boat ride with their idol, Batman! What a priceless experience that was to them. Ayden enjoyed every moment of it and went to bed happy that evening.
Here's the video of the boys on a fun boat ride with Batman.
VIDEO
WALK ON WATER
Besides going on a fun boat ride, they also got the opportunity to walk on water.
This activity is also complimentary for resort guests.
The boys had a boat of fun walking or rolling in this large inflatable transparent plastic zorb ball. Ethan is clearly having the time of his life in there 
Ayden bravely went into the transparent sphere alone to enjoy this fun filled activity.
Watch him here:
VIDEO
AQUAROBICS
Other than fun boating and walking on water, there are also other fun activities available for guests at the main pool. One of it is aquarobics in the mornings.  Aquarobics is a great way to mix up a traditional gym workout with the wondrous benefits of water.

Such a fun workout in the pool!
WATER POLO
The boys also had their first experience playing water polo at the shallow end of the main pool. It was 12 noon with the sun directly above our heads but the boys were not at all bothered as they do not feel the heat having so much fun in the water.
THE BEACH
The resort is across the street from Karon Beach. There is a security guard to help us cross the road to go to the beach. I would highly recommend anyone to take this leisurely 5 minutes walk to the beach as it is one of the most beautiful beach I have seen; clear water with superb big waves. It was simply amazing.
Lovely Karon beach <3
Back to the resort, there are some paid activities available for guests too.
THAI BOXING
Every superhero needs to know self-defense and the boys did just that by learning Thai boxing. I signed them up for an hour of Thai boxing and what a great workout it was for them; using punches, elbows, kicks and knees and burning lots of calories along the way.
PUNCH!
KICK!
The Thai Boxing classes are not only for children. Adults can sign up too.
When pictures can't really tell how intense the class was, let me share a video of them in action that ended with a TKO 
VIDEO
PIZZA MAKING
A superhero needs to eat and a true hero knows how to prepare his own food. Here at the resort, the kids get to learn to make their own pizza.
With a small fee, the kids get to make their own pizza and eat it too. Since we have just eaten our lunch prior to making the pizza, we requested the chef to only bake it for dinner.
Freshly baked cheesylicious pizza for the boys' dinner. Don't they look super yummy?
Here's how they made their own pizza with lots and lots of cheese!
VIDEO
KIDS RULE @ KIDS WORLD
The boys' holiday are made more perfect with the Kids World here at Novotel Phuket Karon Beach Resort and Spa. We left them here during the day while the daddy and I go for our spa session. We just need to inform the staff in charge of our whereabouts so they can contact us anytime.
KIDS WORLD
The Kids World here is divided into two sections.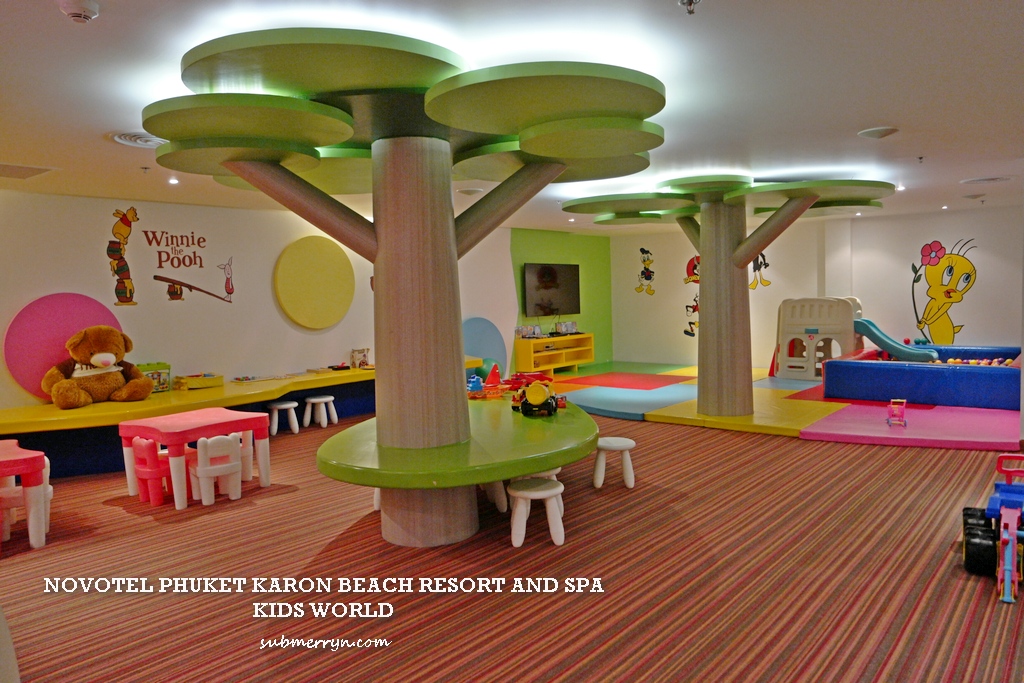 As we enter, on our right is the area for smaller children. There is a ball pool with a slide, LCD TV and lots of toys to keep them entertained.
Ball Pit.
On the left side is the area for bigger children where cool game stations are located. There is also an amazing book tree on the wall for kids who loves to read.
Look at them being so cozy in the nest.
There is also another game station at the corner of the Kids World.
The most popular and noisiest area in the Kids World is this Foosball corner.
Kids really have loads of fun over here.
Ethan and Ayden were awarded with a surprise gift when they completed their Scavenger Hunt questions given to them upon check-in earlier. Such a thoughtful activity available for the resort kids. 
WHERE TO EAT?
There are several F&B outlets here that are conveniently located by the pool. We love dining at Joe Kool's Poolside Grill as the food is good and poolside ambiance perfect!
They also have Movie Night for Kids at Joe Kool's on Tuesday nights if I am not mistaken. Can't really remember which day was it that we had their awesome seafood grill buffet dinner here with the kids watching Ice Age on the big screen.
Check out their menu in this video:
VIDEO
Another poolside dining option here at Novotel Phuket Karon is Champions Sports Bar. It is located by the resort's second pool. Check it out in this video:
VIDEO
TAi Restaurant is nearby the resort's second pool. It serves food from Asian selection.
I'll touch on F&B in a more thorough posts and link them back here once I am done as this post is getting a bit too lengthy.
We had a wonderful time here. Being a parent, my philosophy while travelling is 'happy kids make happy trips'. The kids are very happy with all the facilities and activities available for them. I am happy as I had a stress-free holiday and managed to visit some of the iconic tourist attractions namely the Big Buddha, Karon View Point and Promthep Cape this time around. 
We will definitely return in the future. There is many more of Phuket we have yet to explore.
Let me sign off with this video that summarizes our fun-filled experience at Novotel Phuket Karon Beach Resort and Spa a highly recommended Phuket family hotel. 
 Novotel Phuket Karon Beach Resort & Spa
568 Patak Rd, Karon Muang , 83100 Phuket
Thailand
Tel: +66 76 358 666
Fax: +66 (0) 76 358 645
Email: [email protected]