Mooncakes from Qing Palace Pulai Springs Resort, Johor Bahru

3,550 views

3 Comments
Mooncakes are Chinese pastries traditionally eaten during the mid-autumn festival. It is also an occasion to strengthen the bonds of kinship, friendship and business relationship. The lovely people of Pulai Springs Resort, Johor Bahru is aware how much the boys love mooncakes and has taken the trouble to send some to us.

Qing Palace Chinese Restaurant pride themselves with 6 exciting flavours this year comprising signature items and new creations like Black Sesame White Lotus Single Yolk, Jade Custard, Lotus Paste Single Yolk, Lotus Paste Double Yolk , White Lotus Paste Single Yolk and White Lotus Paste Double Yolk.
Beautifully presented in a custom designed gift box, each box fits 4 mooncakes.
Inside the gift box, each mooncake is beautifully wrapped in individual pink box.
Price ranges from RM23 per single egg yolk mooncake to RM24 per double egg yolk mooncake.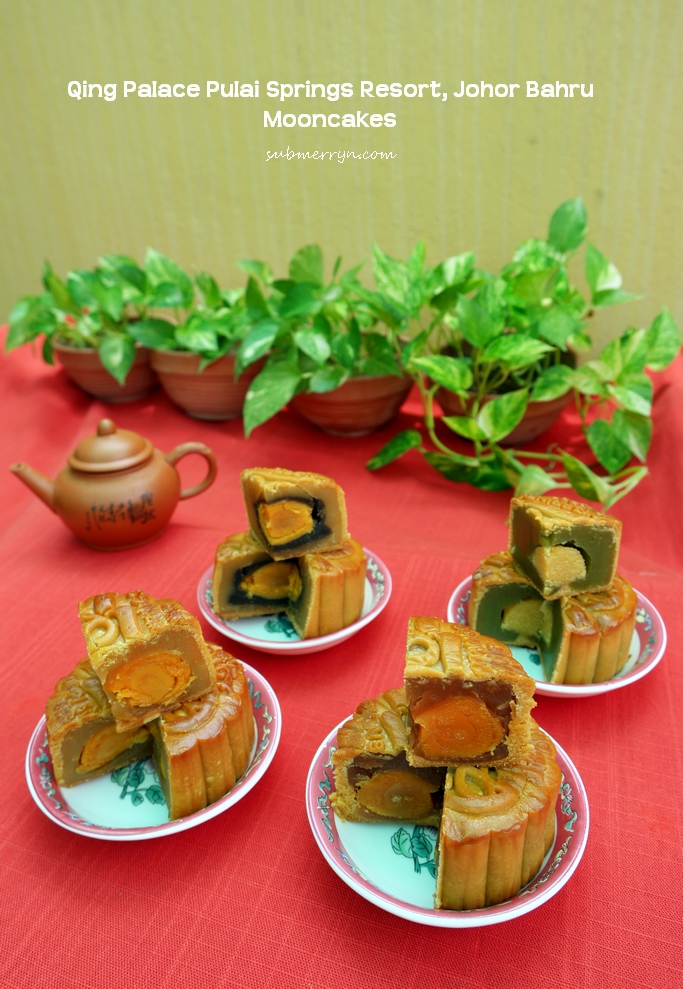 These mooncakes traveled far from Johor to the Klang Valley to be with us today 

Black Sesame White Lotus Single Yolk Mooncake (RM23)
The egg yolk is enveloped in fragrant black sesame paste and wrapped in a rich traditional lotus paste. Black sesame paired with white lotus paste can never go wrong and is a classic favourite among many. It is easily my favourite too.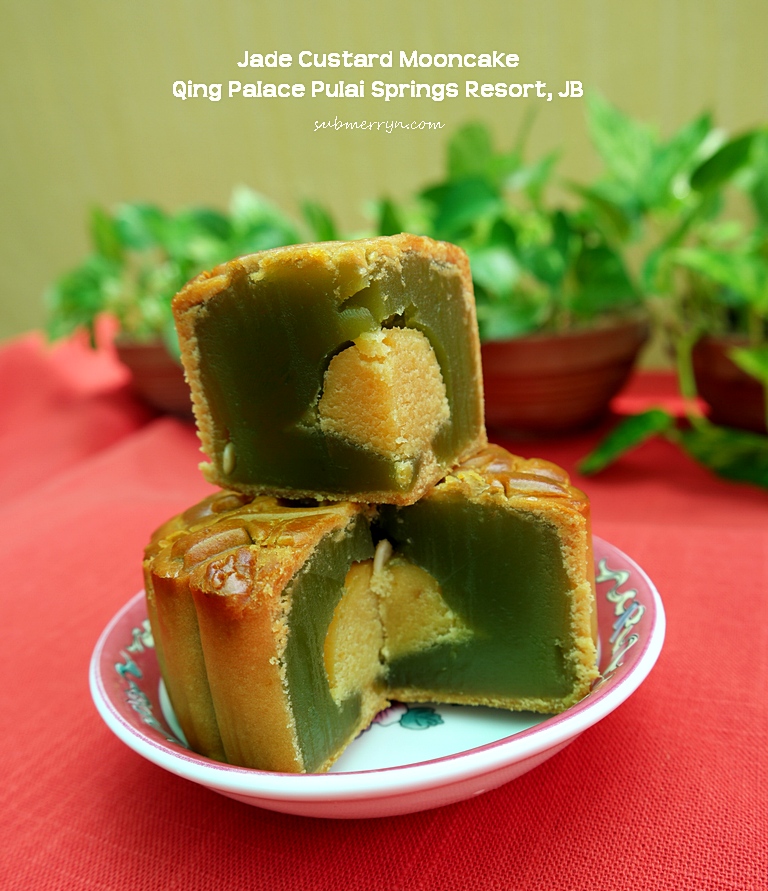 Jade Custard Mooncake (RM23)
This delightful mixture of pandan paste with custard filling is very fragrant. The fragrant pandan aroma burst out the moment I cut it open. It is little Ayden's favourite out of the 4 mooncakes we received today. 
White Lotus Double Yolk Mooncake (RM24)
Double yolk mooncakes are getting rather rare these days that I am pleasantly surprised when we received not one but two double yolk mooncakes in the box. Having double yolk means we are able to get a taste of the savoury egg yolk in every slice of mooncake we eat. Excellent combination. 
Smooth white lotus paste enrobes two golden yolks, this is a timeless classic that will please the traditional folks. The sweetness of the mooncake comes with a savory kick from the golden yolk. 
Lotus Paste Double Yolk Mooncake (RM24)
The lotus paste double yolk mooncake is sweeter compared to the white lotus paste double yolk mooncake. I prefer the white lotus paste double yolk mooncake as it has the perfect balance of sweet and savoury. 
Both Ayden and Ethan were sharing the Jade Custard mooncake in the picture above. It is Ayden's favourite while big brother Ethan is more excited with those double yolk mooncakes as he simply loves mooncakes with egg yolks and having them doubled is like getting a bonus with each bite!
Thank you Pulai Springs Resort JB for the lovely gesture of sending us these mooncakes. The smiles on the boys' face is simply priceless 
Qing Palace Chinese Restaurant is running a promotion whereby if you purchase 10 boxes of mooncakes (same flavour), you'll get 1 FREE box of mooncake (same flavour)
Note: 4 mooncakes per box
For more information and orders, please call 07-521 2121, email: [email protected]  or visit the Mooncake Counter at Qing Palace Chinese Restaurant located at Pulai Pavillion or Cinta Terrace Restaurant on Level 2. The mooncakes are available from 15 August to 15 September 2016.
*All prices are inclusive of GST