Ayden's Birthday Dinner
Ayden is THREE! We celebrated his birthday with my in-laws earlier last week. We had a simple cake cutting at home followed by a pre-booked dinner at Regent Restaurant in Seremban. 

It was my first time dining at Regent Restaurant here in Seremban. The place is really huge and it was full-house that evening we were there. It's like as if the entire Seremban population dined there that evening 
Thank goodness my sister-in-law pre-booked our dinner earlier. Traffic was horrible though. We were caught in the jam for quite a while on the way here and because it was a full-house, parking space were all taken up that we had to park at a housing area which is quite a distance from the restaurant.
My favourite titbits – peanuts. It's either this or the braised peanuts. I love them both and will never miss eating them at any Chinese dinners. 
Let's take a look at our dinner. Pictures all I cincai take because I paiseh lah, everyone there so hungry dy I can't be taking my own sweet time photographing food. 
Our starter – The Three combination.
The waitress serving us our soup.
Seafood Soup
Steamed Grouper with Superior Sauce
Baked Chicken Drumstick with Aromatic Herb
Fried Prawn with Superior Soy Sauce
Braised Mushroom with Beancurd
Fried Rice
Chilled Sea Coconut with Lemon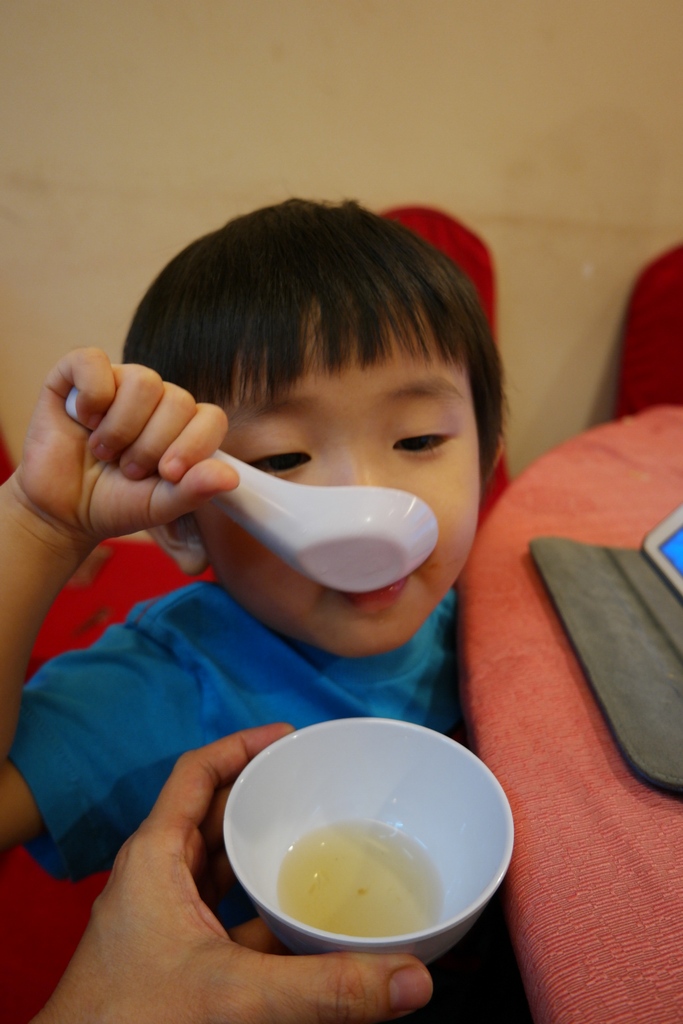 Ayden enjoyed the sea coconut drink as it was cold. This ice-cream king boy loves anything cold 
There, my in-laws who I rarely feature in my blog. They were not aware I took this picture so shhhh, don't tell them. Somebody is scrutinizing his prawn 
My sis-in-law and her husband. Ethan was taking a picture of them when this shot was taken. 
My youngest sister-in-law and the bottle of wine from the restaurant. 
My brother-in-law's girlfriend chatting with my mother-in-law which I rarely do myself 
 I know, I know, I'm the worst daughter-in-law in the world but it is Ayden's birthday so let's not talk about that now shall we 
The bill came to about RM500 for all of the above (12 pax) plus additional 4 bowls of white rice, free flow tea and wet wipes at the end of dinner. I think it is reasonably priced considering the food is one of the better ones we have eaten in Seremban. No wonder this place is packed to the brim. 
That concludes Ayden's birthday celebration with my in-laws.