Exquisite Mid-Autumn Festival Mooncakes @ Tao Chinese Cuisine, InterContinental Kuala Lumpur
Celebrate the beauty of Mid-Autumn Festival with friends and family, alongside the indulgence of freshly baked mooncakes by award-winning signature restaurant Tao Chinese Cuisine, available from 27 July to 15 September 2016.
The restaurant houses six elegant private rooms.

Featuring old time favourites and new flavours handmade individually, we were invited to preview carefully handcrafted mooncakes by master dim sum chef Lo Tian Sion. The season's ten exquisite mooncake selections are priced at RM26 nett per piece onwards for classic baked skin and RM28 nett per piece onwards for snowskin mooncakes.
Out of the ten exquisite mooncake selections, our favourite goes to the star of the snow skin mooncake, the red prawn durian mooncake that is back by popular demand.
Red Prawn Durian 冰皮红虾榴莲月饼 | RM40 nett per piece
The red prawn durian mooncake is a rich blend of "red prawn" durian with egg cream, encased within a sweet, soft enfold.
The complexity of the red prawn durian character that is bitter and sweet is highly visible with each bite of this mooncake. Simply the BEST!
Roselle Snowskin with Tangerine Lotus Cheese Paste came in a close second.
Roselle Snowskin with Tangerine Lotus Cheese Paste 洛神花冰皮桔饼起司月饼 | RM28 nett per piece
Aesthetically pleasing, it is equally appeasing to the taste buds with its unique savour unifying the slight sour with a hint of savoury of cheese paste and oriental hints of tangerine skin; all wrapped within a fine roselle skin.
Coming in third on our favourite list is the Coconut Milk Snowskin with "Teow Chew" Yam Shrimp and Single Egg Yolk.
Coconut Milk Snowskin with "Teow Chew" Yam Shrimp and Single Egg Yolk
椰奶冰皮潮式芋蓉虾米单黄月饼 | RM28 nett per piece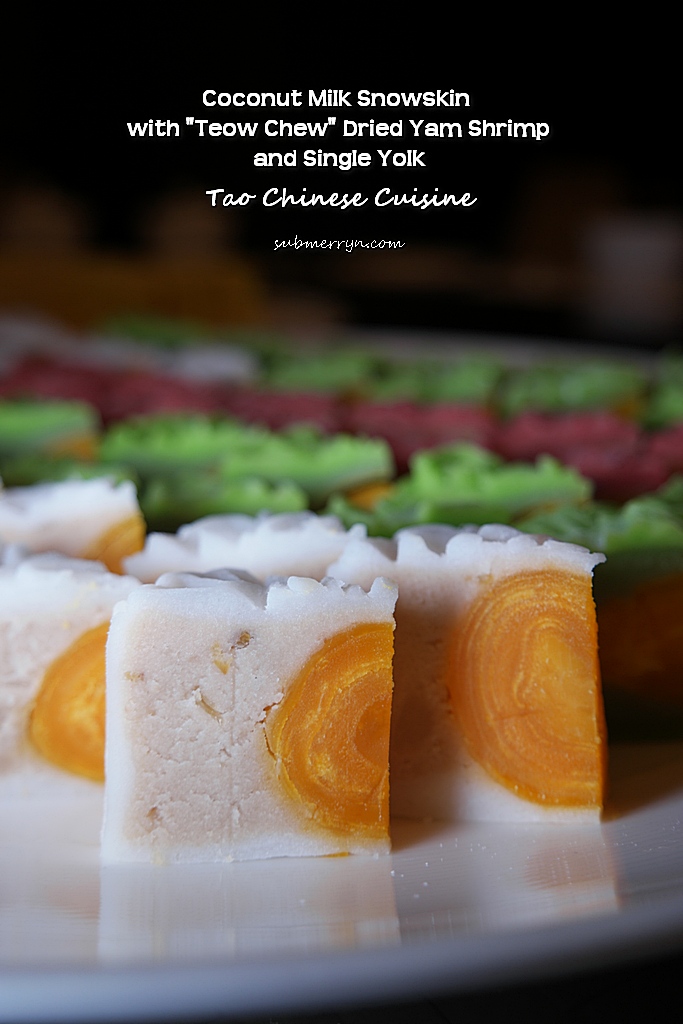 Further enriching the savours of tropical fruits, Chef Lo introduces the coconut milk snowskin with "teow chew" yam shrimp and single egg yolk. A bite of this reminds me of Orh Kueh (Yam Cake) due to the presence of savoury dried shrimp while the fragrant coconut milk skin is alike our famous local dessert 'bubur chacha'.
Shanghai Mooncake with Single Egg Yolk 上海单黃月饼 | RM32 nett per piece
A new addition to this year's baked skin series is the Shanghai mooncake with single egg yolk; a sumptuous bite of buttery fragrance, luscious and unlike any other.
It is also Halal certified as it is baked in a Halal certified kitchen.
Red Bean Paste with Black Sesame and Sun Dried Pumpkin Seeds, White Lotus Paste with Single Egg Yolk and Pure White Lotus Paste with Nuts are also Halal certified. 
Bamboo Charcoal with Assorted Nuts
竹炭五仁月饼 | RM32 nett per piece
Assorted nuts mooncake unlike any other, this one comes in a distinctive charcoal crust.
Scarlet Baked Snowskin with Pandan, Salted Bean Paste, and Beetroot
雪桃红翡翠咸豆蓉月饼 | RM30 per piece
A returning flavour yet something new to me is this Scarlet Baked Snowskin; a refinery of sweet snow skin infused with pandan and the blend of salted bean paste and beetroot. It is my first time encounter baked snowskin mooncake.
We were even given the priceless opportunity to have a hands-on session on trying to make this Scarlet Baked Snowskin mooncake.
Chef Lo guiding Ethan in making the scarlet baked snowskin mooncake.
Pandan Paste with Single Egg Yolk 冰皮翡翠单黃月饼 | RM 28 nett per piece
A classic take on the snowskin mooncake is this pandan paste with single egg yolk mooncake, infusing the fragrance of pandan intermingled into the bite of single egg yolk.
A Box of 6 Pre-selected flavours
桃花秋月 | RM168 nett per box
A great gift for friends and family, the vibrantly designed mooncake box ensemble draws its inspiration from the nostalgic nature of the moon; the round form symbolic of a family-get-together and the significance of family union to the Chinese. Adorned upon the vibrant box are peony flower motives, a representation of spring, beauty, richness and honour; a perfect cultural element to heighten every Mid-Autumn festival celebration.
Bulk purchase discounts are available for purchases from 27 July to 15 September:
15% discount for 50 – 200 boxes
20% discount for 201 – 400 boxes
25% discount for 401 – 800 boxes
30% discount for over 800 boxes and above
Complimentary delivery services within the Kuala Lumpur City Centre is available upon request for purchases of 20 boxes or more (one drop only).
For reservation or more information, please call Tao Chinese Cuisine at 03-2782 6128 or email the team at [email protected]
Early bird privilege of 15% off applies for every mooncake box purchases before 15 August 2016.