Fever and Fits
I am sorry for not answering or returning your calls, replying private messages, comments and more. I know everyone is concerned and wants to know what happened to us, particularly Ayden but I do not have time to explain to each and every one.
It was after midnight, 5 days after that horrifying ordeal that we are finally home again. So let me tell you what exactly happened.
If you read my previous post, you'll know that the big brother Ethan had been under the weather. He had been having this horrible high fever that made him miss the entire week of school. We even sent him to get his blood tested for dengue but results were negative so he just stayed home to recuperate.
Little brother Ayden finally succumbed to whatever big brother Ethan was having as he woke up feverish on Friday morning. Noticing that the fever is as ferocious as Ethan's, I pestered the Daddy to send us to the hospital to get Ayden tested too. Darling sent us home after the doctor took samples from Ayden for whatever tests required. He then went back to work.
Both the feverish Ethan and Ayden napped so I went into the kitchen to cook a quick dinner. I went to the living room to check on Ayden when I noticed that his body is extremely hot. I took the thermometer and the readings showed 39.6! I quickly grabbed a wet towel to sponge him. As I was frantically sponging him, he asked for milk. Before I could give him my breast or managed to do anything, he got into a fit; his entire body shaking so hard with his eyeballs rolled up leaving only the white eyes visible.
Not having experience this before, I panicked. I did not know what to do. I laid him on his side, press him down firmly hoping that he will stop jerking. He did not. I called out his name loudly, "Ayden! Please stop!" repeatedly that I woke Ethan up. Ayden's lips started to turn blue. Seeing what is happening, Ethan started to cry.
I carried Ayden and pressed him hard against me hoping that it will stop the seizure. After what seemed like an eternity, he finally stopped shaking. His body went limp in my arms. I went berserk and cried, "Ayden come back to Mummy! Come back to Mummy!" but there was no response. His head hung low with his arms and legs dangled lifelessly. His body turned an eerie pale of yellow and his mouth blue black. He was not breathing. I wailed like crazy. I thought I've lost him.
Suddenly my instinct told me to perform CPR on him. I quickly cleared his air way and blow into his mouth. After several tries, he gasped out and breathe! I cried and cried of relief and placed him in recovery position but all that happiness was cut short as he was not responding to me.
I shouted for Ethan to call the Daddy. Ethan told him that Ayden stopped breathing. Darling almost went bonkers on the other end of the line but I was not able to talk to him. Having the line cut off, he quickly drove back towards home.
Clear liquid started oozing out from Ayden's nose and mouth. I hugged him tight and called out his name. I held his head firmly with my two hands, made him look at me and asked if he knows me. All he did was gave me a blank stare and closed his eyes again.
That was when I grabbed the car keys while carrying the non responsive Ayden, lead the crying Ethan and ran to the car. This is me we are talking about. The girl who got her driver's license after high school but never drive as she went straight to college in the city after that.
I buckled Ethan up, placed Ayden on his lap and told him to hold on to Ayden as the car seat was in another car. I drove like it is something I do everyday and called Darling to meet me at the hospital.
Ayden started to respond to me on the way to the hospital. He called out, "Mummy" and I cried tears of joy. I told Ethan to keep talking to him eventhough he was not answering us.
Doctor said they will need to admit Ayden for observation. I told Darling to get me some clothes and some basic necessity.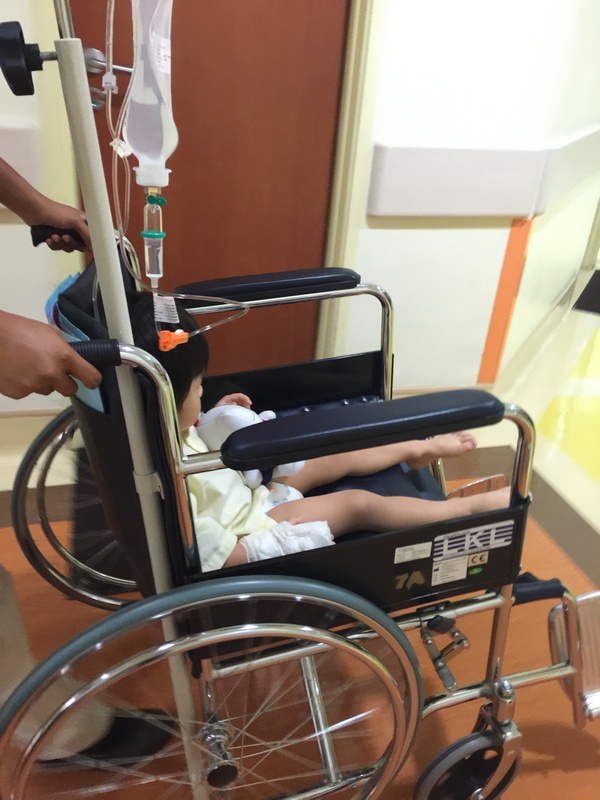 Ayden being wheeled into his room
Daddy brought some toys to cheer Ayden up
That night in the hospital room, I told Darling to go home with Ethan for the night as Ethan was still unwell then. He needed proper rest and sleep. Darling was undecided. He wanted to be with Ayden but he also needed to be with Ethan. After much persuasion, he finally agreed to go home with Ethan.
I did not sleep that night. I stayed up to monitor Ayden's temperature. At 3.20am, Ayden started being feverish again.
Feverish but still in high spirit at 3.30am.
Nurse came to give him fever med however his temperature did not subside. I kept sponging him but he remained at 38 – 39C. I requested for suppository but the nurses said they can only give it to him at 6am as they had just given him that at 11pm. It was 5.30am when I made my request. I argued that it is ok to just give him 30 minutes earlier as his temperature is really very high at 39.2C already. But they told me to wait and stop using my thermometer, looking at me like I am one of those annoying overly kancheong mother. I told them to call the doctor for approval of the supp.
At 5.40am as I was nursing (and still sponging) Ayden, he got into a fit again. I ran out of the ward carrying Ayden in my arms and shouted for the nurse. They hurriedly took him into their room and gave him oxygen while trying to force a tiny oxygen tube into his mouth. I could not believe it as here I am, seeing him shaking vigorously again. I kept calling out to him, calling out his name. The nurses called out to him too. Two minutes later he stopped shaking. The nurses quickly checked his pulse, oxygen level, pumped in more oxygen and do the necessary. I just stood there, holding his hands, never wanting to let him go.
He fell asleep right away but I did not want to let him sleep. I wanted him to respond to me first. I kept calling out to him. The nurses needed to see if he is responsive but he is not. NOW they inserted the suppository into him as his temperature was still 39.2. The next 40 minutes seemed like forever as I was still trying to get him to grab my hands or open his eyes. I kept saying to him, "grab mummy's hand if you can hear me" or "open your eyes to look at mummy" or "nod your head if you can feel mummy's hand rubbing your head" but nothing happened. Exactly an hour after the fit attack, Ayden opened his eyes. The nurses did some checks again and asked me if I want to transfer him back into our room. I said yes. They went back into the room with me. I cried while telling them that they should have just inserted the supp when I informed them his temperature was too high. They looked at me with a face of regret.
As both Ayden's fits attack happened in less than 24 hours, the doctor needed to perform a brain scan on him.
He was given a sedative to help him 'sleep' to go through the MRI scan. Looking at him loosing consciousness is so heartbreaking. We'll have to go for a follow-up with another doctor for this later.
Cut long story short, I did not sleep for 3 nights to monitor Ayden's temperature. The doctor stopped his medication on the 4th day and as he remained calm throughout, we were allowed to be discharged and go home on Day 5.
Thank you all for your prayers and concern. Thank you all who took the time to visit. A special thank you to my sister-in-law and her husband who helped us alot in this time of need.
Dont under estimate viral infection. Never take fever lightly and most importantly, learn first aid as we'll never know when we will ever need it.
//
//
//
//
//
//
//
//
//
//
//
//
//

//

//

//

//

//

//

//

//
//
//

//

//
//

//

//
//

//

//
//
//
//
//
//
//

//

//
//
//
//
//

//

//
//
//
//
//
//

//