Sunway Lagoon Theme Park Admission Tickets GIVEAWAY
Did I tell you we got our Sunway Lagoon Annual Pass recently?

Sunway Lagoon Annual Pass for the entire Submerryn family. With our Annual Pass, we get unlimited entries to all FIVE parks (Wildlife Park, Water Park, Amusement Park, Extreme Park and Scream Park) for the entire year. The annual pass, priced at RM300/adult (12 years old and above) and RM240/child (11 years old and below) is very reasonably priced considering a single admission ticket to ALL PARK is already RM150 per day.
This year alone we frequented Sunway Lagoon Theme Park more than a couple of times (before getting our annual passes), the last being our visit to their amazing Wildlife Park where the kids marvelled at tigers, white lions and more.
Let's recap a little on our previous trip.
Seeing tigers upclose at Tigerland. 
Ayden and the white lion.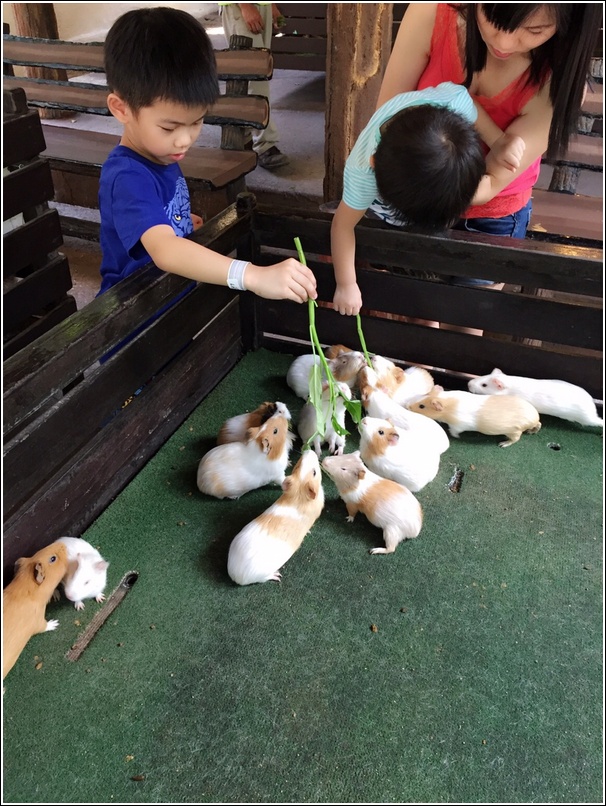 Feeding guinea pigs at Petting Village.
The kids fed the giant tortoise too. 
Urban kids will be happy to get the opportunity to try catching fish at Petting Village. It's not easy though. It took a lot of effort and teamwork to finally catch several fish. 
With FIVE parks in Sunway Lagoon Theme Park, it is almost impossible to visit them all in just a day. Now that we have our annual pass, we can come more frequently and spend the entire day in ONE park; covering a park a day from Monday to Friday. LoL. 
It is the school holidays and we are back here again. 
This time, we plan to spend all our time at the Water Park. But before we get there, we were greeted by this thunderous tribe :D
Ethan is holding his brand new swimming trunk bought 'fresh' from Sunway Pyramid just next door. Haha. 
We also made a quick tour around the Wildlife Park again as the kids wanted to say HELLO to their favourite wild animals. 
I also noticed many giant fans all around to keep us cool in the theme park. I was not aware of these previously so I guess they must be new.
Finally we are here at the Surf Beach. Please pardon Ayden's 'cool' look, he just can't wait to get into the water. 
And.. there they go. Happy boys feeling the wave striking them. Living in the Klang Valley, we don't have any beach to go to and this Surf Beach is just perfect. We get to enjoy the wave massaging us without the worry of shark attack :P
The boys also enjoyed this awesome water playground.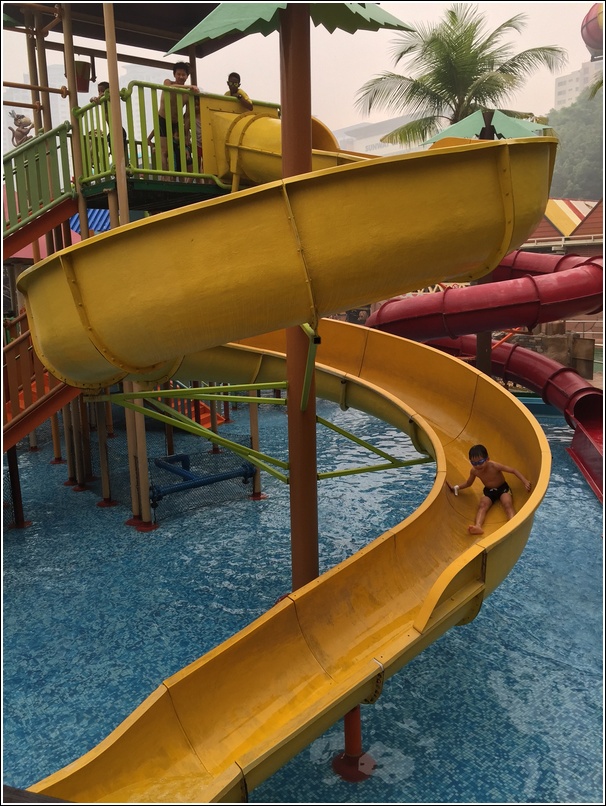 Ethan had a good time sliding down on all the slides.
He had the time of his life getting a powerful water massage :)
After spending almost the entire day at the Water Park, it is time to go home.
Before leaving, I took Ayden (and Ethan) to his favourite ride, the carousel. 
On our way out, we saw that the stairs are now so colourful. I don't remember them being this vibrant during my last visit. The kids love the brightly coloured staircase. 
Okay, we had tonnes of fun here and we want you to experience it too. 
I have TEN Sunway Lagoon Admission Tickets (worth RM150 each) to giveaway to TEN lucky readers.
All you have to do is just these 2 simple steps:
Step 1
Follow me on Submerryn Facebook page. There are plenty of giveaways there from time to time so it is easier to keep you updated :)
Step 2
Done donating a LIKE to my page? Thank you very much. Love you much, muacks! Now, share this post on your Facebook and tag Submerryn.com and hashtag #SubmerrynSunwayLagoonGiveaway
Remember to set your post to public so I can see it.
That's all.
Giveaway ends October 11, 2015. TEN lucky winners will be drawn at random and notified via email. Winners must be able to collect their tickets from Nuffnang Malaysia's office at Heritage House, KL.
Good LUCK!
//

//

//
//
//

//

//
//
//
//
//
//
//
//
//
//
//
//
//
//
//
//