Poolside BBQ Party
I attended a Poolside BBQ party today. Quite an interesting one because there are so much to do to keep ourselves occupied. The first thing that caught Ethan's eyes is the Kids' Jewelry Making Station by Kelvin Gems. He quickly ran to me saying he wanted to make me something. This boy, just earlier we had a heated argument and now he is dying to make me a jewelry. *Heart melt*

He told me to choose either a bracelet or a necklace. I chose bracelet and he quickly got busy. Look at the beads he chose. All so cute!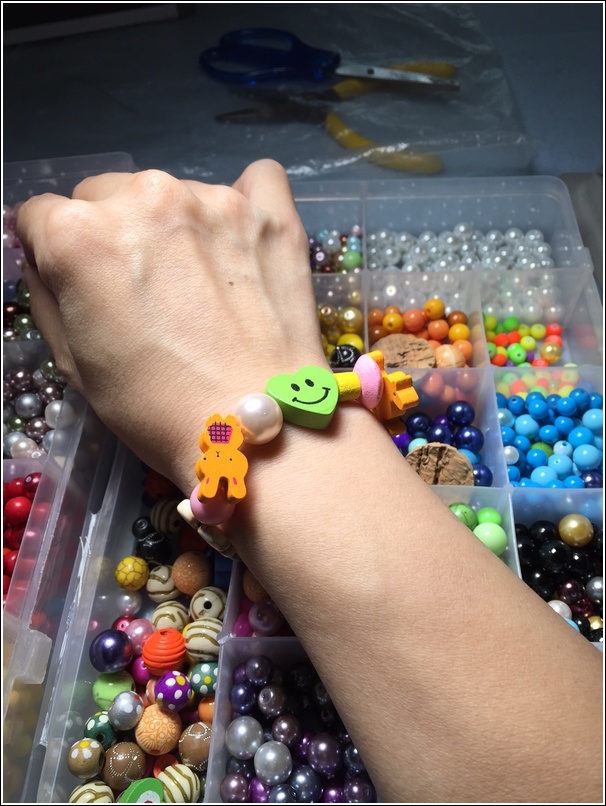 It's done. Beautiful isn't it? He told me, "Mummy, if you wear this, adik sure will like it because everything is so cute". Haih, this Ethan. Sometimes he drives me crazy. Other times, he is just too sweet.
Ayden entertaining himself in the hall as the guests ate outside.
Abundance of food. When Sidney first invited me to this BBQ Party, I was hesitant as I never liked BBQ if I have to DIY. Imagine going all nice and ending up drenched in sweat like somebody has just thrown you into the pool. Only when he informed me that there will be chefs doing all the grilling that I agreed to attend. Yes, I am diva like that.
I never know we can actually hire BBQ pits and chefs for parties until today. These are all from Bakarlah BBQ & Rental.
Their chef grilling tiger prawns from seafood supplier, GST Group.
Nice idea to have all the BBQ-ed meat and fish on banana leaves.
My plate of shishamo grilled fish! I love shishamo fish although I always feel guilty eating these pregnant fellas -.-
Delicious meatball pasta from NY Steak Shack for the kids. Actually I had some also. Shh.. don't tell the host.
There were many beautiful cakes too and I heard they are from Eastin Hotel. My favourite is this cheesecake:
What can I say? I am a cheesecake monster and this is just too good. I officiate the cake by cutting it when no one was looking (after getting the approval from the host of course) and quickly took a quarter of it before anyone sees me. I am not greedy, it is just that there were many other cakes around so I am actually helping to eat.
Let's see the rest of the cakes:
This was very nice too. I think it is chocolate cheesecake.
This I left untouched as other guests were starting to stare at me like I am some kind of a cake hogger crazy woman or something. But I really love cakes lor…
We also had a photo session by The PhotoZ.
Here's getting our head shot for a black and white picture.
And here's a picture taken by Zung himself. I looked macam baru kena marah kan? This was actually for a head shot also and I was told to look down… Picture credit to Leona.
I left shortly after so I did not get to see the end result of the shot. We did not go for a dip in the pool neither as both Ethan and I are down with flu. Thank you Sidney for having us. I must go out and meet people more lah coz today, I found myself with many new faces and realised that I do not know how to mingle anymore :( 
//

//

//

//

//

//

//

//

//

//

//

//

//

//

//
//

//

//

//

//

//