DIY Self-watering Container
I love gardening but since I had Ethan, I've not been able to do that much. As Ethan grows older, I thought I can start gardening again but our schedule became so tight that we don't even have time to care for our plants and eventually they all dried up and die :(
A couple of months ago I saw a post on self watering container on Facebook. I glanced through it and never thought much about it again until one evening when a student of mine cancelled her class at the very last minute that left me FREE for at least an hour.
Ethan and I started to rummage through our recycle bin and found some empty mineral water bottles. We began making our self-watering pot based on what I remembered as I can't find that post anymore on FB coz I don't remember who posted it last time :(

Empty mineral water bottle.
Cut into two.
Put strips of cloths through it and add soil.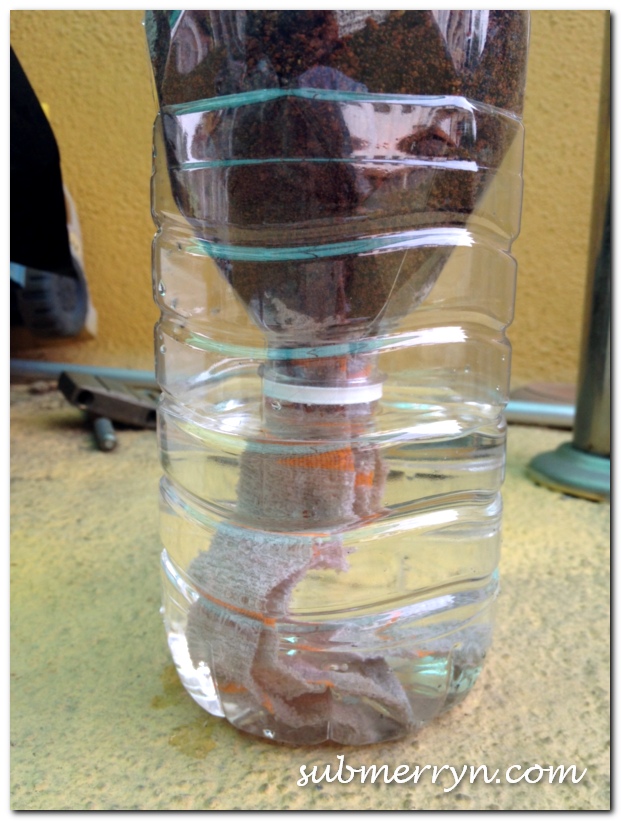 Add water and place in a shady area.
We put a chili seed and five days later we saw this:
A cute little chili plant sprouting from our self-watering container. We did not water this pot at all from that very first day.
It has been two months since we made that self-watering pot and we've only changed the water twice. Notice I said changed? That is because the water did not dry up and only became a little lesser. We changed it to get rid of moss in the water.
Two months and this is how my little chili plant looks like in the self-watering pot. The leaves are wet because the pot is placed strategically where it is shady enough yet is exposed to the morning dew. It's either that or it rained last night yet I did not noticed it! >_<
Anyway, since this system is working, Ethan and I will definitely start planting more as it is really hassle free gardening! :D
Now I just hope that no pests will come and destroy our crop!
//

//

//

//

//

//

//

//

//

//

//

//

//

//

//