Buffet Ramadhan bersama Jaafar Onn dan Haiza di Dorsett Grand, Subang
In about a little over a month, our Muslim friends will be ushering the holy month of Ramadhan.  It has always been our favourite to walk around Ramadhan Bazaars scouting for food and more but sometimes, the scorching heat is simply unbearable. When that happens, I prefer to just dine somewhere cool and comfortable.
Dalam masa sebulan lebih, rakan-rakan Islam kita akan menyambut ketibaan bulan suci Ramadhan. Ia sentiasa menjadi kegemaran kami untuk berjalan-jalan cari makan di sekitar Bazar Ramadhan tetapi kadang-kadang, cuaca panas terik semata-mata tidak tertanggung. Apabila ini berlaku, kita lebih suka untuk hanya makan di tempat sejuk dan selesa.
If you've been following my blog you'll noticed that we frequent Dorsett Grand Subang often as it is close to our home and we simply love their warm hospitality.  This year, we are privileged to be able to preview the Ramadhan buffet spread at Dorsett Grand, Subang. With a choice to dine at either Warisan Desa @ Terazza Brasserie or Anjung Selera @ Melati, both serves over 80 varieties of delicacies from local to international with rotation in menu everyday.
Jika anda sering mengikuti blog saya, anda akan menyedari bahawa kami kerap ke Grand Dorsett Subang kerana ia terletak berhampiran dengan rumah kami dan kami suka layanan mesra mereka. Pada tahun ini, kami bernasib baik dapat pratonton buffet Ramadhan di Dorsett Grand, Subang. Dengan pilihan untuk menjamu selera di Warisan Desa @ Terazza Brasserie atau Anjung Selera @ Melati, kedua-duanya menyediakan lebih daripada 80 jenis hidangan dari tempatan ke antarabangsa dengan putaran di dalam menu seharian.
We chose to dine in Anjung Selera @ Melati as they serve a similar buffet spread but with a twist. Celebrity Chef Jaafar Onn is there whip up a storm of traditional 'balik kampung' delights together with songstress Haiza. Together, they also serenade diners with classic Malay hits.
Kami memilih untuk makan di Anjung Selera @ Melati kerana mereka menghidangkan bufet yang sama tetapi dengan sentuhan istimewa. Chef Selebriti Jaafar Onn sedia memasak untuk tetamu dan berkongsi tip memasak bersama-sama dengan penyanyi Haiza. Bersama-sama, mereka juga menghiburkan para tetamu dengan  musik hits Melayu klasik.
Jaafar Onn dan Haiza @ Melati
Jaafar Onn and Haiza showed us how easy it was to dish up Sup Meletup and Nasi Lembaran in no time.
Jaafar Onn dan Haiza membuktikan betapa senangnya untuk menyediakan Sup Meletup dan Nasi Lembaran.
Jaafar Onn's speciality – Sup Meletup. 
I was afraid to give it a try initially looking at the amount of cili padi he added into this soup but everyone else around me was praising how good it was that I just had to try it and surprisingly, it was not THAT spicy! Phew!
Kami takut untuk mencuba pada mulanya setelah melihat jumlah cili padi dimasukkan ke dalam sup ini tetapi semua orang lain di sekeliling kami telah memuji bagaimana enak sup ini sehingga kami terpaksa mencuba untuk mengetahuinya dan menghairankan, ia tidak lah pedas sangat! Phew! Sedap!
Let's take a look at some of the dishes I managed to sample that evening. Being buffet, there are too many food to capture so I'll just post what I've eaten and approved :P
Mari kita lihat pada beberapa hidangan yang telah saya cuba petang itu. Sebagai buffet, terdapat terlalu banyak makanan untuk di ambil gambar  jadi saya hanya akan post apa yang kami makan dan diluluskan :P
Rusuk Kambing Vindalo
Rendang Ayam Kampung
Udang Masak Lemak Cili Padi
Kerabu Taugeh, Kerabu Mangga and Kerabu Ayam
Ulam-ulaman desa dan sambal tradisi – sambal belacan, sambal mangga, sambal limau kasturi dan cincaluk
My favourite! I don't get to have this often at home as Darling is not the 'ulam and sambal' kinda guy so you can imagine my delight! I've not had cincaluk for the longest time ever so I made sure I satisfy my cravings that evening with all these choices.
Kegemaran saya! Kami tidak sering dapat menikmati hidangan sebegini di rumah maklumlah Darling bukan jenis yang suka 'ulam dan sambal'  jadi anda boleh bayangkan kegembiraan saya! Saya telah lama tidak makan cincaluk jadi saya pastikan saya memenuhi keinginan saya petang itu dengan semua pilihan yang disediakan.
Pizza Pedas
Seeing pizza in the buffet spread is kind of a surprise to me as I was expecting more of local dishes but it was a good surprise as I love pizzas (and lasagna). I did not hesitate for a second and quickly took a slice without asking what was the toppings. I assumed it was tomato, cheese and whatever that is normally used for pizzas but boy was I wrong! I took a bite and I almost flew up the ceiling into the roof! It was SPICY! It was THAT spicy! I took a look at it and THEN I realised there were pepper seeds all over it! But guess what? I loved this spicy pizza and even managed to gobble down the entire slice! I love it so much that I went for a second slice…
Melihat pizza di bufet adalah kejutan kepada kami kerana kami menjangkakan lebih banyak hidangan tempatan tetapi ia adalah satu kejutan yang baik kerana kami suka pizza (dan lasagna). Kami tidak teragak-agak dan pantas mengambil sekeping tanpa bertanya apakah topping nya. Kami menganggap ia adalah tomato, keju dan apa sahaja yang biasanya digunakan untuk pizza tetapi kami salah! Saya mengambil satu gigitan besar dan  hampir terbang sehingga ke siling bumbung! Ia PEDAS! Ia adalah SANGAT pedas! Saya tengok ia baik-baik dan baru menyedari terdapat biji lada!  Tetapi cuba teka? Saya suka pizza ini pedas dan terus habiskan seluruh keping! Saya suka ia tersangat sangat dan terus pergi untuk kepingan kedua …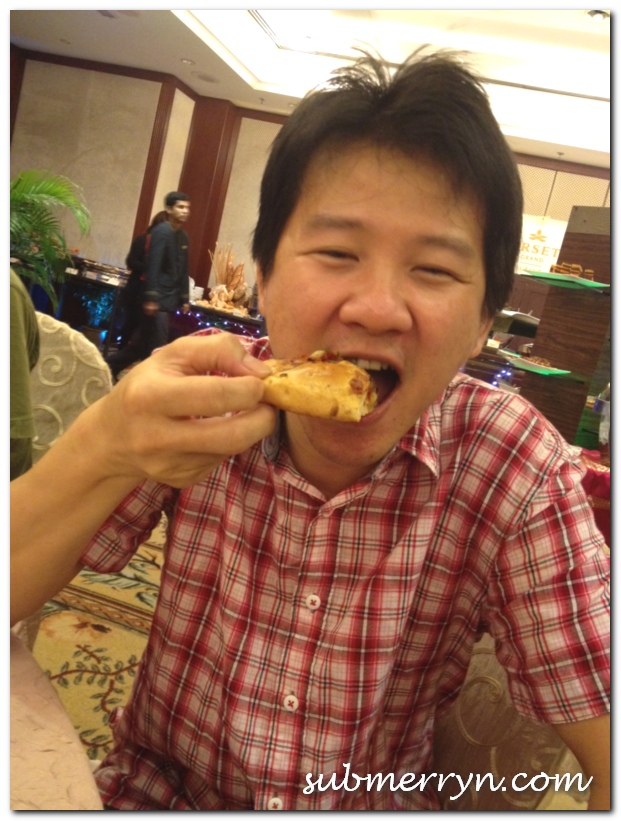 And got Darling to try it this time. He took a bite but could not stand the spiciness and passed the remaining slice of pizza back at me which I happily gobbled down and breathe out fire after!
Saya pastikan Darling cuba piza ini. Dia gigit sekali tetapi tidak boleh tahan pedasnya dan terus beri baki pizza kepada saya. Saya dengan gembira habiskan kepingan piza itu terus menghembur kan nafas berapi!
My 'personal chef' that evening. Haha! Here is Darling getting some of that Sup Meletup for me <3
Ini lah 'chef peribadi' saya petang itu. Haha! Dia mencedok Sup Meletup untuk saya <3
If your child is not able to take spicy food as yet, fret not as they also serve a variety of kid friendly dishes such as chicken rice and assorted vegetables with mushrooms. That was Ethan's meal and it's all good for him.
Kalau anak anda tak makan pedas, jangan bimbang. Ada banyak makanan yang sesuai untuk kanak-kanak contohnya nasi ayam dan sayur campur dengan cendawan. Itulah makan malam Ethan dan dia suka.
As for me I prefer to have the traditional Malay food; Nasi Briyani Gam Ayam, Ulam-ulaman desa, Ikan Tenggiri and Keropok.
Untuk saya pulak, saya lebih suka makanan traditional Melayu; Nasi Briyani Gam Ayam, Ulam-ulaman desa, ikan tenggiri dan keropok.
Darling as usual will have a mixture of both spicy and non spicy food.
Darling pulak selalu suka ada campuran pedas dan tak pedas.
Pencuci Mulut
Onde-onde dan Pulut Panggang
Being a Malaccan, the first thing that I always grab is the onde-onde and those here have lots of gula melaka filling in them making it a nice bite but I would prefer if the dough is a little thinner so they can actually POP in my mouth :)
Saya orang Melaka, mesti suka onde-onde. Onde-onde yang dihidangkan disini penuh dengan inti gula melaka dan sedap tetapi saya lebih gemar jika tepungnya lebih nipis supaya boleh 'meletup' didalam mulut kita :)
We had a great time feasting with Ethan having the most fun being serenaded by Jaafar Onn and Haiza and dancing in his seat while eating >_<
Kami gembira makan-makan dengan Ethan yang paling seronok mendengar nyanyian Jaafar Onn dan Haiza dan menari-nari dikerusi sambil menikmati makanan nya >_<
Jaafar Onn dan Haiza akan menghiburkan tetamu di Anjung Selera @ Melati RM95++ setiap orang. Untuk tempahan, sila panggil 03-5031 6060 ext 3032
Warisan Desa @ Terazza RM100++ setiap orang. Untuk tempahan, sila panggil 03-5031 6060 ext 1912
Warga negara emas dan Kanak-kanak (6-12 tahun) 50% diskaun di kedua-dua Terazza dan Melati.
Early Bird Voucher 25% diskaun untuk pembelian sebelum Ramadhan.