It's a BREEZE!
Darling's work clothes and Ethan's play clothes are always the toughest to clean. It has stubborn stains on the collar, handcuffs and basically everywhere! Darling is on the go at all times and Ethan is forever an active and curious kid, exploring every little details. I can't stop them from their daily routine but I need to ensure that their clothes are washed clean.
I always apply and rub liquid detergent onto the stains before dumping those clothes into the washing machine.
The clothes usually come out clean because I use BREEZE! Cheh wah! :P
Ethan always sees me doing laundry. Today, curiosity gets into him and he asked me why I always apply liquid detergent onto the stains before washing.
To let him understand better, I let him conduct an experiment. It was our little Science project :D
I cut my old school uniform into a mini shirt shape and let Ethan draw lines on it using a crayon.
Then I gave him a pair of gloves and a ¼ teaspoon for him to scoop and rub the liquid detergent onto the stain.
He enjoyed rubbing the cloth together and sees little bubbles forming :)
He then placed the cloth into a shaker.
I can move it, move it!
Use a pair of tongs, transfer the cloth to another container (pre-filled with 300ml tap water)
And finally, rinse it.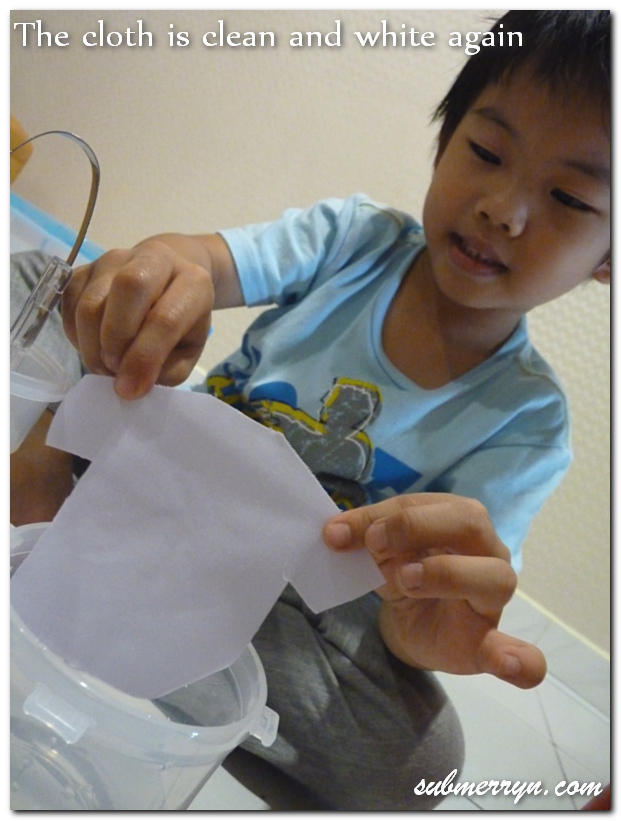 The cloth is CLEAN again! MAGIC! Haha.. He was very impressed at how the crayon stains can magically disappeared!
It was so fun that we repeat the process using cotton t-shirt this time.
Again, the stains magically disappeared! The cloth is CLEAN again without any residue left!
Happily he hung both the shirts to dry :)
He enjoyed that little science project so much that he volunteered to help me do the laundry.
He poured a capful of Breeze liquid detergent into the washing machine.
Did I tell you that I'm a sucker for fabric softener? I can never have too much of them as they give our clothes up to 14 days of long lasting freshness. I also find it easier to iron the clothes if they are rinsed with fabric softener especially Comfort Ultra's as it prevents clothes from losing its shape.
Here is Ethan trying to decide which fragrance he should use.
He picked the Comfort Ultra Morning Fresh softener as he loves the refreshing fragrance. I love every scent but always use only the Green Comfort Ultra if I wash our bedsheets and towels as it has anti bacterial properties.
Just pour the softener into the compartment and the washing machine will automatically rinse the clothes with the softener during the last cycle of rinse.
Now that stains are no longer a barrier to Ethan's learning and development, he'll get to be curious, explore, develop and ultimately unleash his human potential.
Dirt is experience, dirt is good. It is only when you are free to get dirty that you truly experience life and develop.
GIVEAWAY
Okay, here's how you can get hold of one of the 6 sets of Breeze products.
Tell us what is the toughest stain you've successfully tried removing and 6 lucky readers will walk away with a set of Breeze products each to combat your toughest stains! (Winners will be announced after 7 days)
*******
The contest is now closed and congratulations to the winners:
1) siew lai ching
2) Jovin
3) Jess
4) Shahzeeq Shahren
5) J_Fish
6) lim yee pee
Related Posts
//
//
//
//
//
//
//
//
//
//
//
//
//
//
//
//
//
//
//
//
//
//
//
//
//
//
//
//
//
//
//
//
//
//
//
//
//
//
//
//
//
//
//
//
//
//
//
//
//
//
//
//
//