What's with the blood stain?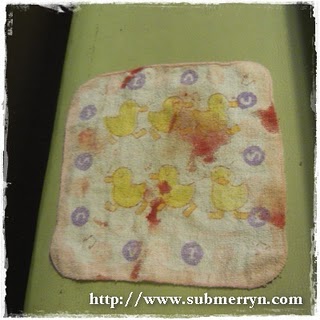 See that blood-stained handkerchief? Want to know what happened? Ethan – He fell during dinner today.
He was sleepy and we were on the way back from our third home when we stopped by somewhere for dinner. He was standing on the couch and wanted to lean on the table when he missed it and fell smack down on the floor.
I got him to bite the handkerchief to clean the blood away and later Darling took him to the nearest sink to gargle and wash.
I think he injured his gums…
There… so sleepy
Darling and I rushed through our dinner to get him home as he was extremely restless after the fall…
:(
//
//
//
//
//
//
//
//
//
//
//
//
//
//
//
//
//
//