Disney On Ice – Disneyland Adventure
13 March 2010
Saturday 1pm
Stadium Putra Bukit Jalil, KL
Woke up in the morning and the first thing he said was,
"Wake up ody, now go see Goofy!"
Of all characters, he only wants to see Goofy! So we got all dressed up and began our journey to Bukit Jalil. Got caught in a massive jam in Federal Highway just because there was a minor accident and EVERYBODY was slowing down to look! Malaysians! We arrived there just 5 minutes before 1pm. The show started right on time at 1pm.
Top pic: Ethan getting ready to enjoy the show with his Mickey
Bottom pic: (Left) Ethan before the show (Right) Ethan during the show (glowing in the dark)
Mickey and Minnie Mouse, Pluto, Stitch and Daisy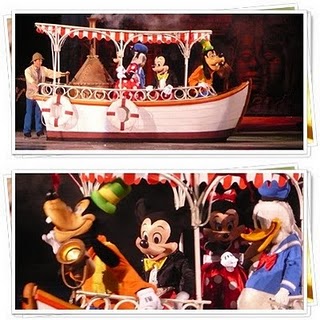 They even have a cruise on ice and Goofy, Mickey, Minnie and Donald are happily cruising. Donald even came down to fight an alligator!
There's also a train
A couple of the many beautiful backdrops
The dark glow is simply beautiful
Overall, we got to swing to the beat with Baloo through the Jungle cruise, fly like a space ranger through Space Mountain® with Buzz Lightyear and spin wildly through the Mad Tea Party with Alice and the Mad Hatter. Comedy ensues as Disney/Pixar's The Incredicles experience popular Disneyland attractions like the Haunted Mansion, "It's a Small World" and Pirates of the Caribbean in a laugh-out loud ice spectacular. And just when things get a little too crazy, the audience helps the Incredible save the day!
Here are some short videos I took during the show.. Enjoy :D
The opening act
Haunted Mansion
Intro of Mr. Incredible
Dark Glow
Closing with a BANG!
//
//
//
//
//
//
//
//
//
//
//
//
//
//
//
//
//
//
//
//
//
//
//
//
//
//
//