Browsing articles tagged with " confinement meals"
Though I'm a Malaccan I spent most of my growing up years in Sitiawan, Perak. Unlike my Peranakan parents, I am quite fond of the Fuzhou food there. I left Sitiawan for college in KL but my parents remained there. Each time I go back to Sitiawan, my mother will buy me a hot bowl of lu mien from the famous aunty in the market. I remember referring to her as "pasar aunty". That was […]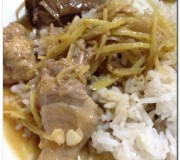 One of the confinement dishes my Mom cooked that I love is her Confinement Ginger Chicken with Rice Wine. Fry sliced ginger and chopped garlic using sesame oil until fragrant. Add chicken and continue frying. Add water and salt to taste. Cover and simmer. Once the chicken is tender, add rice wine according to your preference. Here's my mother modelling with her rice wine! LoL! Serve hot. Yums!
When I gave birth to Ethan six years ago, I remembered boiling red dates and dried wolfberry tea every single day during the first week of confinement. It is believed red dates tea can help increase breast milk supply as well as nourish our blood. Naturally when I gave birth to Ayden recently, I wanted to drink the same thing again but this time, I was told to add more ingredient in it. I was […]