Ramadan Dinner Buffet Preview: Eastin Hotel Kuala Lumpur
868 views
6 Comments
Warna Warni Sajian Bufet Ramadan
This year, Eastin Hotel Kuala Lumpur welcomes the holy month of Ramadan with colourful varieties of traditional and local favourites.
We were privileged to be invited to preview Swez Brasserie's Warna Warni Sajian Bufet Ramadan happening from 17th May to 13th June 2018.
Let's start the customary breaking of fast with these sweet and nutritious dates.
The all-time favourite and popular demand Traditional Whole Lamb Stuffed with Briyani Rice returns to delight diners every evening throughout the fasting month.
Traditional briyani rice is stuffed in the lamb stomach cavity before the lamb is roasted resulting in the briyani rice soaking up the delicious lamb juice to give it such a wonderful flavour.
It is worth returning to Swez Brasserie year after year just for this must-have extraordinary dish.
Eastin's enormous Sup Gear Box Merah with Condiments is mixed with a generous amount of tomato puree enhancing the flavour of the soup, making it suitable for children too.
The Nasi Kerabu Royal which comes in fragrant yellow rice instead of the standard blue rice is also another hit with both the young and mature crowd that evening.
A must-have dish for breaking of fast is the Bubur Lambuk and here at Eastin, we can add our preferred condiments along with it.
Ostrich Rendang is one of the highlight this year at Eastin's buka puasa buffet. Ostrich meat is a healthier option as it is lower in fat per serving compared to chicken and turkey and much lower in cholesterol than beef.
We love the tender ostrich rendang with minimal fats cooked to perfection. In fact, it is so nice that we had a second helping to go with our ketupat and lemang.
Besides ostrich rendang, the more common version chicken rendang is available too.
Chicken and meat floss are also a hit to go with lepat, ketupat and lemang.
Ketupat and Nasi Impit
Two types of lemang – Lemang pulut and lemang pulut hitam.
Wide varieties of Ulam to whet your appetite.
Simple pleasures of salted eggs with golden yolks, acar buah and cencaluk.
If you are into Tex-Mex, head over to the beef taco counter for your dose of flavorful ground beef in taco shells.
Back to traditional favourites, the Sambal Udang Petai will definitely make you drool. Petai and prawns are simply magical when cooked together. They bring out the best in any dish.
Burung Puyuh Goreng Cili Padi is especially good eaten with warm rice. Quails do not have very thick meat so it is just nice to have one or two and still have ample space in your tummy to explore the rest of the buffet spread.
Do not miss the Ketam Masak Tomyam for your crustacean fix.
Simple yet delicious Ayam Goreng Kunyit
Another prawn dish worth mentioning is Kari Nangka Muda Udang a popular dish from the North though over there, they call it Gulai instead of Kari. 
Gulai Ikan Tongkol brings back fond festive memories of yesteryears. 
The refreshing and thirst quenching Kelapa Bakar is also making a return this year due to popular demand. Diners are encouraged to help themselves to this fragrant and nourishing drink after a day of fasting.
Besides the kelapa bakar, diners can enjoy coconut inspired desserts at the pool side corner such as Coconut Ice-Cream, Apam Balik Kelapa, Pulut Panggang and other sweet selections such as Deep Fried Ice Cream and more.
Coconut Pudding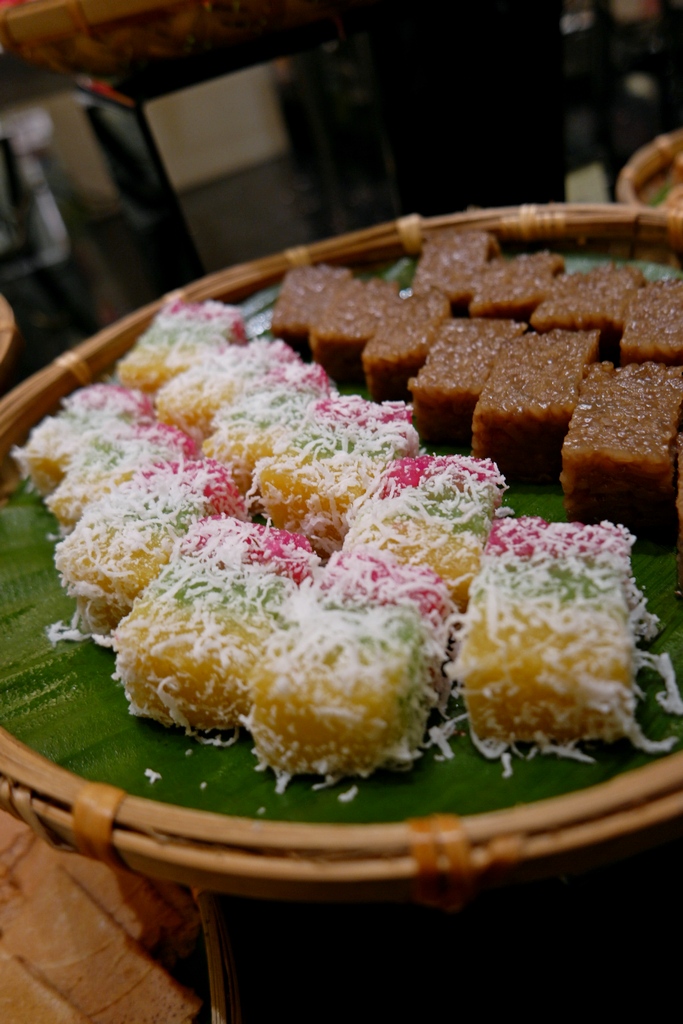 Kuih Sago
Onde Onde
Kuih Ketayap
Indonesian street food, Gado Gado salad with peanut sauce is also available.
Assorted Malay Kuih
Assorted Festive Cookies
Cold drinks to quench your thirst. 
Warna-Warni Sajian Bufet Ramadan is happening from 17 May to 13 June 2018
Early Bird Vouchers are available for sale now until 14th May 2018 at RM100nett per person valid from 17th May to 13th June 2018.
Call Swez Brasserie at 03-7665 1111 ext 183 or Whatsapp 016-262 2070 to purchase your early bird vouchers and reservations.