Fuss free baby porridge recipes
9,529 views
20 Comments
Ayden is 7 1/2 months now and is having the time of his life enjoying solid food. I started him on solid quite late at 6 1/2 months. He had mainly fruit purees for 2 weeks before I 'upgraded' him to porridge. I use all the ingredients that he has eaten in the past 2 weeks (except meat and anchovies) so that I know he won't have any allergy reaction to them.
Boiling porridge for Ayden is an extremely simple job as I've invested in the cutest rice cooker 6 years ago for Ethan and it is still good to use now. All I need is a couple of minutes in the morning to toss all ingredients in the cooker and go back to sleep and an hour later the porridge is ready to be eaten!
Today I'll be sharing Ayden's porridge menu for 5 days.
Day 1 menu is pork rib porridge with sweet potato, carrot and broccoli. The pork will provide the much needed iron in his diet.

Pork Rib porridge with sweet potato, carrot and broccoli.
I wake up an hour or two earlier every morning and added 2 tablespoons of rice (washed) and water and the rest of the porridge ingredients.
I set it to boil for 1 or 2 hours depending on how early I wake up. For example today, I woke up at 7am so I know I have two hours before Ayden wakes up. Therefore I set it to cook for 2 hours and get back to my bed and sleep until 9am.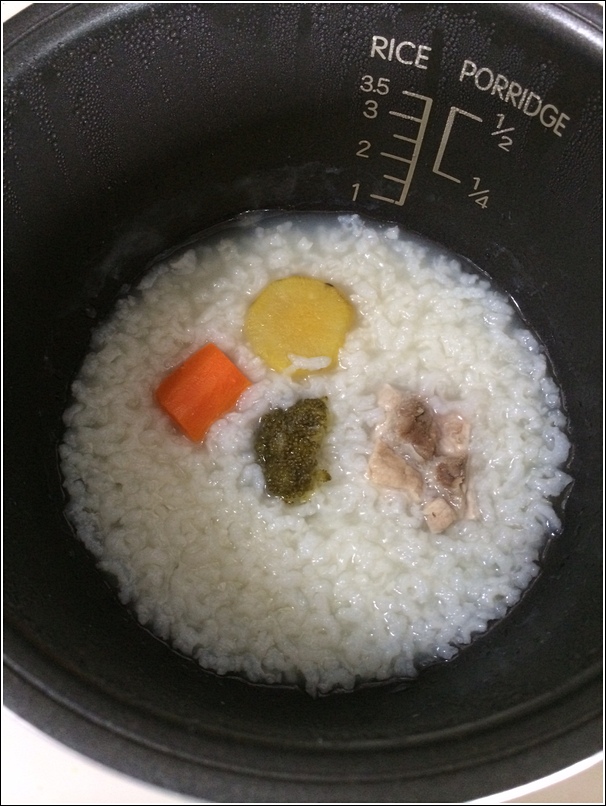 When I wake up at 9am, the porridge is nicely done.
I scooped out the vegetables and mashed them using the back of the ladle.
Add the mashed vege back into the porridge. This is good to last until dinner.
Ayden's yummy pork rib porridge with sweet potato, carrot and broccoli.
Day 2
Pork rib porridge with beetroot and broccoli.
I use carrot on alternate days as I don't wish for Ayden to be yellow. Same cooking method as above.
The result is simply beautiful and equally delicious.
Day 3 menu
Anchovies porridge with sweet potato, carrot, broccoli and sweet corn.
Because corn won't mash I had to blend this mix.
The result is this ultra smooth runny porridge.
Day 4
On Day 4 I omitted the carrot. Result is the same smooth, runny porridge as above.
Day 5
Porridge with anchovies, carrot, broccoli and sweet potato. Boil and mash vege.
For anchovies based porridge, I make sure to remove their tiny bones and wash them thoroughly before cooking. I discard the anchovies before serving. As for the pork porridge, I use the back of the ladle to mash them into fine strips. Ayden loves it. I alternate broccoli with spinach on weekly basis. No salt or seasoning is added into Ayden's porridge.
I am glad Ayden's transition into solid food is a smooth one.
Related Posts
//
//
//
//
//
//
//
//
//
//
//
//
//
Join ME for updates & giveaways!
About Me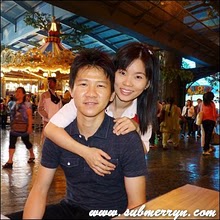 Home is where MY heart is.
I am a mother to two boys; Ethan and Ayden and a wife to Darling William. I'm a stay at home mum who blogs to break the monotony of life and to avoid feeling jaded. Would love to get to know all the Super Mommies and Daddies and Babies or Singles out there with the hope that we can learn more from each other. Most of all, I am a happy person, and I hope YOU are too.
Click here to learn more about me ^_^
Ethan and Ayden's Reading Progress