Faerie Dreams Christmas at Sunway Pyramid
921 views
8 Comments
We were at Sunway Pyramid last weekend to check out their Faerie Dreams Christmas decor.

Cute or not? LoL!
He ain't heavy, he's my sleepy brother.
The MC claimed this to be the tallest Christmas tree in the Klang Valley this year
Snowy Christmas trees. Not bad… :P
Peek-a-boo. I see you!
Giant frame for that picture perfect moment
Kids made a bee line for this swing.
Wondering what was being discussed here… It was actually Ethan asking the Daddy for some coins to be tossed into the fountain. All coins will be donated to Children Wish Society of Malaysia. 
Ethan tossing some coins into the fountain. 
Though not the best I've seen and the decors are minimal and at a much smaller scale this year, yet it still managed to bring out the Christmas spirit in all of us. Sunway Pyramid got the sign of approval from me, the Christmas decor hunter :P
Related Posts
Join ME for updates & giveaways!
About Me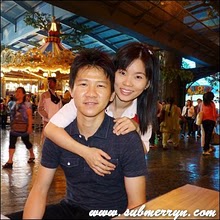 Home is where MY heart is.
I am a mother to two boys; Ethan and Ayden and a wife to Darling William. I'm a stay at home mum who blogs to break the monotony of life and to avoid feeling jaded. Would love to get to know all the Super Mommies and Daddies and Babies or Singles out there with the hope that we can learn more from each other. Most of all, I am a happy person, and I hope YOU are too.
Disclosure Policy
Click here for my disclosure policy.