Milk Carton Sailboat Craft
679 views
11 Comments
Every once in a while I like to buy milk in a carton. We don't drink them too often but we do-lah once in a while. Knowing me, you'll know that I don't throw away things easily. I'll try to come out with something before disposing them off. 
So we did this – Milk Carton Sailboat.

Ethan and his milk carton sailboat. 
Ethan enjoying his glass of chocolate milk. I super love chocolate milk! Ethan asked me why the picture of the cow on the carton shows a black and white cow and NOT a brown cow? I asked him why must it be brown? He said because we are drinking CHOCOLATE milk and BROWN cow produces CHOCOLATE milk! Oooooook, at least NOW I know my son is CLEVER! >_<
I helped him to cut the carton into half. 
Let him tape coloured tape all over the milk carton.
Fold the excess inside. Use chopstick and paper as the sail and the sailboat is done!
We actually did this milk carton sailboat craft in one of the episodes of Chiki Boom. Here's Ethan sailing his sailboat with the rest of the hosts but looks like someone's boat capsized :)
Related Posts
//
//
//
//
//
//
//
//
//
//
Join ME for updates & giveaways!
About Me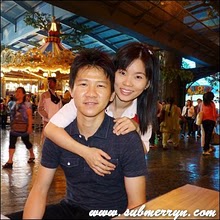 Home is where MY heart is.
I am a mother to two boys; Ethan and Ayden and a wife to Darling William. I'm a stay at home mum who blogs to break the monotony of life and to avoid feeling jaded. Would love to get to know all the Super Mommies and Daddies and Babies or Singles out there with the hope that we can learn more from each other. Most of all, I am a happy person, and I hope YOU are too.
Disclosure Policy
Click here for my disclosure policy.