Hari Raya Decor @ IPC Shopping Centre
662 views
8 Comments
With Hari Raya fast approaching, I'm way lagging in my mall decor hunt as we've been tied down with projects after projects that I just can't make the time to hop to as many malls as I wish :(
We managed to drop by IPC Shopping Centre (Ikano Power Centre) last week and though their Raya decor is nothing to shout about, Ethan LOVES it! Why? Because their decors are in 2D Cartoon!

I thought Ethan looks like a cartoon himself in this picture with this cow :P
This kampung is not too bad. You can dine in Sushi King whenever you are too lazy to cook :D
Ethan's first time riding a scooter! Haha! 
Urm.. that bicycle is a bit too big for you, boy! 
And then he wanted to jump out of the bus! >_<
And drive around the kampong instead. Do you notice Turbo with him in all those pictures? His current craze… -.-
Related Posts
Join ME for updates & giveaways!
About Me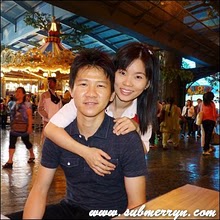 Home is where MY heart is.
I am a mother to two boys; Ethan and Ayden and a wife to Darling William. I'm a stay at home mum who blogs to break the monotony of life and to avoid feeling jaded. Would love to get to know all the Super Mommies and Daddies and Babies or Singles out there with the hope that we can learn more from each other. Most of all, I am a happy person, and I hope YOU are too.
Disclosure Policy
Click here for my disclosure policy.