Genting Theme Park will be replaced by Twentieth Century Fox Theme Park
1,595 views
24 Comments
Darling, Ethan and I all have Genting's Annual Passport but Darling's and mine expired some time ago. We wanted to renew it but were not allowed. We were quite pissed then as Ethan's passport is still valid and without ours, we have to fork out a large sum of money to enter the Theme Park together. I brought the matter up to the management and was told that the Theme Park will be closed sometime soon hence the no renewal of annual passport ruling. 
Our Genting Annual Passports
Ethan's Annual Passport is still valid until today but then I got to know that Genting Theme Park will be replaced by world's FIRST Twentieth Century Fox Theme Park!
Twentieth Century Fox Studio Theme Park, Genting.
My first reaction was "Yeah man!" Imagine Ice Age, Rio, Alien vs Predator, Night at the Museum and Titanic in the new Fox Theme Park! There will also be a special attraction called 'Dream Parade', which features a one-of-a-kind animatronics parade based on all characters and titles represented at the theme park.
But then reality sunk in. Our favourite weekend 'playground' will be closed cum 1 September 2013 and the new theme park will only be reopen in 2016. That is 3 years of emptiness for Ethan and I :( What are we supposed to do during those 3 years? :'(
Ethan told me he'll definitely be missing the Antique car and Bumper car rides but I assured him that the new theme park will be much more awesome (I hope)! He practically grew up in Genting and now… we will be 'homeless' for the next 3 years >_<
We are already planning a trip up there very soon before the 1 September for one final tour of Ethan's beloved playground before they are being demolished to make way for Twentieth Century Fox Theme Park! 
Related Posts
//
//
//
//
//
//
//
//
//
//
//
//
//
//
//
//
//
//
Join ME for updates & giveaways!
About Me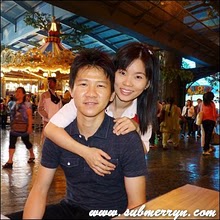 Home is where MY heart is.
I am a mother to two boys; Ethan and Ayden and a wife to Darling William. I'm a stay at home mum who blogs to break the monotony of life and to avoid feeling jaded. Would love to get to know all the Super Mommies and Daddies and Babies or Singles out there with the hope that we can learn more from each other. Most of all, I am a happy person, and I hope YOU are too.
Disclosure Policy
Click here for my disclosure policy.