Birthday dinner @ Happy City Seafood Steamboat
1,100 views
9 Comments
It was Darling's birthday over the weekend so I told him that Ethan and I will treat him to dinner but with one condition – HE's paying! LoL! I guess all Stay At Home Mothers do that, don't we? Whatever it is, it is HIS money that will be paying :P
He asked me what I wanted to eat and I said STEAMBOAT! We went to this newly opened steamboat outlet in Dataran Sunway called something like "Eat Until You Drop" if I'm not mistaken that charges RM35 per adult and RM17 per child for a buffet spread but I wasn't too hungry then as we just had some sizzling noodles in Mid Valley an hour earlier.
After driving around for a while we stopped by Happy City Seafood Steamboat. 

Happy City Seafood Steamboat
Ethan has always wanted to try this place since they opened not too long ago due to their colorful signboard lighting so this time we decided to give this place a try. 
RM16.50 per set. 
We ordered 2 sets. 
I wanted the pork rib soup that comes with an additional of RM15 but I was also craving for Tom Yam so badly. In the end, Tom Yam wins and I chose this Yin Yang soup which is FOC. I did not regret it as the tomyam soup is pretty good; spicy yet sweet it was all mine as Darling had a sore throat and stayed away from spicy stuffs while Ethan for sure won't touch that! 
I sat there like a Queen while Ethan and Darling did all the 'cooking'. I wondered whose birthday it was again? Haha.. 
My first plate of Tom Yam noodles that evening. It goes on and on and on until dunno 4th or 5th plate before I surrendered!
Ethan's plate of balls. 
Noodles for Ethan. 
I super love this Otak Crystal Ball. I did not realise it was spicy as I was already having it with Tom Yam but when Darling took a bite of it he told me it was. He quickly took it out from Ethan's bowl!
Ethan enjoyed his meal alright. It was raining that evening so it was very cooling. We did not sweat at all unlike last New Year's Eve when we dined at HoHo Steamboat, it was damn hot that Ethan took his shirt off while eating! 
We ordered cincau drinks to go with our meal. 
It was a simple but happy meal. Ethan said he likes this place and won't mind coming again. I said we'll definitely come again, provided that it rains. I just can't stand eating steamboat when it's scorching hot! 
On Darling's actual birthday, I got him a 'gift'. I got him these:
Two birthday eggs. 
Can you believe it that after 8 years being married to him, my MIL still calls him to remind ME to boil eggs for him on his birthday?! >_<
Anyway, happy birthday Darling. You are the BEST thing that ever happened to me. I couldn't ask for more and I thank you for being the BEST Dad Ethan can ask for. We are very lucky to have you in our lives. Eventhough you are OLD and no longer CUTE now, we still LOVE you lots! Muacks! <3
//
//
//
//
//
//
//
//
//
Join ME for updates & giveaways!
About Me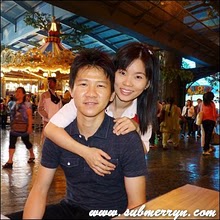 Home is where MY heart is.
I am a mother to two boys; Ethan and Ayden and a wife to Darling William. I'm a stay at home mum who blogs to break the monotony of life and to avoid feeling jaded. Would love to get to know all the Super Mommies and Daddies and Babies or Singles out there with the hope that we can learn more from each other. Most of all, I am a happy person, and I hope YOU are too.
Disclosure Policy
Click here for my disclosure policy.