Ain't No Weather Bringing Me Down
431 views
12 Comments
It was a wet weekend wasn't it? Luckily we still managed to slot in two swimming sessions right after the rain or it would have been a very boring long weekend.
On Friday just as we were about to enter the car to go swimming, it started to drizzle and then rain. I quickly grabbed my brand NEW 'money can't buy' umbrella that I got from Nuffnang. I've never used it so I did not know how big it was. Ethan got excited and grabbed it away from me! That was when I realised that the umbrella is darn huge! Not only that, it is as light as a feather too!
Ain't no weather bringing me down. We are still going swimming with fingers crossed that by the time we reach the pool the rain will STOP! 
This was when I realised that the umbrella is ultra light coz Ethan can hold it with just one hand! 
www.nuffnang.com? What's that? You've got to log into that website to find out :P
I have not ONE but TWO of these awesome umbrellas. One to shelter me from the rain and another to keep me off the blazing sun :D
Related Posts
//
//
//
//
//
//
//
//
//
//
//
//
Join ME for updates & giveaways!
About Me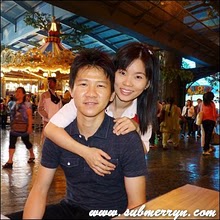 Home is where MY heart is.
I am a mother to two boys; Ethan and Ayden and a wife to Darling William. I'm a stay at home mum who blogs to break the monotony of life and to avoid feeling jaded. Would love to get to know all the Super Mommies and Daddies and Babies or Singles out there with the hope that we can learn more from each other. Most of all, I am a happy person, and I hope YOU are too.
Disclosure Policy
Click here for my disclosure policy.